'Controlling Jerk': Dad Ripped for Freak-Out Over Wife's Friend With Cancer
Thousands of internet commenters called out one father who "flipped out" on his wife because of her dedication to a friend recently diagnosed with cancer.
In a viral Reddit post published on r/AmITheA**hole, Redditor u/PrivateTalk7990 (otherwise referred to as the original poster, or OP) said his wife began accompanying her friend to chemotherapy treatments and revealed how that has adversely affected his leisure time.
Titled, "[Am I the a**hole] for telling my wife that she doesn't need to be with her sick friend at the hospital?" the post has received more than 12,000 votes and nearly 3,000 comments in the last 12 hours.
Beginning with this disclaimer that he and his wife's friend, "Anthony," don't get along well, the original poster said he supported the treatment schedule until it rearranged his own.
"I had no issue with that at first but then this started affecting me," OP wrote. "I can't go see my friends because I have to stay with my son...so my wife could be with Anthony for his treatment."
"I've talked to her about it but she said that Anthony needs company and that she's just being supportive," OP added.
Noting that he "let it go" for a while, the original poster said that last week, the arrangement became too much for him to handle.
"Last week was just kind of my last straw," OP wrote. "Anthony had [another] chemo session treatment and my wife wanted to go with him."
"I told her I had a meet up with my mom and sister to eat lunch and that I won't be home [but] she said she needed to go be with him," OP continued. "I kind of flipped out at her and said that she doesn't 'need' to be with him and could literally go see him at home the next day."
"She ended up staying at home but kept ignoring me when I got back, calling me selfish for not letting her be there to support Anthony with what he's going through," OP added. "Some of her girlfriends think I'm being a controlling jerk with no consideration."
While certain aspects of caregiving for those battling cancer are reserved for medical professionals, family members and other loved ones often provide the emotional and spiritual support necessary in the face of adversity.
Cancer Care, a leading national organization providing free support services, says that acknowledging the challenges and fears associated with cancer is crucial, but must be handled sensitively and genuinely.
"It is important to listen without judging or 'cheerleading,'" the Cancer Care website reads. "We are often tempted to say 'you will be fine' when we hear scary or sad thoughts. But simply listening to those feelings can be one of the most important contributions you make."
Along with supporting treatment decisions and staying engaged after treatment has stopped, Cancer Care and other medical outlets assert that just being there for a loved one—physically and spiritually—can make a world of difference.
Throughout his viral Reddit post, the original poster explained that his wife said she is her friend's only support system and that her devotion to his chemotherapy treatments was largely because he has "no one else besides [her]."
However, OP also made it clear that his wife's dedication to her friend is not his problem, drawing the ire of many commenters.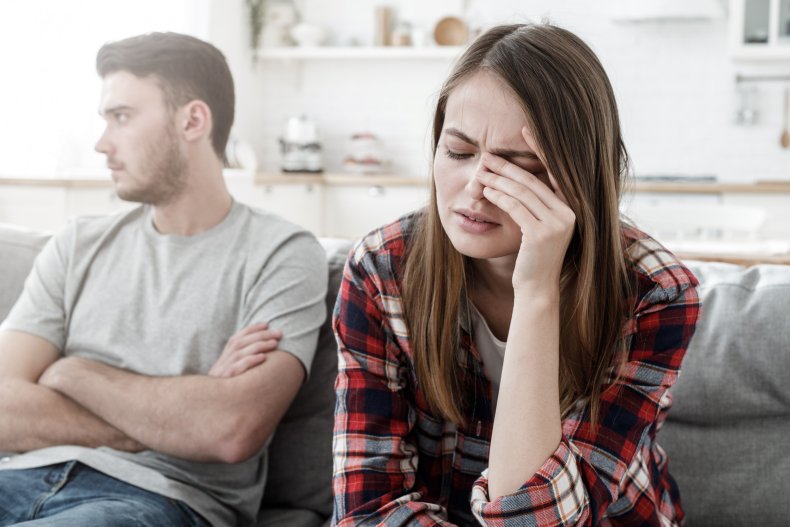 Like previous Newsweek stories detailing fathers' complaints about "babysitting" their own children and demanding women be solely responsible for childcare, Redditors responding to the original poster were outraged by the flippant attitude towards watching his son and questioned his supposed schedule conflicts.
"Why is the childcare of your son primarily your wife's responsibility?" Redditor u/literaryhogwartian asked in the post's top comment, which has received nearly 15,000 votes.
"Yeah," Redditor u/nosleeptill chimed in, receiving nearly 10,000 votes. "Why couldn't you take your son to have lunch with your mom and sister?"
Redditor u/thebrennashow, whose comment has received more than 14,000 votes, echoed that sentiment and their suspicions about the overlapping schedules.
"You just conveniently can only see your friends on days that Anthony has chemo treatments? Why can't you plan around them if they're pretty regular?" they wrote. "Also, why can't your kid come with you to see their grandma and aunt?"
"You are the tiniest bit inconvenienced by all of this, meanwhile someone very important to your wife has CANCER and you're mad at her for spending time with them?" they continued, more scathingly. "You sound jealous and petty."
Newsweek reached out to u/PrivateTalk7990 for comment.