Controversial Cartoon Depicts Serena Williams as Crying Black Baby and Naomi Osaka as Blonde Woman
An Australian newspaper has courted controversy after portraying Serena Williams as an overweight black baby in a cartoon, just days after she embarked on a remarkable tirade against an umpire during the U.S. Open final.
Williams was given three code violations during her straight-sets loss to Naomi Osaka on September 9 and called umpire Carlos Ramos a "thief".
The 23-time Grand Slam winner was first given a penalty for on-court coaching, which is prohibited under the rules of the Women's Tennis Association. As frustration grew, Williams smashed her racket on court, which cost her a point. She then branded Ramos a thief, which cost her the game.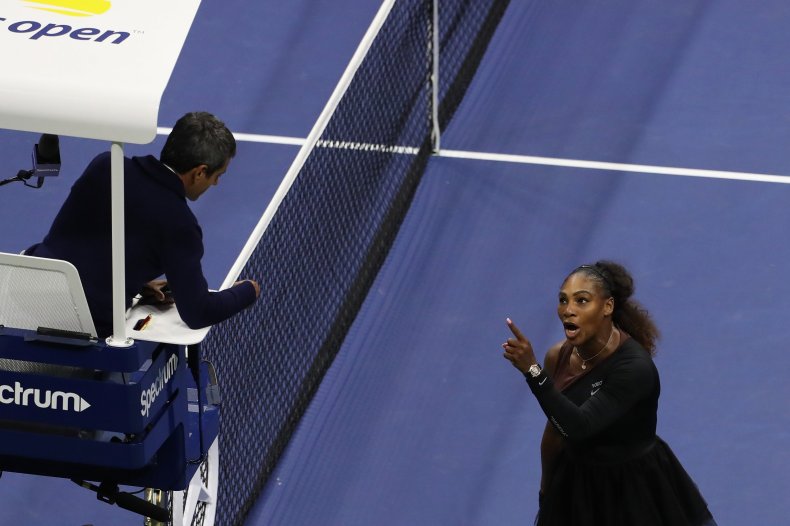 "Because I'm a woman, you're going to take this away from me?" she pleaded with tournament referee Brian Earley.
Williams' meltdown overshadowed Osaka's 6-2, 6-4 win, which saw the 20-year-old claim her maiden Grand Slam title, and divided opinions.
Mark Smith, The Herald Sun's editorial cartoonist, appeared to be firmly in the anti-Williams camp and portrayed the 36-year-old as a crying toddler in his latest sketch.
In the cartoon, Williams sports an oversized nose and lips and is in the process of smashing her racket to pieces by jumping on it. To exacerbate the portrayal of Williams as a baby throwing a tantrum, the umpire is pictured in the background pleading with the American's opponent to let her win.
However, the woman portrayed speaking to the umpire looks nothing like Osaka, who is a dark-skinned Japanese woman, rather than the white, blonde-haired girl in Smith's cartoon.
The sketch will do little to quell the controversy around the incident, which saw Williams claim she was being victim of sexism—even if her coach admitted to on-field coaching.
"I've seen other men call other umpires several things," she said in the post-match press conference.
"I'm here fighting for women's rights and for women's equality and for all kinds of stuff. For me to say 'thief', and for him to take a game, it made me feel like it was a sexist remark. He's never taken a game from a man because they said 'thief'.
"For me, it blows my mind. But I'm going to continue to fight for women."
The six-time U.S. Open champion won support from a number of prominent figures in the world of tennis, starting from Billie Jean King, who won 12 Grand Slam titles and helped setting up the WTA.
"Several things went very wrong during the US Open women's finals today," King wrote. "Coaching on every point should be allowed in tennis. It isn't, and as a result, a player was penalized for the actions of her coach. This should not happen."
"When a woman is emotional, she's 'hysterical' and she's penalized for it. When a man does the same, he's 'outspoken' & and there are no repercussions. Thank you @serenawilliams for calling out this double standard. More voices are needed to do the same."
WTA chief executive Steve Simon backed Williams, indicating Ramos would have been more lenient towards the 23-time Grand Slam winner had she been a man.
"The WTA believes that there should be no difference in the standards of tolerance provided to the emotions expressed by men versus women," Simon said in a statement.
"We do not believe that this was done last night."