COP26 Live Updates: Summit Enters Final Day As Countries Appear to Back Away From Fossil Fuels Pledge
The COP26 climate change summit in Glasgow has entered its final day as countries appear to be backing away from a pledge to end reliance on coal and other fossil fuels.
Climate scientists broadly agree that ending subsidies to industries dependant on fossil fuels, and moving away from coal power as soon as possible, is vital to securing the 1.5C global warming target agreed at the 2015 Paris summit.
Other crucial issues, including the annual $100 billion paid by richer nations to help developing countries meet climate targets, are yet to be agreed on. The failure to secure the crucial deals so far has led to accusations of "greenwashing" by campaigners.
Live updates have now ended
India expresses 'deep disappointment' at lack of progress
India's representative said that "time is running out" and urged the wealthiest countries to sign up to the annual $100 billion payments for the least developed nations.
She strongly criticized the inability of countries to come to a proper agreement on the issue despite negotiators working throughout the night on the topic.
John Kerry defends U.S. amid Kenya backlash
The top U.S. COP26 representative said he "listened carefully" to the Kenyan negotiator and admitted that "he made a lot of sense", but said Americans have "never shied away" from being honest about the issues.
I think we say consistently that 20 countries equal 80 percent of all emissions and they do bear the greatest responsibility. And President Biden, from the moment he has come into office, has been determined to live up to that responsibility.
Kerry added that the draft agreement "cannot get weaker, it can't go backwards" and said countries "cannot afford to be wishy-washy" on coal subsidies.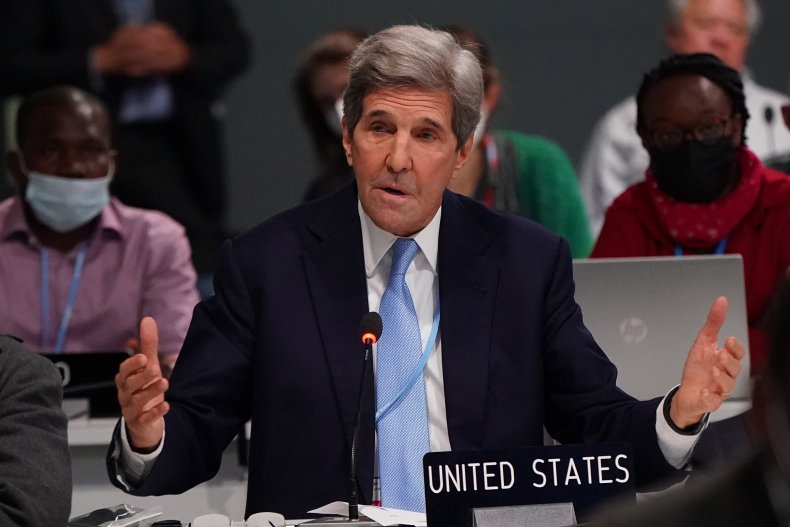 'Our trust has been shattered': Kenya loses patience with wealthiest countries
The country's chief negotiator at COP26 implored richer nations to pledge more money to support poorer countries to combat climate change but also highlighted the perceived hypocrisy of how developing countries are treated.
He said the "special needs for Africa has been dismissed even without giving us a chance to make our case" and that the "biggest emitters bear the greatest responsibility", expressing disappointment at the 20 countries which are responsible for 80 percent of emissions were not taking the issues in Africa seriously.
We bleed when it rains, we cry when it doesn't rain. So for us the ambition for 1.5C is not just a statistic - it is a matter of life and death. So we are quite aligned and we African countries, Kenya included, have done their bit within the limited resource which is within their means.
'We must rise to the occasion': COP President warns that time is running out
Alok Sharma said that ministers were working overnight to develop a new text but said the fresh draft is "not yet totally clean brackets".
"A small number of key issues remain which require our urgent, collective attention," he said, but warned that "pragmatic and workable solutions" were not yet apparent.
He called on nations who want to make interventions about the draft agreement to "identify themselves" but told delegates not to make "general statements" and instead focus on specific issues.
Thousands of protesters doing the Macarena outside COP26 venue in Glasgow
Only 39 percent of Republicans think climate change is a problem - down from seven years ago
A majority (67 percent) of Americans say that global warming is a problem - the same as in 2014 - despite a dramatic increase in the urgency of the issue, according to a Washington Post-ABC News poll.
It also uncovered that 95 percent of Democrats are concerned about the issue compared to just 39 percent of Republicans.
The political divide around climate change has grown by over 20 points compared to seven years ago, with 11 percent more Democrats worried compared to 10 percent fewer Republicans.
Australian coal mines 'belching' tonnes of methane each hour
The operations in the country are pumping around 76 tonnes of methane into the atmosphere an hour, which electricity analyst Dave Jones says amounts to a "short-term climate impact of 6,500 tonnes of CO2 per hour".
Negotiations on fossils are still ongoing.
Volvo pledges to double its carbon offsetting charges
The car manufacturer has joined a growing list of industry and government leaders in signing the Glasgow Declaration on Zero Emission Car and Vans at COP26 - a pledge by industry leaders and governments to phase out fossil-fuel vehicles in leading markets by 2035 and globally by 2040.
Volvo has its own climate action targets that go beyond the commitments in the declaration, with an internal carbon price of 1,000 Swedish crowns — around $116 — for every ton of carbon across its entire business.
FULL STORY: Volvo Signs COP26 Pledge, Will Charge Itself Double for Carbon Emissions
Greenpeace CEO: 'The fingerprints of fossil fuel interests are still on the text'
Jennifer Morgan said today is an "absolutely critical day in the fight to defend the 1.5C goal from vested interests who'll do anything to dodge their responsibility for the climate crisis", in a ramping up of the rhetoric from climate campaigners.
"Anything less puts the essence of Paris in peril."
She added that the "critically weakened" weakened agreement on fossil fuels will need to change, saying it "needs to be strengthened again before this summit closes".
Greta Thunberg hits 168th week of school climate strike
The climate activist held up her famous 'skolstrejk for klimatet' (School strike for climate) sign, which made headlines around the world when her campaign was discovered in 2018.
Negotiators change key wording on fossil fuels pledge
The latest draft proposal from the summit's chair, released this morning, calls on countries to accelerate "the phaseout of unabated coal power and of inefficient subsidies for fossil fuels" - a far more nuanced version of the original text.
The previous version, published on Wednesday, had called on countries to "accelerate the phasing out of coal and subsidies for fossil fuel".
The proposal is still subject to further negotiation at the talks, with a shift away from unconditional demands on fossil fuels likely.
'I will not give up': United Nations boss says climate change 'the most important battle' of his life