Cori Bush Accuses Marjorie Taylor Greene of Berating Her, Will Relocate Office for Safety
Democratic Representative Cori Bush said Friday that she will move her office away from GOP Representative Marjorie Taylor Greene's over "safety" concerns, and called out the Republican congresswoman's "unacceptable behavior."
Bush, a progressive lawmaker from Missouri, accused Greene of "berating" her in a hallway, targeting her on social media, and posing a threat to her team and fellow colleagues over spreading the coronavirus.
"A maskless Marjorie Taylor Greene & her staff berated me in a hallway. She targeted me & others on social media," Bush tweeted Friday. "I'm moving my office away from hers for my team's safety," she announced.
Bush then released a longer statement in which she described walking near the Capitol on January 13, when Greene "came up from behind me, ranting loudly into her phone while not wearing a mask."
"Out of concern for the health of my staff, other members of Congress, and their congressional staff, I repeatedly called out to her to put on a mask. Taylor Greene and her staff responded by berating me, with one staffer yelling, 'Stop inciting violence with Black Lives Matter,'" she added.
Bush also said that Greene lashed out at her over Twitter on Martin Luther King, Jr. Day, by accusing Bush of leading a mob that called for "the rape, murder, and burning of the home" of the McCloskey family in St. Louis.
By doing that, Bush said Greene named her as a "target to her hundreds of thousands of Twitter followers. "
"In the context of Taylor Greene's repeated endorsements of executing Democratic politicians before taking office, Taylor Greene's renewed, repeated antagonization of the movement for Black lives in the last month directed towards me personally is cause for serious concern," Bush continued.
"All of this led to my decision to move my office away from Taylor Greene's for the safety of my team," she said, adding that her office is currently being relocated form the Longworth House Office Building.
In response to Bush's announcement, Greene released a video on Twitter in which she accused Bush of being the "leader of the St. Louis Black Lives Matter terrorist mob."
"She is lying to you. She berated me," she wrote.
"Maybe Rep. Bush didn't realize I was live on video, but I have the receipts."
In the video, Greene can be heard accusing Democrats of supporting "ANTIFA BLM riots the entire year long that cost billions of dollars worth of damage, attacked American businesses and burned down Minneapolis."
Soon after, a voice in the background that Greene alleges is Bush, can be heard yelling "put on a mask."
Greene then retorts by screaming "stop being a hypocrite," and "don't yell at people."
"This is arguing with my Democrat colleague – supposed colleagues. That's how it is. That's how it is now in America," she adds.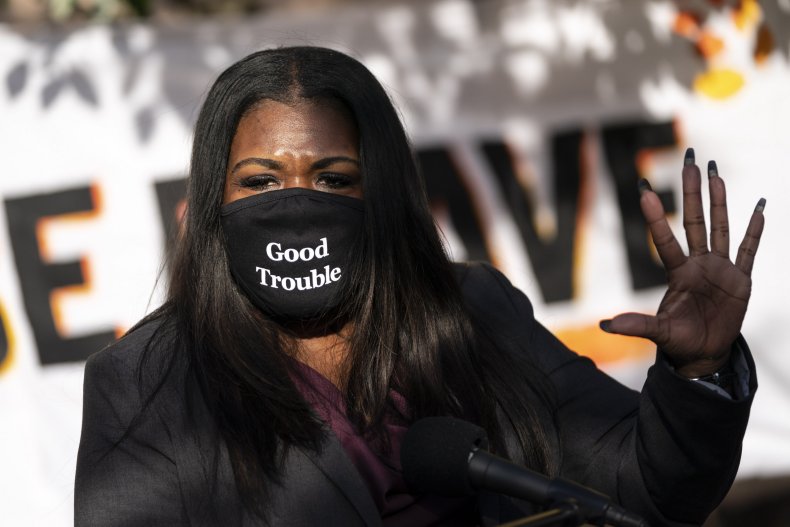 Bush's announcement to move her office come days after reports found that Greene previously supported a range of far-right posts online that called for executing Democrats and denying that several deadly school shootings took place.
Members of the House Education and Labor Committee have since called on Greene to be removed from her committee assignment. On Tuesday, Democratic California Representative Jimmy Gomez introduced a resolution to expel Greene from Congress.
Greene, a longtime ally of former President Donald Trump, previously told Newsweek that "Democrats and their spokesmen in the Fake News Media will stop at nothing to defeat conservative Republicans."
"They want to take me out because I represent the people. And they absolutely hate it," she said.
Newsweek reached out to Bush for additional comment. A representative for Greene declined to comment beyond the video statement.