Cori Bush Says Marjorie Taylor Greene 'Can Be Reformed' as House Rebukes Republican
Democratic Rep. Cori Bush said she believes Marjorie Taylor Greene can "be reformed," in an interview with The Daily Show's Trevor Noah. She also reflected on her rise from activist to representative, saying she would not be idle in the face of white supremacy.
The interview was broadcast ahead of a vote in the House of Representatives to bar Taylor Greene from taking a position on the education and finance committees, because of baseless and incendiary claims she made before being elected.
In the interview with Noah aired Thursday, Bush said she hoped to expose Taylor Greene to the other side of the argument.
"I will say this; it's not that she can't evolve or be reformed. And that's why I will not shut up, because maybe she just needs to be exposed that there's a whole other side to this—it's called loving humanity," Bush said.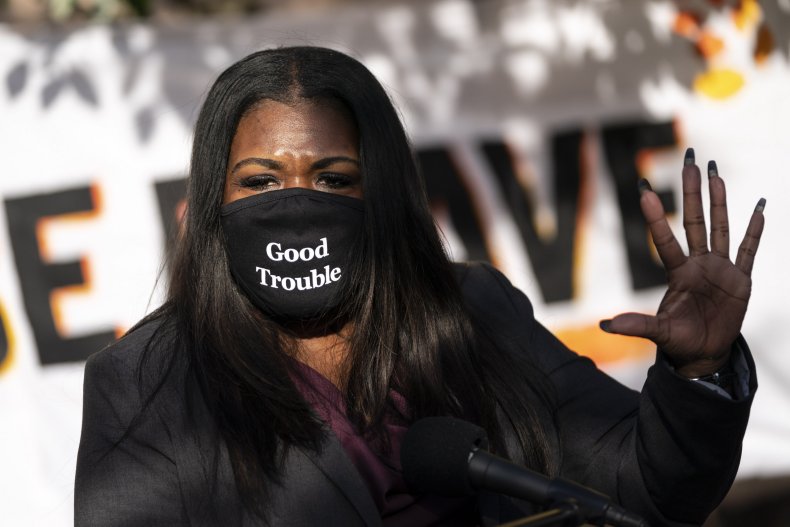 Bush then referred to a speech given by Taylor Greene in the House earlier on Thursday in which she expressed regret for some past remarks she had made.
"This is the thing," Bush said. "She called me a terrorist. She said I was the leader of a terrorist mob… That I called for the murder of a couple. She didn't take that back. She didn't regret that. That's the kind of stuff that's dangerous for our communities, so that has to be called out."
Bush seemed to be referring to a tweet from Taylor Greene regarding Bush's involvement in a march in St. Louis in August. The march saw a confrontation between Mark and Patricia McCloskey, who were wielding guns, and Black Lives Matter protesters outside the couple's mansion. Video of the encounter quickly went viral.
Taylor Greene tweeted to Bush on January 18 asking: "did you denounce radical BLM violence and apologize to the McCloskey's?"
"Cori Bush is a BLM activist who led the mob that called for the rape, murder, and burning of the home of Patty and Mark McCloskey of St. Louis," the tweet read, quoting Allen West, chairman of the Republican Party of Texas.
It was not immediately clear if and when Taylor Greene did refer to Bush as a "terrorist" and leader of a "terrorist mob." Newsweek has contacted Bush for comment.
On January 29, Bush said in an interview with MSNBC that she had to request to move offices due to safety concerns, after members of Taylor Greene's staff accosted her team, saying: "Stop inciting violence with Black Lives Matter."
Bush also reflected with Noah on her rise from being an activist during the protests sparked by the death of Michael Brown in Ferguson, Missouri, in 2014 to her position in the House of Representatives.
She said that during her time in Ferguson she had worked "day in and day out" to achieve justice.
"But also fighting, to be able to be here. To be in a place where we get to make these kinds of decisions. To save lives, and especially to save black lives.
"You think I'm going to make it all the way to Congress and then be quiet when white supremacy comes and knocks at the door? When white supremacy was ready to attack me and my colleagues? When it could have attacked my team?"
Newsweek has contacted Bush and Taylor Greene for comment.
Correction 2/5/21, 10:45 a.m. ET: The headline of this article was updated to remove reference to "censure" as Marjorie Taylor Greene has not been formally censured by the House.