Corinna Kopf Threatens Fans With Lawsuit After OnlyFans Photos Leak
YouTuber Corinna Kopf has threatened some fans with lawsuits over claims they leaked her OnlyFans content.
The gamer and internet personality, who was previously a member of David Dobrik's Vlog Squad, has caused an internet stir this week by launching an OnlyFans account with the promise of X-rated content for her following.
However, some were left disappointed when it was reported that many of the images added to the X-rated platform had previously been featured on the 25-year-old's Instagram account.
Kopf was criticized for the move, but later clarified that more content will be added in due course, tweeting: "People who think my onlyfans is about to be just instagram content.. you're dead wrong," she tweeted. "if i posted everything right out the gate, it would just get leaked...just wait..."
Regardless, some disgruntled fans hankering for more 18+ materials threatened to break OnlyFans rules and leak photos from behind the paywall.
OnlyFans users create profiles with adult content that subscribers can pay to view. Images are not available unless a person pays, so sharing photos to non-subscribers is a breach of the platform's rules.
Kopf has 1.76 subscribers on YouTube and has 5.7 million followers on Instagram.
One fan tweeted: "Corinna Kopf has just made an onlyfans and I've got all the posts. Send me a dm if you'd like them."
This prompted a response from Kopf, who shot back: "don't catch a lawsuit now."
There are a number of similar tweets with people asking for DMs and sometimes money in exchange for the leaked images.
Newsweek has contacted Kopf for comment.
Last week Kopf announced Twitter to announce that she would begin an OnlyFans profile in exchange for 500,000 likes.
"f*** it... 500,000 likes and i'm making an onlyfans," she tweeted on June 3 and went viral.
Now her fans can pay $25 per month to view her OnlyFans photos.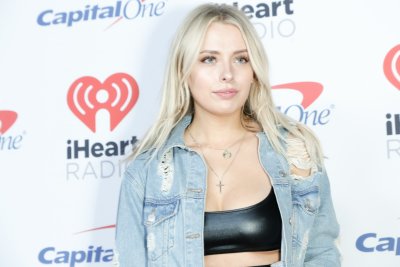 Last year, former Disney star Bella Thorne reportedly earned an eye-watering fortune by starting her own OnlyFans account.
The 22-year-old said she made $2 million from her page in a week and was purportedly also the first creator to make $1 million in a single day on the platform.
Thorne told Paper Magazine at the time: "OnlyFans is the first platform where I can fully control my image; without censorship, without judgment, and without being bullied online for being me."
Other celebrities who have OnlyFans accounts include Cardi B, Blac Chyna, YouTuber Tana Mongeau, former WWE star Enzo Amore and some Real Housewives personalities.