From Corinna Kopf to Tana Mongeau—The Biggest YouTubers on OnlyFans
OnlyFans, the subscriber-only social media platform famous for explicit content, has become increasingly prevalent over the past year as many celebrities have jumped on the bandwagon.
The platform has been popular with sex workers and other content creators as users can create profiles with adult content that subscribers can pay to access.
The platform boasts such celebrity creators as Cardi B, Chris Brown, Bella Thorne, Jordyn Woods, Amber Rose, Blac Chyna, Tyga, Trey Songz, Aaron Carter and more.
Alongside the celebrities like musicians and actors, a sizeable number of YouTubers and internet personalities are also using OnlyFans to connect with their supporters (for a fee) and share more adult content.
OnlyFans has been in the news this week as popular gamer YouTuber Corinna Kopf sent fans into a frenzy when she launched a profile on the platform, promising her fans explicit content for $25 a month.
However, Kopf's fans were disappointed to discover that many photos on the highly anticipated OnlyFans had already featured on her Instagram account and were not exclusive, as promised.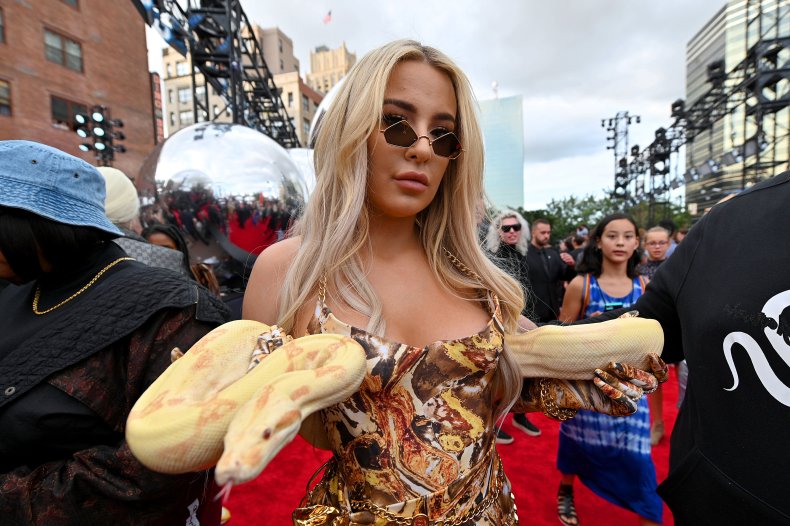 Here are some of the biggest YouTubers on OnlyFans.
Corinna Kopf
Despite the disappointment surrounding her Instagram content being repurposed for OnlyFans, the 25-year-old influencer has promised that more photos are on the way.
She tweeted: ""People who think my onlyfans is about to be just instagram content.. you're dead wrong," she tweeted. "if i posted everything right out the gate, it would just get leaked...just wait..."
Tana Mongeau
YouTube star and ex-girlfriend of Jake Paul, Tana Mongeau joined OnlyFans in May 2020.
The 22-year-old describes her page as "the only place [she's] allowed to be naked and crazy."
Austin Mahone
Singer-songwriter Austin Mahone rose to fame for his YouTube pop covers.
The musician joined the platform in 2020 and released a statement saying: "I've reached an age and a point in my career where I'm ready to mix it up and be more open with my fans."
He added via Page Six: "I'm excited to show my fans a different side of me than they may be used seeing on my other social media accounts."
Nikocado Avocado
Nikocado Avocado—real name Nicholas Perry— is a YouTuber known for his extreme eating videos. He boasts over 2 million subscribers.
In 2020, he created an OnlyFans account where subscribers can pay $14.99 a month for explicit content.
Belle Delphine
Delphine is a well-known internet troll famous for selling her own used "gamer girl" bathwater online. She is a highly successful OnlyFans creator.
She reportedly makes $1.2 million a month from the platform (via Insider.)
Trisha Paytas
Internet personality and podcaster Trisha Paytas also has an OnlyFans account.
Speaking to Vulture about joining the platform earlier this year, she said: "Everyone assumed I'd always done porn, but I never thought I would. But I think at 32 I was kinda like, 'Who really cares? My image is already tarnished.'"