Coronavirus U.S. Update: Crowded Airports as Travelers Are Screened, West Virginia Only Virus-Free State
In the U.S. there are now more than 2,700 confirmed coronavirus cases and at least 54 people have died as concerns grow over how hospitals and airports in the country will cope.
Travelers returning to U.S. airports from Europe have reported chaotic scenes and getting snarled up in long lines while awaiting coronavirus screening.
The medical advice is for people to keep their distance from each other, but images of crowds of people standing cheek-by-jowl have been widely shared on social media as people waited for up to eight hours to be examined for the virus, according to Fox News.
On Wednesday, President Donald Trump announced a travel ban on citizens of countries in the European Schengen zone, which went into effect on Friday. It will be extended to include the United Kingdom and Ireland from Tuesday and while U.S. citizens can return, they face screening.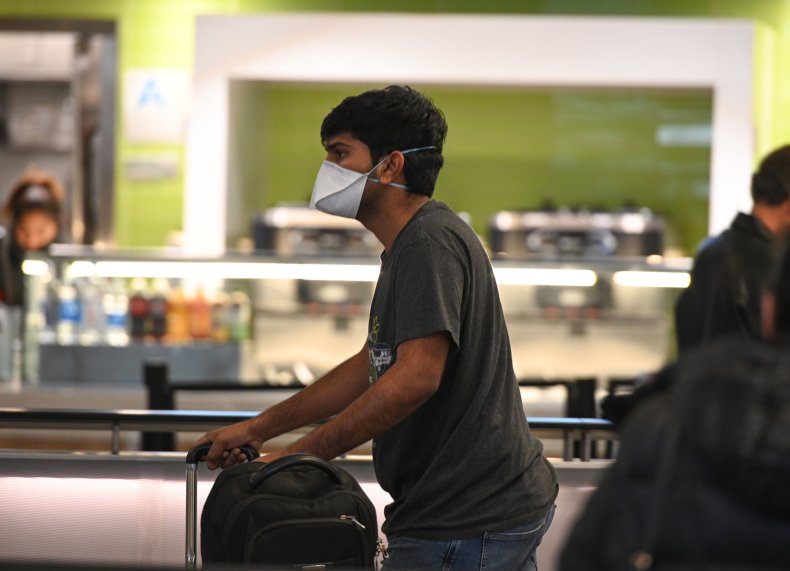 Ruth Procopi told BBC News, "I arrived at [O'Hare airport] from Heathrow at about 3.30pm yesterday. It was chaos. Nobody explained anything and I was one of the lucky ones.
"I had no checked bags to try to find and because I had not been to a Schengen country, I did not have to undergo additional screening... but I didn't find out until I got to the front of this line."
Ann Lewis Schmidt, who was returning from Iceland, told CNN, "Seems backwards, as if someone had a fever, they should have been never allowed in these lines for four hours. Very close quarters... So if we didn't have the virus before, we have a great chance of getting it now."
Illinois governor JB Pritzker criticized Trump and Vice President Mike Pence for the long lines, posting to Twitter that the "crowds & lines O'Hare are unacceptable & need to be addressed immediately. @realDonaldTrump @VP since this is the only communication medium you pay attention to — you need to do something NOW."
Similar stories were reported at Dallas/Fort Worth airport, with FOX4's Steven Dial writing on Twitter that passengers had waited in line for hours at customs, adding, "many concerned about being so close to others during the #COVIDー19 outbreak.
In a statement, the airport in Dallas wrote on Twitter, "DFW is one of 13 U.S airports accepting flights from Europe and other impacted regions. We ask for your patience as CBP/CDC agents are conducting enhanced screening for passengers, which may cause additional delays. These measures are important for the health and safety of all."
Acting Secretary of Homeland Security, Chad Wolf, has called for patience, wrote on Twitter that it would take about one minute for each passenger to be screened and that authorities were "working to add additional screening capacity and working with the airlines to expedite the process."
U.S Domestic Travel Not Impacted Yet
Director of the National Institute of Allergy and Infectious Diseases, Anthony Fauci, has said that he did not believe the Trump administration would soon impose domestic travel restrictions.
"Travel restrictions within the country have not been seriously discussed. I mean, they've been discussed, but not seriously discussed. I don't see that right now or in the immediate future. But remember, we are very open-minded about whatever it takes to preserve the health of the American public, he told ABC News' This Week.
Curfew Imposed on Spring Break Miami, St. Patrick's Day Revelers Defiant
Miami officials are closing the busiest beaches in the city from 5 p.m. and limiting large gatherings to stop the spread of the virus among partying students, the mayor Dan Gelber has announced.
Police will stop large groups forming at the beachfront Lummus Park and will also patrol the curfew between seventh and tenth streets. The Florida city has also banned crowds of more than 250 people in restaurants and nightclubs.
"It would be irresponsible for us not to limit crowd sizes in these public areas. Not only for our residents and visitors, but for the health and safety of our first responders," Gelber said in a statement, according to The New York Post.
Defiant St Patrick's Day revelers ignored warnings on social distancing and packed themselves in bars in cities including New York, Chicago, New Orleans and Washington DC.
New Orleans Mayor LaToya Cantrell tweeted a screenshot of a live video that showed police disbanding a crowd outside a bar with the message: "Our (NOPD officers) are onsite disbanding a large gathering. This is irresponsible, potentially endangering the entire community. New Orleans just had our first fatality."
The following graph from Statista shows the confirmed coronavirus cases in the U.S. as of March 13.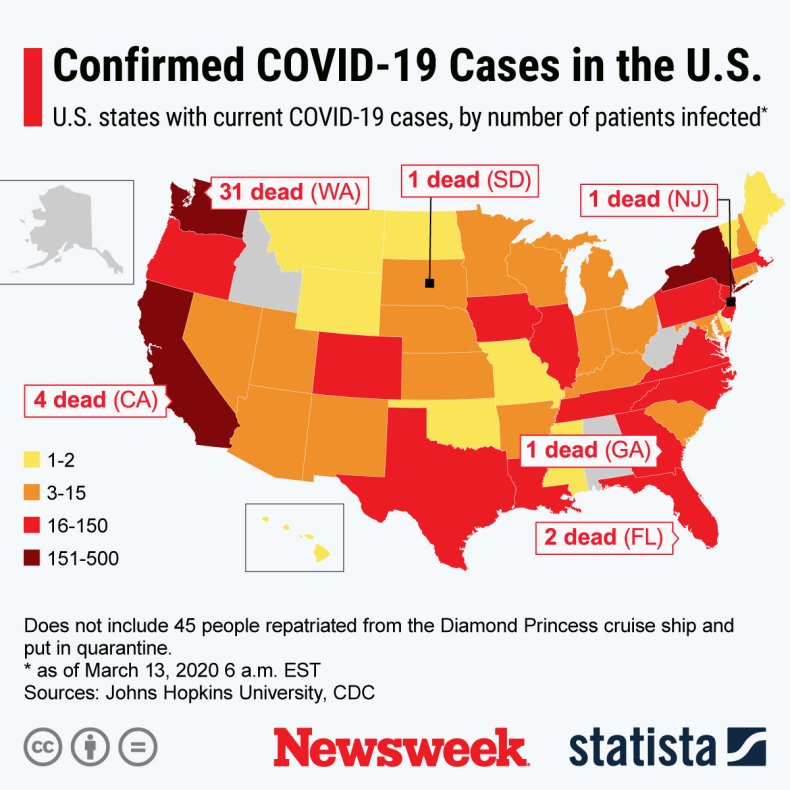 President Trump Tests Negative, Thermo Fisher Scientific to Produce High-Speed Testing Kits
Donald Trump's physician has said that the president has tested negative for the coronavirus. The news followed reports that three people that had visited Trump's Mar-a-Lago resort in Florida tested positive.
Sean P. Conley said, "One week after having dinner with the Brazilian delegation in Mar-a-Lago, the President remains symptom-free.
"I have been in daily contact with the CDC and White House Coronavirus Task Force, and we are encouraging the implementation of all their best practices for exposure reduction and transmission mitigation."
Meanwhile, the Massachusetts-based firm Thermo Fisher Scientific says it will produce high-speed tests that can diagnose COVID-19 in up to five million people a week.
The firm's CEO Marc Casper said it had emergency authorization from the U.S. Food and Drug Administration (FDA) for its test, which gives results within four hours which "will help to protect patients and enable medical staff to respond swiftly to treat those who are ill and prevent the spread of infection."
Triage Tents Outside Hospitals Erected, West Virginia Only Coronavirus-free State
In a bid to free up capacity ahead of an expected surge in patients, hospitals across the country have been setting up triage tents outside emergency rooms, The Washington Post reported.
Jenna Mandel-Ricci, vice president for regulatory and professional affairs at the Greater New York Hospital Association told the paper that hospitals were trying to deal with outbreaks in Westchester County and northern New Jersey and were expecting more infections in New York City. "We are absolutely in a race,'' she said.
As of Sunday, West Virginia was the only U.S. state with no confirmed cases of coronavirus. However the state governor Jim Justice, suggested that it would only be a matter of time before it was diagnosed there, and has announced that all schools would be closed.
A study released on Friday by the Kaiser Family Foundation suggested that West Virginia might be particularly vulnerable to the virus, with a higher proportion of smokers than any other state and the country's highest mortality rate from diabetes and heart disease. It also had a relatively old population.
"We know it's here. I mean, let's be real. It has to be here," Governor Justice said in a press conference, according to The New York Times. "We just haven't found it yet."
World Health Organization advice for avoiding spread of COVID-19
Hygiene advice
Clean hands frequently with soap and water, or alcohol-based hand rub.
Wash hands after coughing or sneezing;
When caring for the sick; before; during and after food preparation; before eating; after using the toilet; when hands are visibly dirty; and after handling animals or waste.
Maintain at least 1 meter (3 feet) distance from anyone who is coughing or sneezing.
Avoid touching your hands, nose and mouth. Do not spit in public.
Cover your mouth and nose with a tissue or bent elbow when coughing or sneezing. Discard the tissue immediately and clean your hands.
Medical advice
If you feel unwell seek medical care early and call local health authorities in advance.
Stay up to date on COVID-19 developments issued by health authorities, follow guidance.
Mask usage
Healthy individuals only need to wear a mask if taking care of a sick person.
Wear a mask if you are coughing or sneezing.
Masks are effective when used in combination with frequent hand cleaning.
Do not touch the mask while wearing it. Clean hands if you touch the mask.
Learn how to properly put on, remove and dispose of masks.
Clean hands after disposing of mask, do not reuse single-use masks.