The number of background checks conducted for firearms purchases has increased since the start of the ongoing coronavirus epidemic and protests against systemic racism, according to new data from the FBI.
In March 2020, as the COVID-19 epidemic started ramping up in the U.S., the FBI conducted 3.7 million background checks. In June, the month following the May 25 death of George Floyd—the Black Minneapolis resident whose murder by a white police officer sparked nationwide racial justice protests—the FBI tallied 3.9 million background checks. Then in July, the FBI had 3.6 background checks.
In the five-month span from March 1 to July 31, 2020, the FBI counted 17.3 million total background checks for firearms. Comparatively, the FBI counted 11.7 million background checks over the same time span in 2019—a difference of 5.6 million.
"Firearm sales go up in times of uncertainty because Americans know their safety is ultimately in their own hands," NRA spokesperson Amy Hunter told CNN, though economic and other social factors may have factored into the recent increase in gun sales.
The coronavirus pandemic initially spurred a rush on essential goods like hand soap, toilet paper, bottled water and staple food items in drug stores and supermarkets. The rush was accompanied by statewide shelter-in-place orders and shutdowns of non-essential businesses, leaving tens of millions of U.S. citizens unemployed, at home and unsure of when economic and social conditions would improve.
While federal stimulus packages helped keep the economy somewhat afloat despite COVID-19, the summertime racial justice protests brought new fears as images of civil unrest and police violence dominated media. President Donald Trump highlighted the occasional "looters" in the protests and called vandals "domestic terrorists" bent on "abolishing the police" and out to "destroy" America.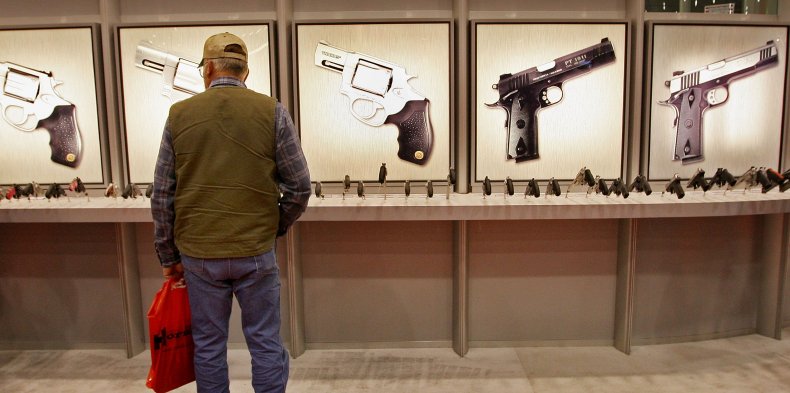 Since 1998, the FBI has helped conduct background checks for firearm purchases using the National Instant Criminal Background Check System. U.S. law requires federally licensed gun sellers to conduct a background check on each buyer—even at gun shows.
Background checks involve a buyer's government-issued identification and the filling out of a personal information form created by the U.S. Bureau of Alcohol, Tobacco, Firearms and Explosives asking the buyer's address and previous criminal record. The FBI checks the information to make sure that no prior criminal convictions would prohibit the sale of a gun to an individual.
However, according to The Trace, a non-profit journalism outlet devoted to gun-related news, noted that a Department of Justice budget shows that the FBI's National Instant Criminal Background Check System center in Clarksburg, West Virginia is suffering from a staffing shortage, which may limit its ability to quickly conduct background checks.
"Hundreds of thousands of background checks extend beyond the three-day window investigators have to complete them," staff writer Ann Givens reported. "After three business days, a dealer is allowed to sell a gun even if a background check has not cleared the buyer."