Trump Threatens to Shoot Looters at George Floyd Protests as 170 Minneapolis Businesses Ransacked
President Donald Trump suggested those who use protests in Minneapolis as a springboard to looting local business could be shot as he spoke of his desire to "bring the city under control."
Demonstrations in the city sparked by the death of George Floyd, a black man who died in police custody while being arrested, have turned violent, with footage showing fires blazing and clashes with police.
A state of emergency has been declared in Minneapolis, while the Minnesota National Guard said that it had "activated more than 500 soldiers" to St. Paul and the surrounding area amid the demonstrations.
Trump criticized Minneapolis Mayor Jacob Frey and spoke of military intervention across the city in a string of early morning tweets.
"I can't stand back & watch this happen to a great American City, Minneapolis. A total lack of leadership. Either the very weak Radical Left Mayor, Jacob Frey, get his act together and bring the City under control, or I will send in the National Guard & get the job done right.....," he wrote.
"....These THUGS are dishonoring the memory of George Floyd, and I won't let that happen. Just spoke to Governor Tim Walz and told him that the Military is with him all the way. Any difficulty and we will assume control but, when the looting starts, the shooting starts. Thank you!"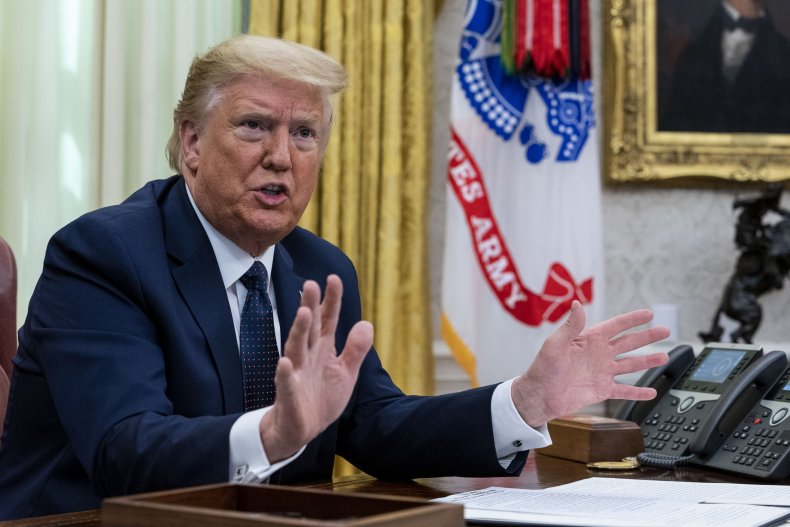 The president's second tweet, in regards to shooting looters, was subsequently restricted by Twitter. It was covered with a panel which said: "This Tweet violated the Twitter Rules about glorifying violence. However, Twitter has determined that it may be in the public's interest for the Tweet to remain accessible."
Those looking were then able to click view in order to read its contents.
Twitter said in a statement: "The Tweet violates our policies regarding the glorification of violence based on the historical context of the last line, its connection to violence, and the risk it could inspire similar actions today.
"We've taken action in the interest of preventing others from being inspired to commit violent acts, but have kept the Tweet on Twitter because it is important that the public still be able to see the Tweet given its relevance to ongoing matters of public importance."
Mayor Frey was informed of Trump's comments in a press conference.
In response, he said: "Let me say this. Weakness is refusing to take responsibility for your own actions. Weakness is pointing your finger at somebody else during a time of crisis.
"Donald Trump knows nothing about the strength of Minneapolis. We are strong as hell. Is this a difficult time period? Yes. But you better be damned sure that we're going to get through this."
Trump's comments on looters came as the St. Paul Police Department said a number of businesses had been targeted amid the protests.
"More than 170 businesses damaged or looted. Dozens of fires," it said in a tweet.
The Minnesota National Guard said its mission in the area was to "protect life, preserve property and the right to peacefully demonstrate."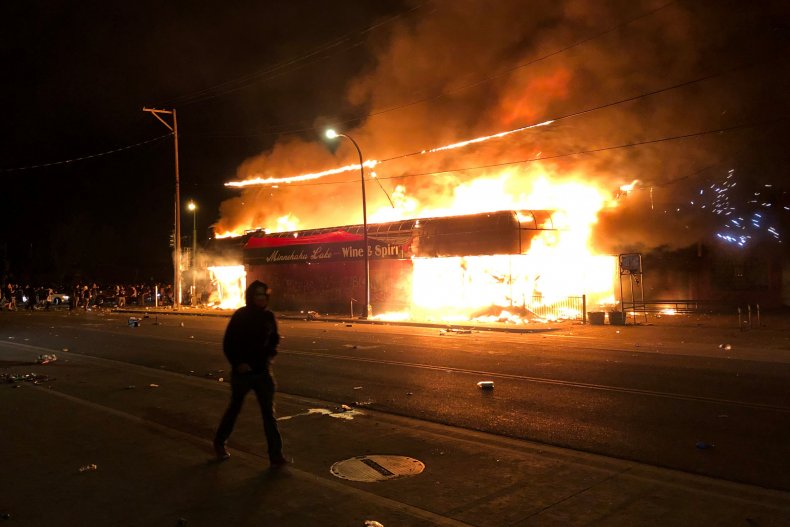 Newsweek has contacted the White House, a representative of Mayor Frey and the Minneapolis Police Department for comment.
The protests come following the death of Floyd, which has caused outrage after footage of him being detained was shared on social media, in which an officer can be seen placing his knee on Floyd's neck.
He repeatedly informed the police on the scene that he could not breathe, following which an ambulance arrived. The ambulance took Floyd to a local medical facility, where he was pronounced dead.
The four police officers involved were fired, while calls have been made for the arresting officer to be charged in relation to the incident.
The situation has sparked outrage and anger has been aimed at the police, with a precinct in the city of Minneapolis being broken into and fires lit there on Thursday night.
At a press conference on Thursday, Minneapolis Police Chief Medaria Arradondo apologized to Floyd's family.
Arradondo said: "I am absolutely sorry for the pain, the devastation the trauma Mr. Floyd's death has left on his family, his loved ones and our community."
This article was updated to include a statement from Twitter.