Coronavirus Border Restrictions Within Europe 'Can Be Completely Eliminated' By June 15, Germany's Angela Merkel Says
German Chancellor Angela Merkel has urged that travel restrictions within Europe's 26-country Schengen zone be entirely lifted by mid-June as the Continent continues to reopen amid the coronavirus pandemic.
In Germany, social distancing restrictions have been eased over the past week as students were allowed to return to school and shops reopened. In some regions of the country, restaurants have begun serving dine-in customers, while museums in some areas have reopened.
"The goal is, if the occurrence of infections allows it—I want to say that again—that from June 15 onwards border controls in the Schengen area can be completely eliminated," Merkel told the Bundestag, the lower house of parliament, on Wednesday in Berlin.
"Corona remains a danger for all of us," added the chancellor, a physicist who has been internationally lauded for her response to the pandemic. "It would be depressing if we have to return to restrictions that we want to leave behind us, because we want too much too soon."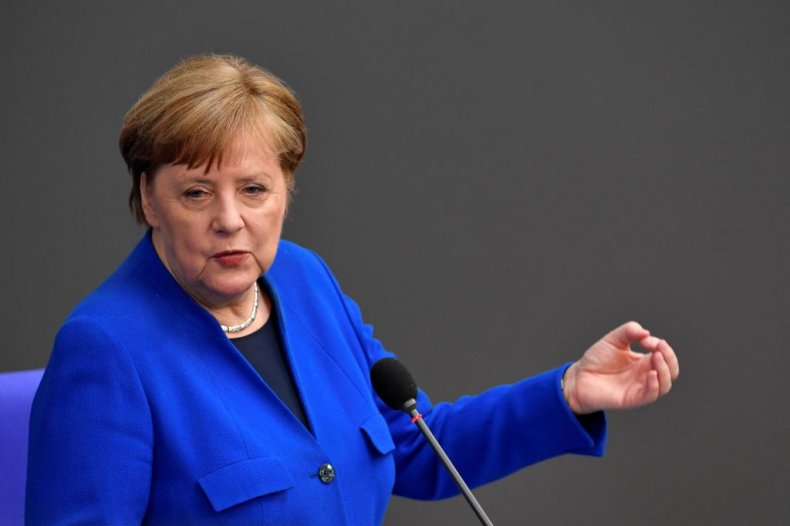 Merkel's remarks came as Europe starts to emerge from months of stringent lockdown measures. Some countries, such as Italy, which was especially hard-hit early in the pandemic, have been essentially cut off from international travel for months because of neighboring nations shuttering borders and airports barring flights.
In normal times, the Schengen zone allows Europeans and international visitors who have entered the region to travel between countries without border checks or being required to show their IDs. Some European Union lawmakers raised concerns this week about how the temporary restrictions will affect travel moving forward.
"The risk we are facing seriously today is the death of Schengen," Tanja Fajon, a leading EU lawmaker on border measures who is from Slovenia, said Tuesday. "It is in a very poor and problematic state. It has been hit years ago by the refugee crisis, and the virus delivered another blow."
She added, "We have to restore free travel as soon as possible once the pandemic is over."
Meanwhile, in Germany the virus's reproduction rate within the population dropped to an estimated 0.94, according to the country's federal Robert Koch Institute (RKI), which researches disease control and prevention. Over the past few days, the rate had risen to 1.1, which means that 10 infected Germans would be expected to infect 11 others. Merkel had previously warned that a level above 1 could overwhelm the nation's health care system.
New confirmed cases in Germany also declined, from 933 reported on Tuesday to 595 on Wednesday. However, RKI and Merkel have urged the country's citizens to continue taking appropriate precautions and maintaining social distancing as much as possible.
"It is too early to say if the decrease in cases will persist or if there might be indeed an increase within the next time," Marieke Degen, deputy press officer at RKI, told Newsweek. "But of course this has to be monitored closely, and we have to see how everything develops. The epidemic is far from over here in Germany, which is why social distancing rules are still in place."