California Man Fighting Coronavirus Since April Finally Released From Hospital
As novel coronavirus cases in California approach nearly 559,800, a 31-year-old man has been released from hospital after battling the infection for nearly four months.
Francisco Garcia, a resident of East Los Angeles with no history of health issues, tested positive for the virus in April and was rushed to hospital where he was placed on a ventilator.
"A lot of things were going through my mind like am I going to survive this or what," Garcia told CBS Los Angeles. "The only thing I remember is I couldn't even breathe as much and my sister saw me and she right away just called an ambulance.
Most infected patients are expected to recover after around two weeks, but for some people the infection lasts beyond 14 days, according to the World Health Organization (WHO).
Garcia's condition did not improve despite the medical treatment he received for various COVID-19-related complications, according to his family.
He was eventually transferred to the Loma Linda University Medical Center, by which point he had a stroke and was put into a medically induced coma. He had bleeding in his brain and gastrointestinal tract as well as blood clots in his legs.
He was discharged Sunday from the hospital where he was greeted by his mother who he has not been able to embrace in more than 85 days. "I'm just happy to go home and be with my family," Garcia said.
Following his long battle, Garcia urged everyone, especially young people, to take the virus seriously.
"It happened to me and it could happen to someone they know, and believe me, that is something you do not want to go through," he told CBS Los Angeles.
A July study by the Centers for Disease Control and Prevention (CDC) noted: "COVID-19 can result in prolonged illness, even among young adults without underlying chronic medical conditions."
"Even among young adults aged 18–34 years with no chronic medical conditions, nearly one in five reported that they had not returned to their usual state of health 14–21 days after testing," the CDC said.
Last month, a teenager with no underlying health conditions was reported to have been infected for 54 days since she first tested positive for the virus nearly eight weeks earlier.
California has the highest number of confirmed cases in the country, nearly 208,600 of which are reported to be in Los Angeles County, the state's worst-hit region, according to the latest report Monday by Johns Hopkins University.
A statewide stay-at-home order was issued back in late March and the state began reopening from May 8. The seven-day average of daily new infections continued to increase after the state reopened and began rising on a sharper incline from around June 20 to July 25, before mostly declining in recent weeks, according to data compiled by Worldometer.
The seven-day average of daily new deaths began rising sharply from around July 6 and mostly increased since then, according to Worldometer.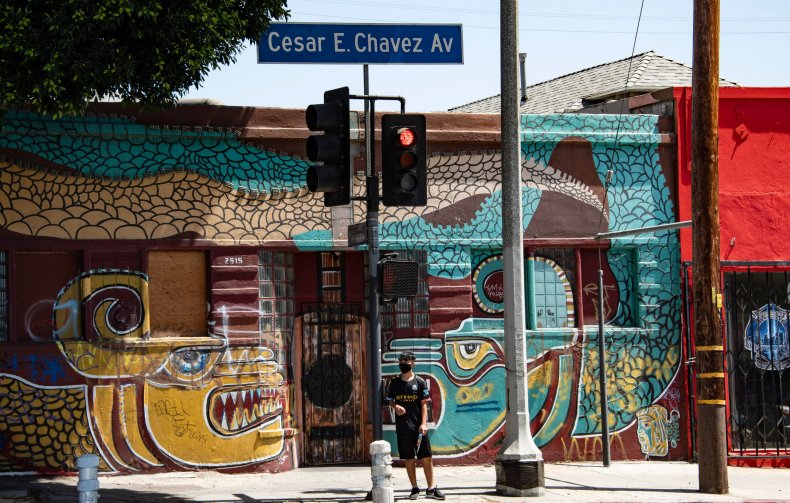 Back in late June, bars in seven California counties were ordered to close due to the rising spread of the virus while bars in eight additional counties were recommended to close, California Gov. Gavin Newsom announced in a post on his official Twitter account.
More than 19.8 million people globally have been infected since the virus was first reported in Wuhan, China, including more than five million in the U.S. More than 12.1 million globally have reportedly recovered from infection, while over 731,300 have died, as of Monday, according to Johns Hopkins University.
The graphic below, provided by Statista, illustrates the countries with the most COVID-19 cases.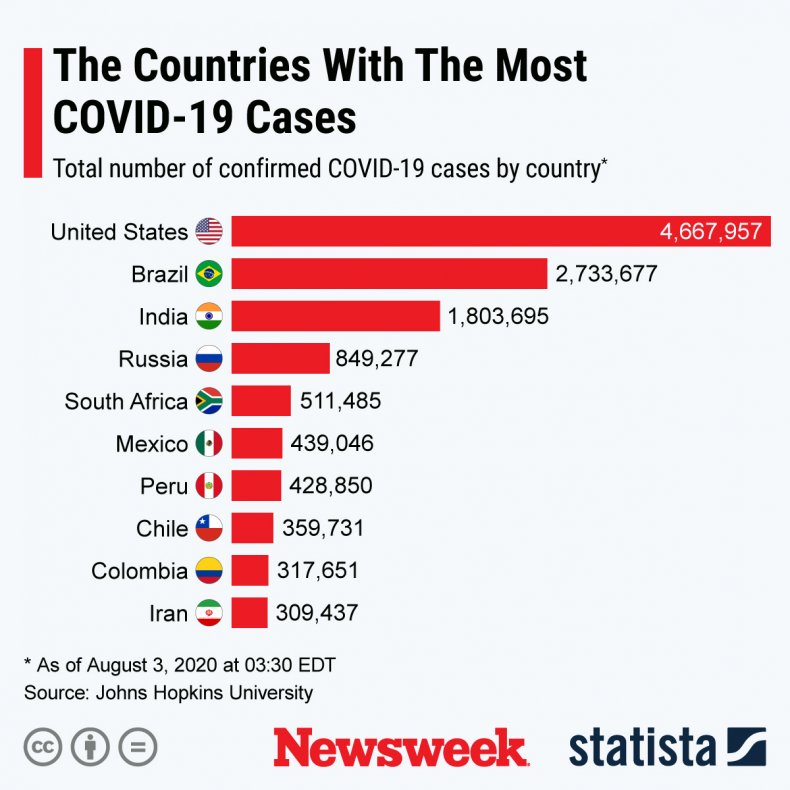 The graphics below, provided by Statista, illustrate the spread of COVID-19 cases in the U.S.