Bars Are Closing Again in These States Due to Coronavirus Spikes
Novel coronavirus cases in the U.S. continue to soar, climbing to over 2.6 million, according to Johns Hopkins University figures on Tuesday.
A string of states have reversed their reopening plans following a recent spike in new infections. Here we take a closer look at the states where bars have been closed again this month.
California
On Sunday, bars in seven California counties including Fresno, Imperial, Kern, Kings, Los Angeles, San Joaquin, and Tulare, were ordered to close "due to the rising spread of #COVID19," California Gov. Gavin Newsom announced in a post on his official Twitter account.
Bars in eight other counties, including Contra Costa, Riverside, Sacramento, San Bernardino, Santa Barbara, Santa Clara, Stanislaus and Ventura, have been recommended to close, Newsom noted in the post.
The number of daily new cases in California has been on a mostly increasing trend from the start of the pandemic to around June 23, which saw a record 6,700 new cases, the state's highest daily case count to date, according to data compiled by Johns Hopkins University.
Los Angeles County, the state's worst-hit region, has seen 100,772 cases, according to the latest report Monday from the Los County Department of Public Health, just under half of California's 223,646 total cases.
Arizona
On Monday, Arizona Gov. Doug Ducey announced the closure of bars and nightclubs for 30 days following a spike in cases.
While Arizona's stay-at-home order expired on May 15, a selection of venues were reopened before the order was lifted. Restaurants, gyms, pools, hair and nail salons and non-essential retailers were allowed to reopen with restrictions in place before May 15.
The state's daily case count has been on a mostly increasing trend from around May 25. On Sunday, the state recorded its highest single-day rise in cases since the outbreak began, with around 3,800 new infections, according to Johns Hopkins University.
COVID-19-related hospitalizations in the state have also been on a mostly increasing trend since April 8, with a record 2,721 hospitalizations reported on June 28, according to the latest figures from the Arizona Department of Health Services.
"We can't be under any illusion that this virus is going to go away on its own," Ducey said during a Monday press conference.
"Our expectation is that next week our numbers will be worse. It will take several weeks for the mitigations that we have put in place and are putting in place to take effect," he added.
Texas
On Thursday, Texas Gov. Greg Abbott announced the state "will pause any further phases to open Texas as the state responds to the recent increase in positive COVID-19 cases and hospitalizations," in a statement.
Abbott issued an executive order reintroducing restrictions on bars. Bars and similar businesses who "receive more than 51 percent of their gross receipts from the sale of alcoholic beverages," were closed from 12 p.m. local time last Friday.
"The last thing we want to do as a state is go backwards and close down businesses. This temporary pause will help our state corral the spread until we can safely enter the next phase of opening our state for business," Abbott said in the statement.
The daily case count in Texas has been mostly increasing from around June 8, less than a week after the state entered its third phase of reopening on June 3, which allowed all businesses to operate at 50 percent capacity, while bars were permitted to reopen at 50 percent capacity, as long as customers are seated.
Hospitalizations in Texas climbed past 5,000 for four consecutive days from June 26 to 29, including 5,913 reported on June 29, the highest level reported since April 4. Hospitalizations have increased daily from June 11 to 27, according to the Texas Department of State Health Services.
Florida
Around mid-June, a handful of bars in Florida were closed again after customers tested positive for the virus. The new cases were reported about a week after nearly all Florida counties entered phase two of the state's reopening plan.
Two of the three closed bars are located in Jacksonville Beach, while one was closed in Florida's Altamonte Springs area.
Florida's daily case count has been mostly increasing from around May 22, just days after restaurants, as well as retailers, museums, personal care services and other businesses resumed operations from May 18.
Most Florida counties entered phase one of the state's reopening on May 4, while phase two of reopening began on June 5, which allowed bars, taverns and pubs to resume at 50 percent capacity in every Florida county except Miami-Dade, Broward and Palm Beach.
The percentage of positive tests in Florida has been mostly increasing in the past six weeks, rising from 2.28 percent in the week starting May 17 to 9.31 percent in the week starting June 21, according to data compiled by the Florida Department of Health.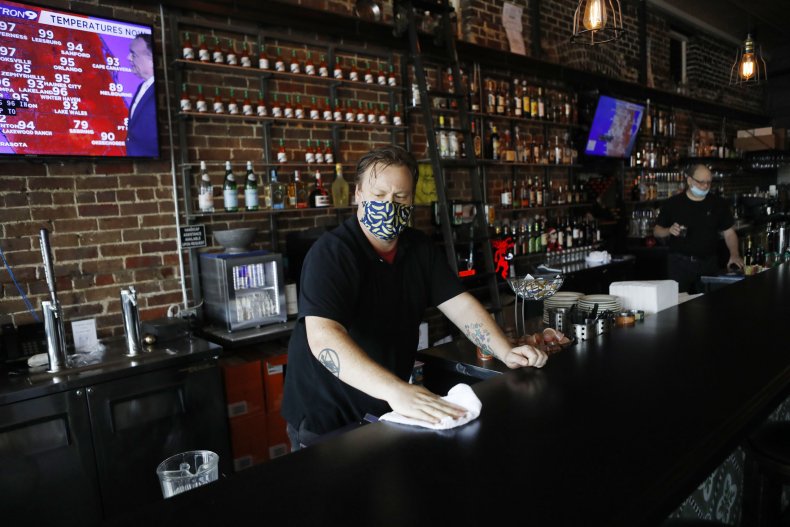 The novel coronavirus, which was first reported in Wuhan, China, has spread to more than 10.4 million people across the globe, including over 2.6 million in the U.S. Over 5.2 million globally have reportedly recovered from infection, while over 509,700 have died, as of Tuesday, according to the latest figures from Johns Hopkins University.
The graphics below, provided by Statista, illustrate the spread of COVID-19 in the U.S.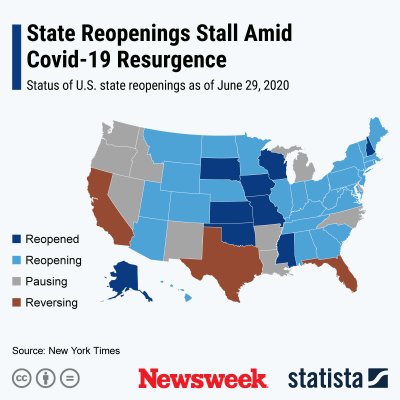 The graphic below, provided by Statista, illustrates the seven-day rolling average of new COVID-19 cases in the U.S. and European Union.