California Closes Beaches for July 4 After 'Alarming' Coronavirus Spike
As novel coronavirus cases in California approach nearly 223,700, beaches in Los Angeles County have been closed for the July 4 weekend. The closures follow a record of nearly 3,000 new cases reported Monday by the Los Angeles County Department of Public Health.
The department announced the closure of all Los Angeles County beaches from July 3 through July 6 at 5:00 a.m. local time and a ban on fireworks displays over the July 4 weekend to "prevent dangerous crowding that results in the spread of deadly COVID-19," in a statement Monday.
With 2,903 new infections reported Monday in Los Angeles County, its largest single-day rise in cases since the outbreak began, the county "continues to see alarming trends of community spread," the department said in another statement Monday.
The department also confirmed 22 new deaths on Monday, 18 of which were over the age of 65, while four people were aged between 41 and 65.
All public beaches, piers, public beach parking lots, beach bike paths along the sanded portion of the beach as well as beach access points will be temporarily closed from 12:01 a.m. local time on July 3 to 5 a.m. local time on July 6. "Long Beach has its own health department and this announcement does not apply to that city, at this time," the department said.
The Los Angeles County Sheriff's Department also announced its Malibu and Lost Hills Station beach team will be patrolling the beaches throughout the weekend and evenings.
"This new order makes it illegal to trespass at these locations and is punishable by law to include, but not limited to, a $1,000 fine. Please follow the LA County Health Mandates. We want to ensure the health and safety of all our residents," the station warned in a post on its official Facebook page.
Several key virus measures in the county continue to show "steep increases" in community transmission. The seven-day average of new cases was reported to be at nearly 2,000, jumping from an average of 1,379 two weeks ago. Over 1,700 in the county were reported to be hospitalized, an increase from the 1,350 to 1,450 daily hospitalizations seen in previous weeks, the department noted.
With over a million people tested across the county, nine percent have tested positive for the virus so far. The seven-day average of the daily positive test rate nearly doubled from its lowest daily rate of 4.6 percent recorded in late May to 8.4 percent on Monday, the department confirmed.
The director of the Los Angeles County Department of Public Health, Dr. Barbara Ferrer, warned in the statement: "The alarming increases in cases, positivity rates and hospitalizations signals that we, as a community, need to take immediate action to slow the spread of COVID-19.
"Our actions to slow the spread cannot wait—we need to do these actions now and for the weeks ahead in order to prevent even more serious illness and death.
"The Fourth of July holiday weekend typically means large crowds and gatherings to celebrate, a recipe for increased transmission of COVID-19. We all need to take this virus more seriously and residents and business owners must do their part," Ferrer said.
Los Angeles County Supervisor Janice Hahn added: "We had almost 3,000 reported cases just today. We cannot risk having crowds at the beach this holiday weekend," in a post on her official Twitter account.
The announcement follows the closure of bars across seven California counties, including Los Angeles County, mandated by California Gov. Gavin Newsom on Sunday following a spike in cases.
The department noted in a statement Sunday: "There has been a sharp increase in new cases and hospitalizations. The timing of these increases is in line with the reopening of key sectors, including bars, which are places where people remove their face covering to drink while they may be socializing with people not in their households."
California is home to over 1,500 beaches across the state's 15 coastal counties, The Los Angeles Times reports. Several beaches across all 15 counties have been allowed to reopen with varying levels of restrictions outlined by local officials.
It has yet to be confirmed whether other California beaches will be closed over the Fourth of July weekend amid the ongoing outbreak.
Newsweek has contacted the California Department of Public Health and the governor's office for comment and more information on beach closures across the state.
Los Angeles County joins Florida's Miami-Dade County, Broward County (whose county seat is Fort Lauderdale) and Palm Beach County which have also announced beach closures for the July 4 weekend.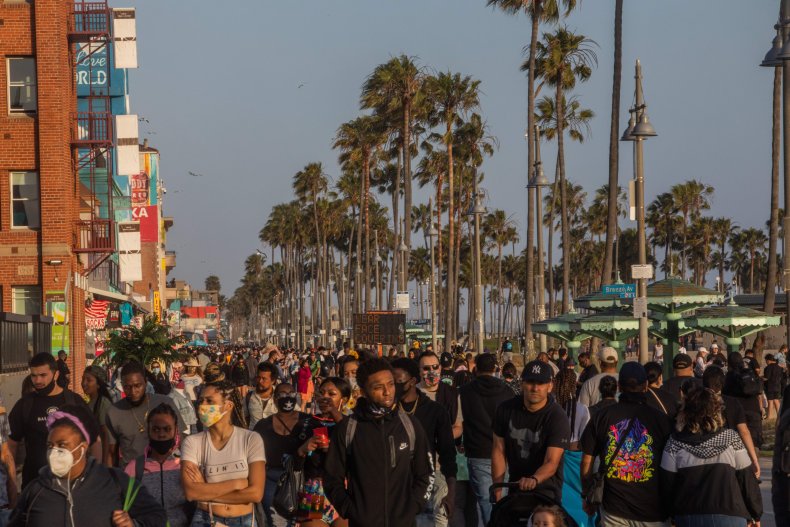 The number of daily new cases in California has been on a mostly increasing trend from the start of the pandemic to around June 23, which saw a record 6,700 new cases, the state's highest daily case count to date, according to data compiled by Johns Hopkins University.
The daily case count saw a few dips since June 23, nearly halving to around 3,700 new cases on June 27, before rising to around 4,700 new infections on June 28, according to Johns Hopkins University.
The total new cases reported in the last week from June 22 to 28 was at 36,600, a nearly 30 percent increase from the 26,200 reported the previous week from June 21 to 27, according to Johns Hopkins University.
The novel coronavirus, which was first reported in Wuhan, China, has spread to more than 10.3 million people across the globe, including over 2.5 million in the U.S. Over 5.2 million globally have reportedly recovered from infection, while over 505,500 have died, as of Tuesday, according to the latest figures from Johns Hopkins University.
The graphics below, provided by Statista, illustrate the spread of COVID-19 in the U.S. and the worst-affected countries.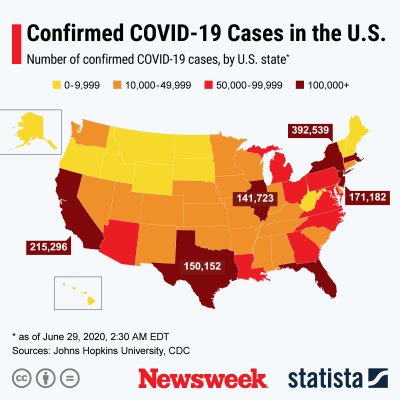 The graphic below, provided by Statista, illustrates the seven-day rolling average of new COVID-19 cases in the U.S. and European Union.