Texas Coronavirus Testing Delays As Lab Uses Fax Machines to Send Results
As novel coronavirus cases in Texas approach nearly 123,000, some labs in Austin are using fax machines to deliver COVID-19 test results to health officials, causing delays in notifying patients.
On Monday, Austin, the county seat of Travis County, reported 129 new confirmed cases. However, the number is partially down to delays caused by having to enter faxed results into the city health department's database, according to Dr. Mark Escott, Interim Medical Director and Health Authority for Austin Public Health.
The slow process adds to delays in further testing, with staff occupied with the time-consuming task of manually receiving and entering test results.
Speaking to Newsweek, a spokesperson for the Austin city government said: "With the exception of some electronic lab reporting, nearly all labs, clinicians, and hospitals fax their results.
"We don't have the exact number on hand but Austin Public Health receives hundreds of faxes a day of results and each record usually requires staff to follow up with each provider to obtain demographic information. Staff are working around the clock and through weekends and are hiring and training people daily to continue services," the spokesperson added.
Austin Public Health receives over 1,000 faxes a day reporting COVID-19 test results.
"It's not uncommon for us to have a week to 10 days between when a person is tested and when their case is entered in the system so they can be called," Escott said.
Travis County Commissioner Brigid Shea said: "I am stunned to hear that the way we are getting the results of the tests on infections is by fax. That's like a third-world technology.
"Most young people don't even know what a fax machine is anymore," she said after being notified of the "archaic" method of sending and receiving lab results via fax during a briefing on the outbreak by Escott.
"It is so crude, I am horrified to hear this. This incredibly wasteful, stupid process of putting it on fax paper and faxing it to somebody so that they then have to manually enter it on a computer," Shea said.
While the state requires digital reporting of test results, only some labs are said to be complying while others have not made it a priority, according to Escott, who wondered: "Do we need to issue a court order to do this [require labs to digitally report results]? I'm not sure."
Travis County commissioners are investigating whether county officials have the authority to enforce digital reporting of results.
Shea asked during Escott's briefing: "Could you get our county attorney the names of those labs so we can look at enforcement actions if they're not following a state order?"
Shea did "ask those questions" of whether a ban on the reporting of results by fax should be introduced at a recent Travis County Commissioners Court meeting, the Austin city government spokesperson told Newsweek.
Austin Public Health is reviewing a change in strategy in the coming weeks to prevent faxed test results from slowing down the process of notifying patients of the results.
Newsweek has contacted the offices for Texas Gov. Greg Abbott and Travis County as well as the Texas Department of State Health Services (DSHS) for comment.
Last month, Abbott ordered all residents and staff in Texas nursing homes to be tested, with mobile teams sent out to various areas to help expedite the process.
But some nursing homes were reported to have not received their results after waiting nearly two weeks, according to one nursing home medical director and two associations that represent them statewide.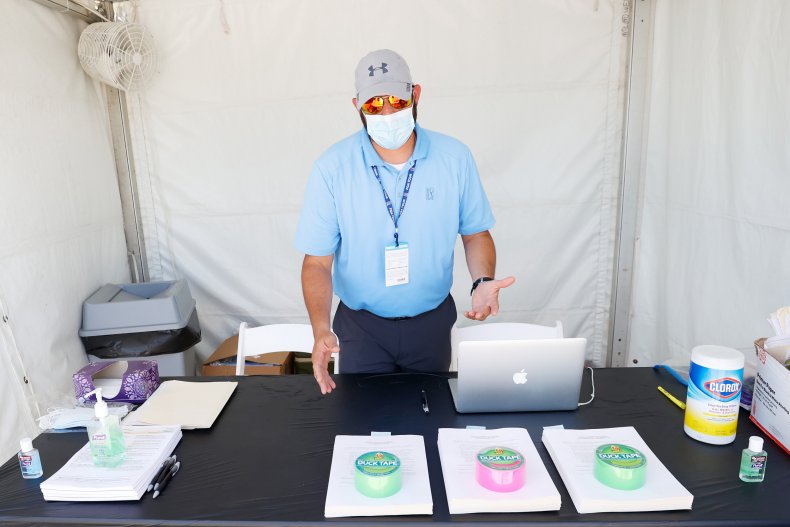 The president and chief executive officer of LeadingAge Texas, which represents nonprofit groups working with aging services, George Linial, told Dallas Morning News: "It sort of defeats the purpose of having the test.
"We applaud the effort of getting all nursing homes tested, but at the same time, it has got to be done much more efficiently and quickly," he added.
Last month, testing delays were also reported for those tested from nursing homes in East Texas as well as prisons and a chicken processing plant in Mount Pleasant, to which a few cases in the area have been linked. Some of these results were reportedly not received for nearly two weeks.
Titus County Judge Brian Lee told Dallas Morning News: "We were certainly hoping to get quick results so [company] management could take quick action to get those people off the line, get them home, warn their families.
"But when your tests take 12 days to come in, you have lost the benefit," he added.
On Tuesday, Texas reported 4,092 COVID-19 hospitalizations, the highest number recorded since early April. The previous record was set just a day earlier on Monday, with 3,711 hospitalizations. Monday's figure more than doubled the 1,778 hospitalizations reported May 1, when the state entered phase one of its reopening, according to the Texas DSHS.
The state entered the third phase of reopening on June 3, which allowed all businesses to operate at 50 percent capacity, with some exceptions, while most outdoor areas are not subject to capacity limits. Bars were permitted to resume at 50 percent capacity, as long as customers are seated.
Restaurants were allowed to expand their capacity to 75 percent from June 12, while amusement parks and carnivals in counties with more than 1,000 cases were permitted to operate at 50 percent capacity from June 19.
The novel coronavirus, which was first reported in Wuhan, China, has spread to over 9.2 million people across the globe, including over 2.3 million in the U.S. More than 4.6 million globally have reportedly recovered from infection, while nearly 478,200 have died, as of Monday, according to the latest figures from Johns Hopkins University.
The graphic below, provided by Statista, illustrations the daily number of newly confirmed COVID-19 cases in the U.S.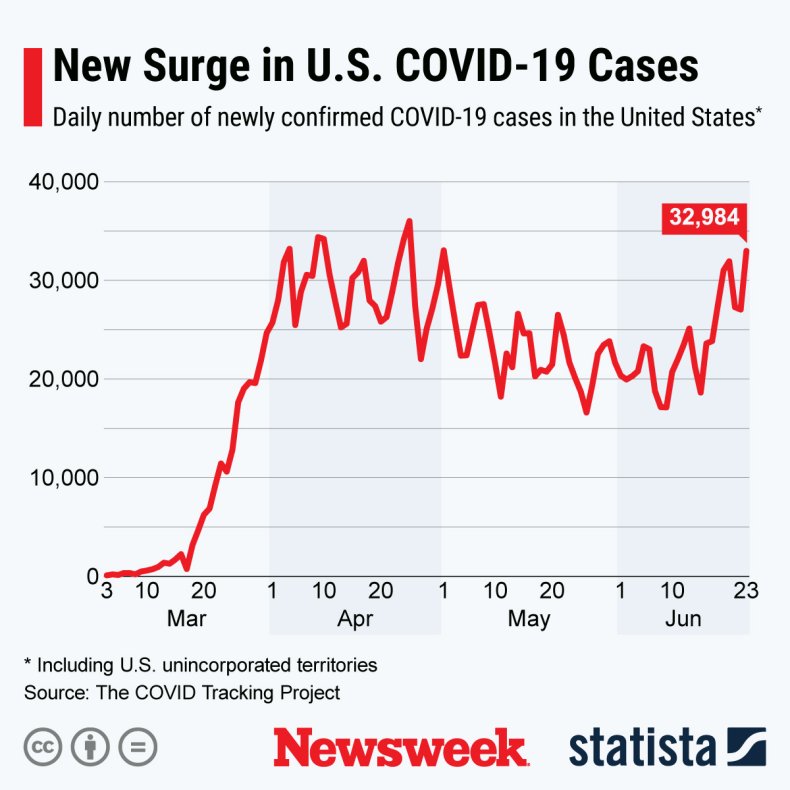 The graphic below, provided by Statista, illustrates the percentage of COVID-19-related hospitalizations, ICU (intensive care unit) admissions and deaths in the U.S.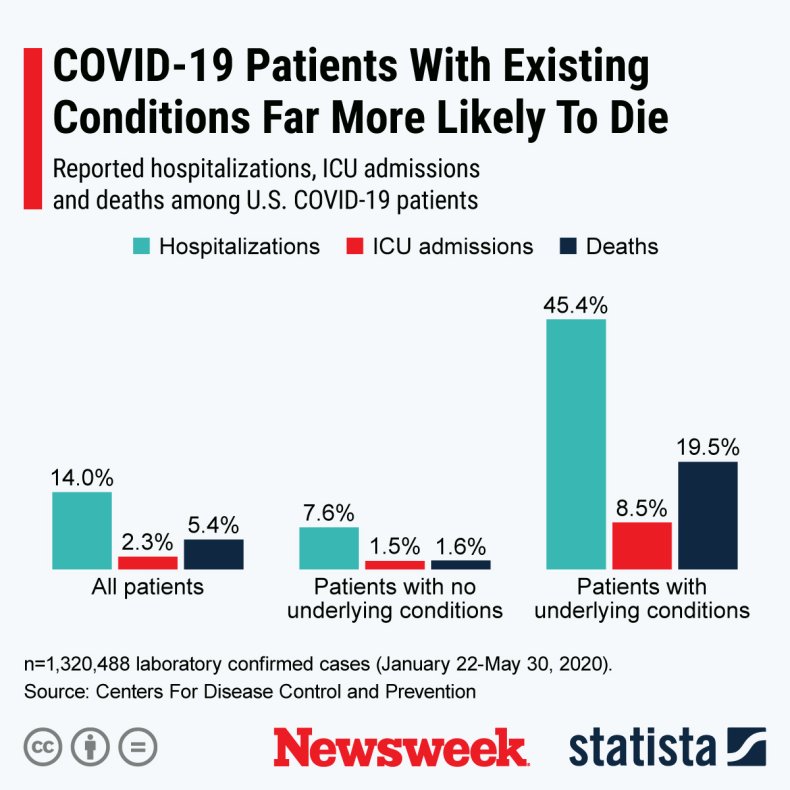 The graphics below, provided by Statista, illustrate the spread of COVID-19 in the U.S. and the worst-affected countries.