Infectious Diseases Expert Questions COVID Spread Link to Outdoor Dining
Rising coronavirus infections in California saw San Francisco and surrounding Bay Area counties impose strict new stay-at-home orders last week, which closed various businesses including outdoor dining facilities.
However, one San Francisco doctor noted the decision to shut outdoor dining venues may be questionable due to the lack of data linking outdoor dining with the spread of COVID-19 infection, San Francisco's KRON-TV reported.
Dr. Monica Gandhi, an infectious diseases expert at the University of California, San Francisco (UCSF) told KRON there's been no clear evidence linking outdoor dining to the spread of the virus. "There hasn't been any data presented that if done right with ventilation, with masking, hand hygiene and distancing, smaller tables. Everything that people did and many restaurants did to keep it safe that restaurants became a root of spread."
Gandhi highlighted a previous study done by the U.S. Centers for Disease Control and Prevention (CDC), which indicated eating at restaurants raised the risk of COVID-19 without differentiating between indoor and outdoor dining.
A CDC study published in September noted: "Eating and drinking on-site at locations that offer such options might be important risk factors associated with SARS-CoV-2 infection.
"Adults with positive SARS-CoV-2 test results were approximately twice as likely to have reported dining at a restaurant than were those with negative SARS-CoV-2 test results.
"Efforts to reduce possible exposures where mask use and social distancing are difficult to maintain, such as when eating and drinking, should be considered to protect customers, employees, and communities," the CDC study noted.
In the CDC's updated guidance for restaurant and bar operators published last month, the health body advised: "The risk of COVID-19 spread increases in a restaurant or bar setting as interactions within six feet of others increase.
"There is evidence that under certain conditions, people with COVID-19 seem to have infected others who were more than six feet away.
"These transmissions occurred within enclosed spaces that had inadequate ventilation. Available data indicate that it is much more common for the virus that causes COVID-19 to spread through close contact with a person who has COVID-19 than through airborne transmission," the CDC said at the time.
Newsweek has contacted the CDC for comment.
In a study published last month in the Journal of Korean Medical Science, which was conducted at a restaurant in the South Korean city of Jeonju, a participant was infected "within 6.5 m [meters, 21.3 feet] and 5 minutes of exposure," to an infected individual. A second participant was infected within 4.8 meters (15.7 feet) and 21 minutes of exposure, according to the study.
"In this outbreak, the distances between infector and infected persons were 4.8 and 6.5 m, both farther than the generally accepted 2 m droplet transmission range.
"These findings strongly suggest that this outbreak occurred by droplet transmission exceeding a 2 m distance and excluded contact and fomite transmission.
"Droplet transmission can occur at a distance greater than 2 m if there is direct air flow from an infected person. Therefore, updated guidelines involving prevention, contact tracing, and quarantine for COVID-19 are required for control of this highly contagious disease," the study concluded.
Last month, Californians were seen celebrating Thanksgiving at restaurants in Pasadena, the only city in Los Angeles County where outdoor dining remained open. A recent county health order banned in-person dining in the county, but the city has its own health department so it is not obliged to comply.
Total confirmed cases in California have surpassed 1.6 million, with 21,147 total reported deaths, as of Tuesday, according to Johns Hopkins University (JHU).
The state's seven-day average of cases has been rising sharply since early November, peaking at 32,683 on December 12, according to data compiled by JHU.
Earlier this month, California Gov. Gavin Newsom announced a "Regional Stay-At-Home Order" which requires residents to stay at home for at least three weeks in regions where the order is in place.
The order will be triggered when the intensive care unit (ICU) capacity drops below 15 percent in any given region among the five being tracked by state health officials.
The latest ICU capacities by region were recorded to be as follows, according to the California Department of Public Health:
Bay Area: 17.8 percent
Greater Sacramento Region: 14.8 percent
Northern California: 29.0 percent
San Joaquin Valley: 0.0 percent
Southern California: 2.7 percent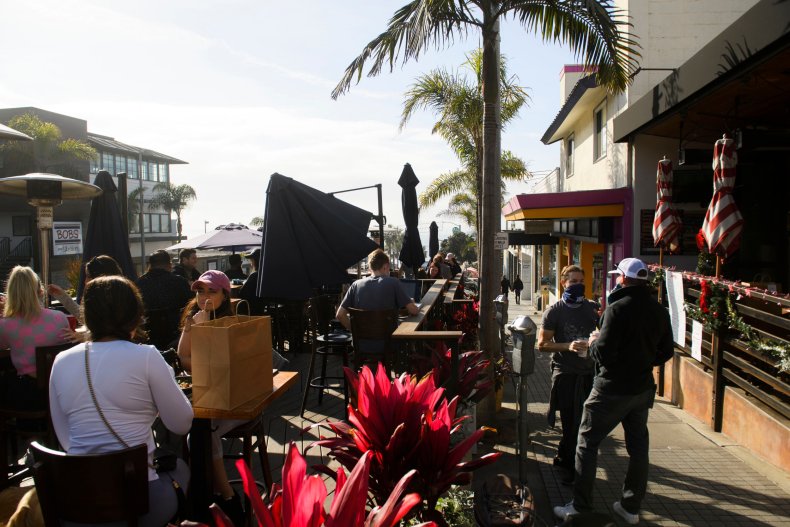 The wider picture
The novel coronavirus has infected more than 72.9 million people, including over 16.5 million in the U.S., since it was first reported in Wuhan, China.
More than 1.6 million people have died worldwide and over 41.3 million have recovered as of Tuesday, according to John Hopkins University.
The graphic below, provided by Statista, shows the countries with the highest COVID-19 death tolls.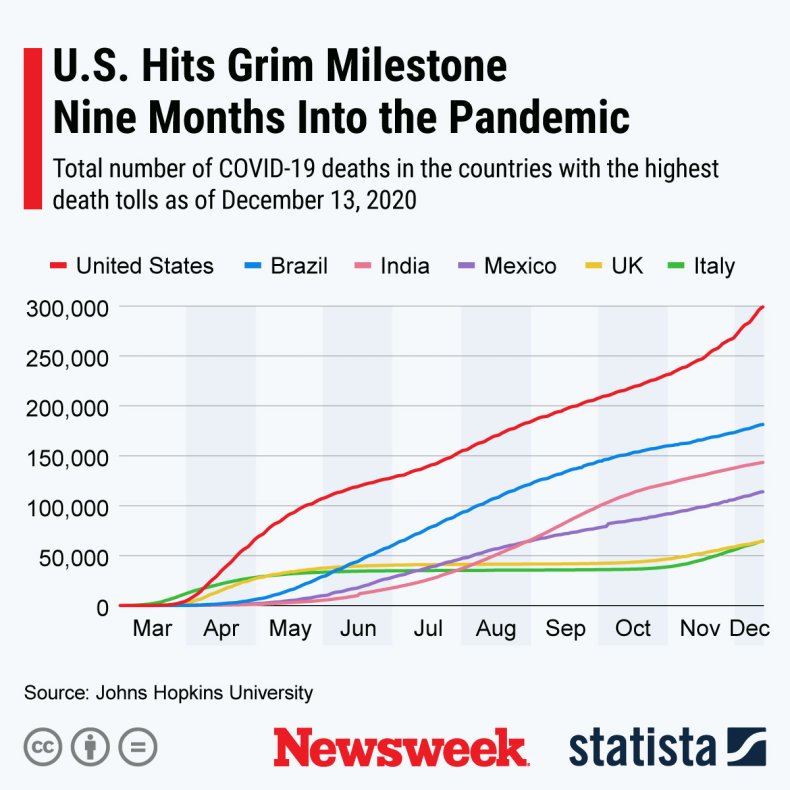 The graphic below, provided by Statista, shows the spread of COVID-19 in the U.S.