Coronavirus Cases Are Rising in 20 U.S. States, With Sharp Spikes in Arizona, North Carolina and California
As government leaders across the country continue to lift restrictions imposed at the onset of the coronavirus outbreak, close to half of the nation's states are diagnosing new cases in increasing quantities.
Updated data from The New York Times showed on Monday that health officials in 20 U.S. states have confirmed rising case counts over the past seven days, with sharp spikes reported in North Carolina, Arizona and California. All three states, like most others in the U.S., have recently begun to reopen.
North Carolina saw its highest single-day increase in cases on June 6, with 1,370 new diagnoses confirmed. In a press release, the state's Department of Health and Human Services said the number of individuals testing positive for the virus increased by 10 percent, while related hospital admission rates exceeded 700 for three of the previous five days.
Health officials in North Carolina confirmed the state's previous high of 1,289 new cases on June 5, after reporting similar numbers on May 23, May 29, May 30 and June 4.
Arizona's highest single-day increase came on June 5, with 1,579 new cases, according to local news outlets. Daily case counts have risen steadily since the end of May. The Arizona Department of Health's latest report, published Sunday, notes a statewide increase of 1,438 additional diagnoses.
As daily case counts surpassed 1,000 throughout last week, the health department's former director, Will Humble, told KSAZ-TV (Fox 10 Phoenix) that Arizona's uptick in virus transmission was "predictable" because the state's stay-at-home order expired two weeks earlier.
California reported its highest daily increase in cases this past Friday, with 3,593 new cases confirmed. Public health officials also confirmed the state's previous single-day high one week before: 3,705 new cases on May 30. California's outbreak trajectory began to trend upward during the last week of May. According to the state's California Department of Public Health, officials have identified at least 2,000 new cases statewide every day since May 25.
More than a dozen other U.S. states have recently reported rises in daily case counts: Utah, Kentucky, Arkansas, Texas, Michigan, Florida, Tennessee, Washington, South Carolina, Missouri, New Mexico, Idaho, Vermont, Hawaii, Alaska and Montana. While Michigan confirmed its highest single-day increase in cases this past Friday, daily diagnosis reports published throughout the past month showed significantly lower numbers.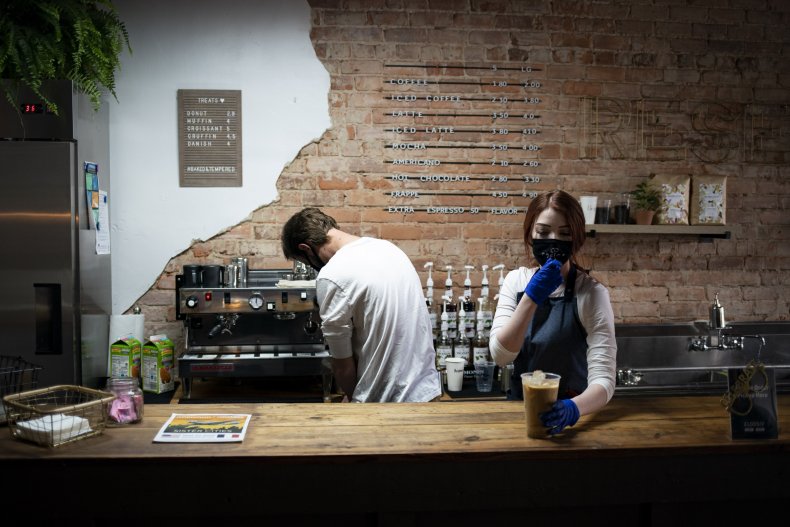 In Oregon, health officials reported the state's highest single-day increase in diagnoses on Sunday, with 146 new confirmed and presumptive cases. In a statement released alongside its update, the Oregon Health Authority partially attributed the spike in cases to workplace outbreaks, in addition to expanded testing, contact tracing and close monitoring of individuals exposed to others who have contracted the illness. The Health Authority said it is helping to address an outbreak at one business where 65 employees tested positive for the virus.
Most Oregon businesses, including restaurants, bars, personal care services and fitness centers, reopened on May 15, with virus mitigation procedures in place. The majority of state counties were approved to reopen pools, movie theaters, bowling alleys and other group-gathering venues starting Monday.
As of Monday morning, the U.S. has confirmed more than 1.9 million cases of the novel coronavirus since the start of the pandemic, according to Johns Hopkins University's tracker. At least 110,514 of those cases have been fatal.
Newsweek reached out to the Oregon Health Authority, the California Department of Public Health, the Arizona Department of Health Services and the North Carolina Department of Health and Human Services for comments but did not hear back before publication.