Michigan Reports Fewest Daily Coronavirus Deaths Since March, After Enforcing One of the Nation's Strictest Lockdowns
Michigan's daily fatality toll due to the novel coronavirus reached a notable low on Sunday, as state health officials reported four additional deaths from the disease.
According to the latest data provided by Michigan's Department of Health and Human Services (MDHHS), Sunday's figures bring the state's overall death count to 5,656 confirmed since the pandemic's onset, with an additional 239 deaths marked "probable" on its coronavirus dashboard. An additional infographic charting daily deaths recorded by MDHHS throughout the outbreak shows three fatalities reported on Saturday and one on Sunday.
The last time Michigan confirmed a lower incidence of daily fatalities was on March 20, four days after its first virus-related death was reported. The state's death toll reached its peak on April 16, when health officials confirmed 163 new fatalities. It has steadily decreased since then, with daily deaths remaining below 100 after April 27 and below 50 starting two weeks later. Fewer than 15 new deaths were reported statewide every day since June 3.
Recent diagnosis reports published by Michigan health authorities indicate new diagnoses are steadily declining as well. MDHHS confirmed 121 additional virus cases on Sunday, contributing to an overall total of 58,870 positive cases confirmed. At least 5,543 probable cases are also noted on the department's dashboard. Without considering probable cases and deaths, Michigan's statewide case fatality rate—the proportion of deaths compared to diagnoses—is about 9.6 percent, as MDHHS notes. When probable cases and deaths are considered, the statewide case fatality rate falls to about 9.1 percent.
Michigan's virus outbreak was one of the United States' most severe. Over the last three months, it confirmed the ninth-highest total number of diagnoses compared to all other U.S. states, behind New York, New Jersey, California, Illinois, Massachusetts, Pennsylvania, Texas and Florida, according to Johns Hopkins University's tracker. Its overall death toll surpasses those reported by three of those states.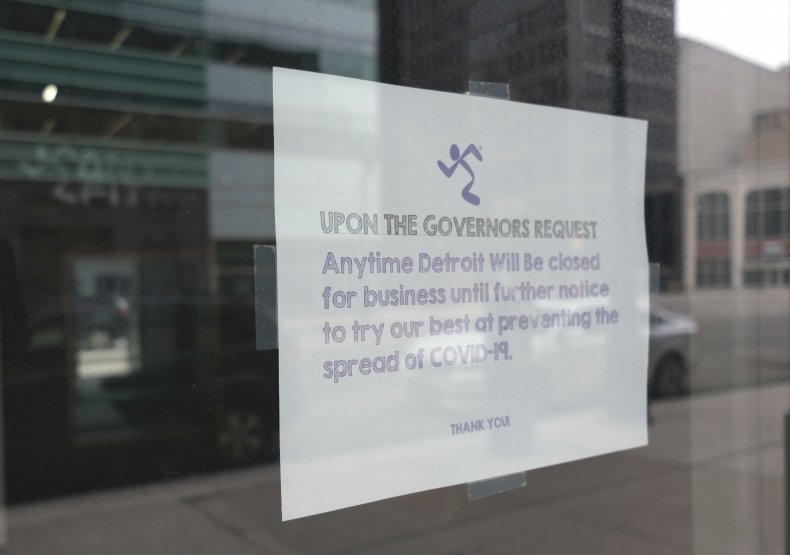 Governor Gretchen Whitmer implemented one of the nation's more conservative virus mitigation plans as a result, inciting pushback from residents who demanded the state reopen non-essential businesses earlier than scheduled during multiple demonstrations. The governor's reopening directives have similar timelines to those implemented in other states with comparable incidences of diagnoses and deaths from the new respiratory syndrome.
Whitmer announced Michigan's initial reopening guidelines on May 21 in an executive order—which permitted residents to gather in groups of fewer than 10 people—effective immediately, and lifted certain restrictions previously applied to retailers, car dealerships and nonessential medical and veterinary procedures closer to the end of the month.
Later, on June 1, Whitmer terminated the state's safer-at-home order and permitted retail establishments to begin accepting customers with capacity limitations in place starting three days later. Restaurants and bars will reopen on Monday under similar restrictions, followed by personal care service facilities, fitness centers and theaters between June 10 and June 15.
Newsweek reached out to Whitmer's office and MDHHS for additional comments on Michigan's declining coronavirus numbers, but did not receive replies in time for publication.