Texas, Arizona, Oregon Report Significant Coronavirus Spikes After Reopening Economy
Health authorities in 14 states reported more new cases of the novel coronavirus last week compared to the week before, with Texas, Arizona and Oregon seeing the largest increases, Axios reported on Thursday. Though data confirmed by other states showed smaller degrees of change in cases identified over the last two weeks, several--including California and North Carolina--continued to report new diagnoses in high quantities.
All United States regions have reopened areas of their respective economies since implementing restrictions near the start of the virus pandemic. As Axios' report indicated, states that reopened earlier have seen recent upturns in seven-day averages of new cases diagnosed.
Arizona reported the most significant spike, with more than twice as many cases identified last week compared to the week prior, followed by Oregon and Texas. Weekly case counts recorded in Oregon were considerably lower than those recorded in Texas.
Arizona's Department of Health Services reported the state's largest single-day increase in virus infections on Tuesday, with 1,127 new cases confirmed. The health department's former director, Will Humble, attributed the rising statistics to recent changes in statewide mitigation measures, noting that Arizona's stay-at-home order expired two weeks earlier, in comments to local news station KSAZ-TV Fox 10 Phoenix.
"What we see in the data is pretty predictable," Humble told the outlet on Wednesday. "I'd expect to continue to see an increase in cases compared to where we were in the middle of May, because we are not using the same intervention, the-stay-at-home order, the distancing, and people are getting back to work."
In Texas, daily reports of new cases reached a record high on May 17, shortly after Governor Greg Abbott initiated the state's reopening plan. Non-essential businesses were permitted to begin reopening during the first week of May, and most industries had resumed services to some extent by the month's halfway point.
Texas gyms reopened most recently, following salons, barber shops, restaurants, movie theaters and retail establishments, including shopping malls. Similar to reopening procedures imposed in other U.S. states, Texas businesses were required to adhere to ongoing safety and virus mitigation measures upon resuming operations.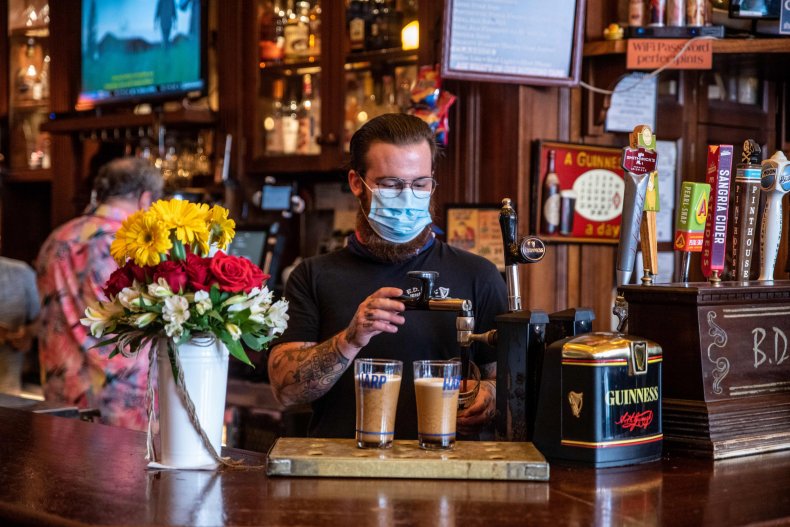 The U.S., at the pandemic's global epicenter, has confirmed more than 1.8 million cases of the virus since identifying the first few in February. More than 107,000 people have died nationwide after contracting the respiratory syndrome as of Thursday morning, according to Johns Hopkins University's tracker. Texas has reported one of the highest overall case counts compared to other U.S. states, with 68,877 diagnoses confirmed in total, while Arizona has confirmed fewer, with 22,356 total cases. Oregon has reported 4,399 total cases as of Thursday, one of the lowest virus incidences in the country.
Newsweek reached out to state health departments in Texas, Oregon and Arizona for more information, but did not receive replies in time for publication.