Coronavirus Update: Over 500 Chinese Prisoners Infected, While South Korean 'Cult' Deals with Super-spreading Event
Hundreds of prisoners in China are among the almost 76,000 people who have been infected by the new coronavirus COVID-19, according officials.
According to the latest report from the World Health Organization (WHO) published on Thursday, the virus has killed 2,121 people since the outbreak started in China late last year—up by 115 from the previous day. A further 548 cases were confirmed, taking the total to 75,748. That marked the smallest increase in 25 days in the outbreak, which the WHO has classed a public health emergency of international concern.
A Johns Hopkins University dashboard tracking COVID-19 cases, which pools data from official sources including the WHO as well as China's National Health Commission and was updated Friday, stated 2,247 people had died in 76,727 cases. A chart on the website appeared to show new cases were going down.
The outbreak is thought to have started in the central Chinese city of Wuhan, Hubei province, in late 2019, when workers at a wholesale food market started falling ill. The vast majority of coronavirus deaths have been concentrated in Hubei, and mainland China. Of the over 2,000 people who died, only 11 have been outside of mainland China, including two former passengers of a cruise ship quarantined off the coast of Japan. Around 1,200 of the cases have occurred outside of mainland China, including 16 in the U.S., as shown in the map by Statista below.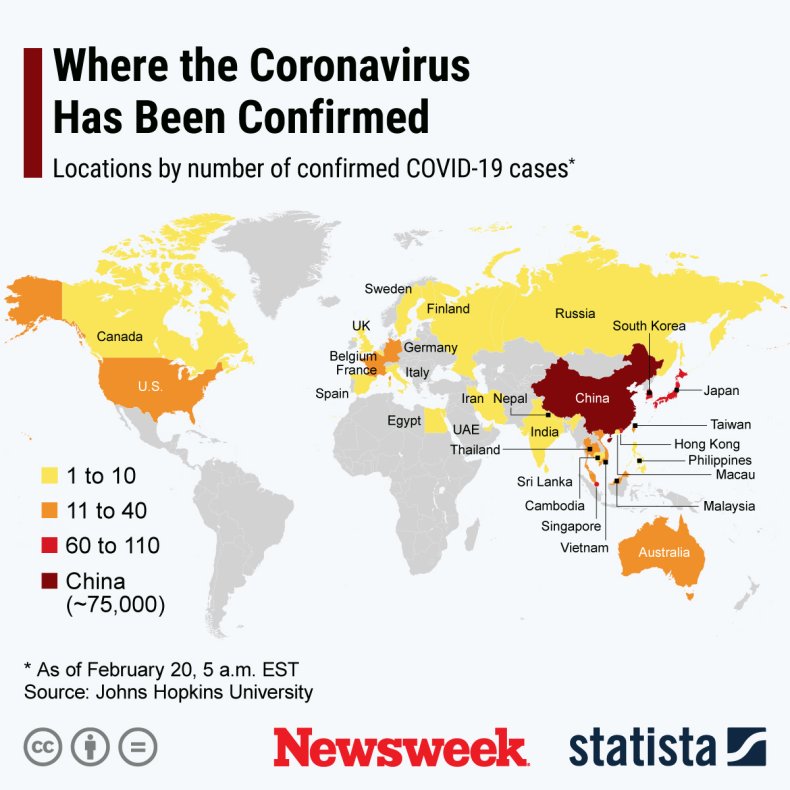 Over 500 prisoners in China are among those who have fallen ill. The Hubei Provincial Health Committee said in a statement on Friday that the area's prison department had reported 271 cases of COVID-19 among inmates. It said 51 of the cases had been previously been counted, meaning it added 220 new cases to the province-wide total. According to The Guardian, 230 of the sick were from Wuhan's women's prison, whose head has been fired.
A further 200 prisoners and seven guards at Rencheng prison in eastern Shandong province tested positive for the virus. The province's secretary for the department of justice as well as seven prison officials have been dismissed, The Guardian reported citing state media. A total of 2,077 people at the prison have been tested for COVID-19. A further 34 prisoners were diagnosed with COVID-19 at a facility Zhejiang province, also in the east, including 27 new cases confirmed Thursday.
Meanwhile health officials in South Korea, one of the worst affected countries outside of mainland China, confirmed 204 cases of the virus—up by 48 between 9 a.m. and 4 p.m. on Friday. That included a further 42 linked to the Shincheonji Church of Jesus in the southern city of Daegu, up from the 33 reported earlier in the day.
According to the AFP news agency, a 61-year-old woman who is a member of the church, regarded by some as a cult, came down with a fever on February 10, and went to at least four services before she was diagnosed with COVID-19. In what officials have described as super-spreading event, according to The Guardian, the municipal government of Daegu has asked the 1,001 members of the church are thought to have been at these services to self-quarantine.
Shincheonji has shut down its branch in Daegu, BBC News reported, and services in other regions would be conducted online or at home. The church's founder Lee Man-hee claims to be the second coming of Jesus Christ, and the "promised pastor" mentioned in the Bible.
Professor Rowland Kao, chair of veterinary epidemiology and data science at the U.K.'s University of Edinburgh, said in a statement: "A superspreader will be anyone who is able to infect an unusually high number of other individuals, when under normal circumstances. Being a superspreader could be due to a person shedding unusually high quantities of virus, or engaging in behaviour resulting in substantial potentially infectious contacts."
It appears the woman in South Korea was "was in a situation which might lead to unusual levels of contact with others," Kao said. It is important to trace who she was in contact with to determine whether this behaviour may explain the high number of infections, he said.
Kao stressed: "If that is the case, while technically we may have seen a superspreading event, it would not be the type of event that presents a worry to the general populace (since it is unlikely that any of them would experience contact in a similar way.) However, like the Diamond Princess situation, it does highlight that, under the right circumstances, COVID-19 does have the potential to infect many individuals."
This article has been updated with comment from Rowland Kao.