Older People, More at Risk From COVID-19, Taking Least Precautions: Poll
Older people who are more at risk from the health implications of COVID-19 have been taking less precautions amid the pandemic than younger age groups, according to new polling.
The Centers for Disease Control and Prevention (CDC) has released particular guidance for those who may suffer most from exposure, with the elderly considered among those as "your risk of getting severely ill from COVID-19 increases as you get older."
Advice includes precautions such as limiting interactions and social distancing when that is not possible.
It also notes that around 80 percent of COVID-19 related deaths in the U.S. have been among adults over the age of 65.
Despite this, a Peterson Foundation-FT poll found those aged over 65 were less likely to have adapted their behavior than younger respondents.
Asked if the coronavirus outbreak had affected their decisions in general, 74 percent of those aged 18 to 44 said yes. When the same question was posed to those over 65, that dropped to 55 percent.
Those in the 18 to 44 age group were also more likely to have worn a face mask, 66 percent compared to 54 percent.
The younger group was also more likely to avoid public places, 60 percent to 48 percent, and to have changed or canceled travel plans, 59 percent to 45.
Overall, 67 percent of respondents said the novel coronavirus had affected their decisions, while 62 percent had worn a mask and 57 percent had avoided public places.
The poll was conducted from June 23 to 29 among 1,000 adults across the United States.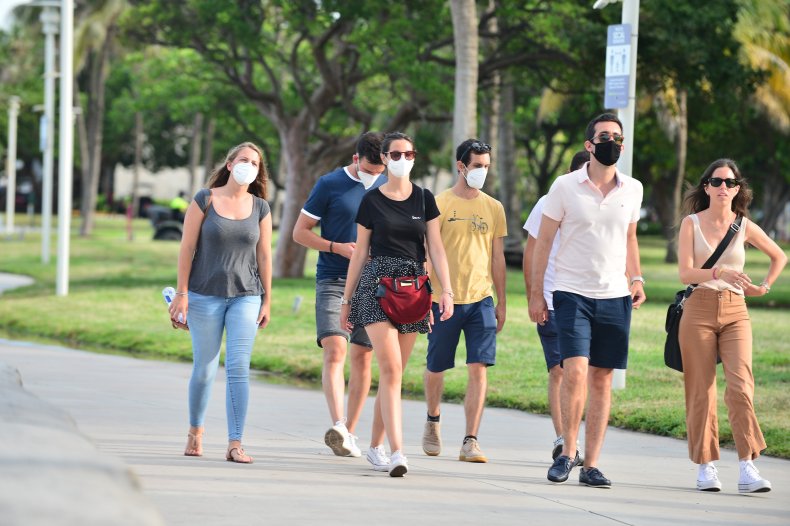 It comes as coronavirus cases continue to rise in the U.S., with a number of states experiencing spikes as they reopen from lockdowns which aimed to stem the spread.
Officials in Florida and Texas have said they believe lifting lockdown measures has led to the increased prevalence of COVID-19 within the states. Both have experienced major upticks in case numbers, having broken their records for single-day increases in recent days.
Amid the rise, Texas has become the latest state in the U.S. to require residents to wear face masks in public. This follows Kansas, Pennsylvania and Oregon doing the same, with 21 states requiring the wearing of face coverings, though the circumstances in which they are mandatory vary.
The United States has seen more than 2.9 million confirmed cases since the start of the outbreak, according to Johns Hopkins University. There have been more than 130,000 related deaths, while more than 900,000 people are said to have recovered.
The graphic below, from Statista, shows the comparative curves of cases in several U.S. states, with New York suffering the highest number of cases.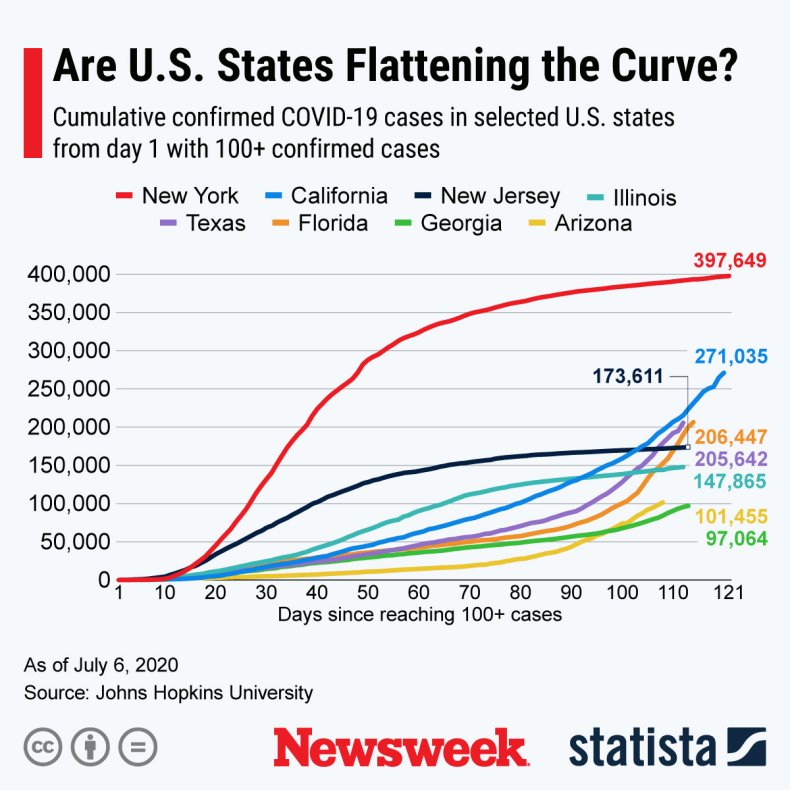 Correction 7/8/20: The percentage of respondents over 65 who said they would wear a face mask has been corrected to 54 percent after an earlier version of this article listed it at 57 percent.