The total number of coronavirus cases linked to Fitchburg's Crossroads Community Church in central Massachusetts is nearly 150 as of Saturday, according to Fitchburg's Board of Health.
The total count of infections linked to services held at the church around October 18 grew from 28 last Monday.
Images and videos posted on the church's Facebook page on October 18 and 19 showed several people without masks, including a reverend speaking at a service and members of the church music band who were captured singing. Some church attendees were also pictured without face coverings during a baptism event.
Many of the latest infections are believed to be asymptomatic, according to the city's health department, which also confirmed 40 other infections were traced back to local hockey events.
The city will host a free drive-thru COVID-19 testing site this Tuesday from 10 a.m. to 5 p.m. local time at Coggshall Park on Eastern Avenue as part of its ongoing contact-tracing efforts.
In-person services have been canceled at the Crossroads Community Church.
"Due to the increase and rapid acceleration of COVID-19 in Massachusetts, we will be taking extra cautionary steps to ensure that you and your family stay healthy and safe. If you are not feeling well or have flu-like symptoms, please stay home and/or get tested. Please be aware that we will be cancelling this Sunday's, October 25th, in person gatherings in order to make improvements to our facilities," according to a Facebook post shared by the church on October 21.
Newsweek has contacted the church for comment.
Total confirmed cases in Massachusetts have climbed past 159,700, as of Monday, according to data compiled by Johns Hopkins University (JHU).
The seven-day moving average of daily new cases in the state has been rising sharply since early September. The figure declined sharply from mid-April, when it peaked at 2,307, and flattened out from mid-June to early September, according to JHU.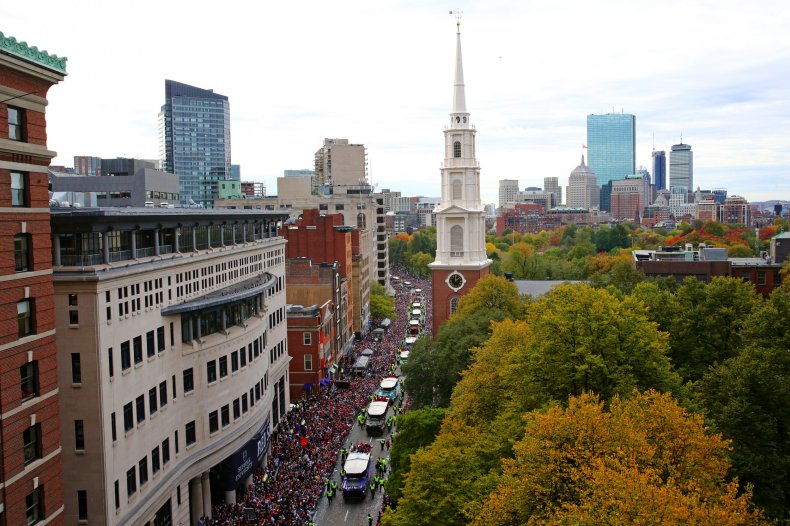 Other recent church COVID-19 outbreaks
Last month, at least 82 cases in North Carolina were linked to convocation events held by the United House of Prayer for All People in Charlotte.
Three deaths, five hospitalizations and a cluster of cases among eight residents at Madison Saints Paradise South, a senior living community in Charlotte, were connected to the church events held from October 4 to 11. At least 1,000 people were reported to have attended the events, according to county officials.
Also last month, around 60 new coronavirus cases were linked to an event held by the Brooks Pentecostal Church in Maine. The gathering was also attended by members of neighboring churches and a Bible college.
Between 100 to 150 individuals were at the event, where masks were available but not "routinely used," according to comments by Dr. Nirav Shah of the Maine Center for Disease Control and Prevention at an October briefing.
The wider picture
The novel coronavirus has infected more than 46.6 million people across the globe since it was first reported in Wuhan, China, including more than 9.2 million in the U.S.
Globally, more than 1.2 million have died following infection, while more than 31.1 million have reportedly recovered as of Monday, according to JHU.
The graphic below, produced by Statista, illustrates the spread of COVID-19 cases in the U.S.