The COVID-19 vaccine should next be given to those aged 75 and over and frontline essential workers, according to the latest recommendation by the Advisory Committee on Immunization Practices (ACIP) of the U.S. Centers for Disease Control and Prevention (CDC).
The panel voted 13 to 1 on Sunday to recommend 30 million frontline essential workers, which includes first responders and teachers, as well as food and agriculture, manufacturing, U.S. Postal Service, public transit and grocery store workers, be prioritized for vaccination. The latest recommendation would make a total of around 51 million people eligible for the vaccine in the next round of inoculations.
The panel recommended around 200 million others, including non-frontline workers such as those who work in the media, finance, energy and information technology (IT) and communication industries as well as those aged from 65 to 74 and those aged from 16 to 64 with high-risk conditions, should receive the COVID-19 vaccine in the following round.
On Sunday, the ACIP also published its detailed interim recommendation for the use of the COVID-19 vaccine developed by Moderna and the National Institute of Allergy and Infectious Diseases (NIAID), which received Emergency Use Authorization (EUA) by the Food and Drug Administration (FDA) on December 18.
"Use of all COVID-19 vaccines authorized under an EUA, including the Moderna COVID-19 vaccine, should be implemented in conjunction with ACIP's interim recommendations for allocating initial supplies of COVID-19 vaccines," the panel said Sunday.
Earlier this month, the ACIP recommended: "Both 1) health care personnel and 2) residents of long-term care facilities be offered COVID-19 vaccine in the initial phase of the vaccination program.
"Demand is expected to exceed supply during the first months of the national COVID-19 vaccination program."
"Early protection of health care personnel is critical to preserve capacity to care for patients with COVID-19 or other illnesses," the ACIP said in guidelines published on December 3.
Exactly when individuals will get vaccinated depends on the state's COVID-19 vaccination plan, which every state submitted to the CDC back in late October.
State governments' decisions on how to allocate the vaccines in their respective states will be guided by the ACIP's recommendations.
Health and Human Services Secretary Alex Azar previously projected Americans could begin getting inoculated various pharmacy and grocery chains, such as Walmart and CVS, from "late February, into March."
Dr. Moncef Slaoui, the chief adviser of Operation Warp Speed, said young and healthy members of the public should be last in line.
As of Sunday, 2,838,225 doses of the COVID-19 vaccine have been distributed, while 556,208 doses have been administered.
Vaccine supplies continue to be limited but production is expected to be ramped up in coming months, with enough doses to inoculate 100 million Americans expected to be delivered by the end of February, according to officials for Operation Warp Speed.
The first 2.9 million doses of the COVID-19 vaccine developed by Pfizer and BioNTech have been delivered to every state and territory, the Department of Defense confirmed in a statement Saturday.
Army Gen. Gus Perna, the chief operating officer of the country's vaccine distribution effort, said Saturday: "This week in total, between Pfizer and Moderna, we have allocated 7.9 million doses of vaccine and we are ready for that distribution."
An additional two million doses of the Pfizer/BioNTech vaccine, as well as 5.9 million doses of the Moderna/NIAID vaccine, are expected to be distributed this week. Over half of America's 21 million health care workers and three million nursing home residents will still need to be vaccinated even after the distributions are completed this week.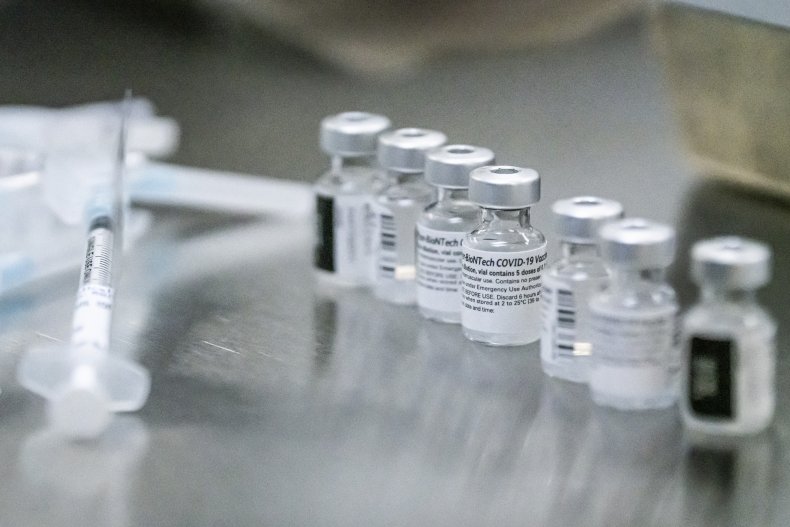 The wider picture
The novel coronavirus has infected more than 76.8 million people, including over 17.8 million in the U.S., since it was first reported in Wuhan, China.
More than 1.6 million people have died worldwide and over 43.3 million have recovered as of Monday, according to Johns Hopkins University.
The graphic below, provided by Statista, shows the percentage of adults in the U.S. who would get a COVID-19 vaccine.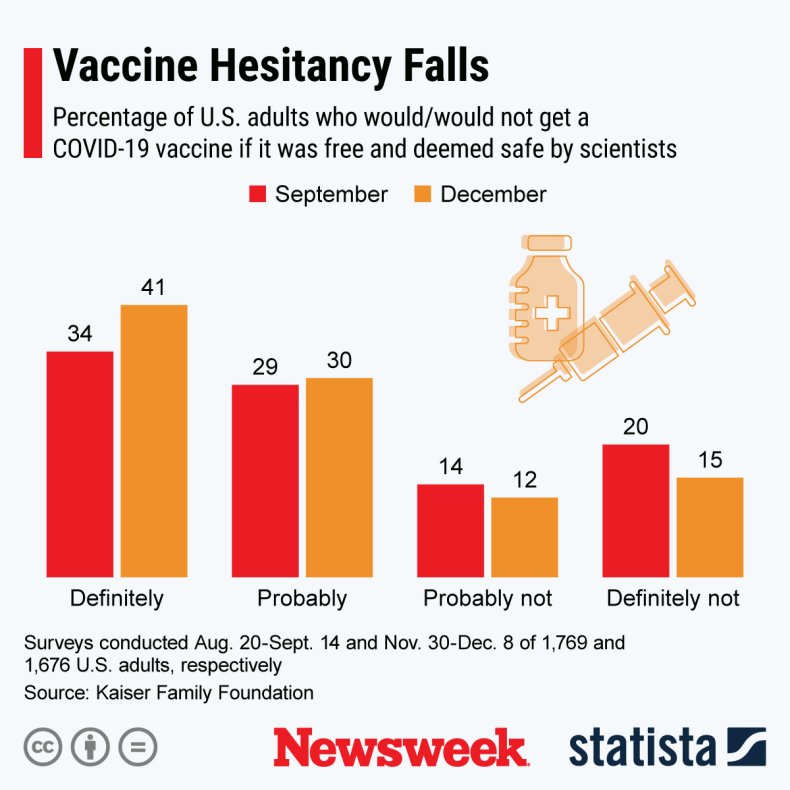 The graphic below, provided by Statista, shows the countries with the highest COVID-19 death tolls.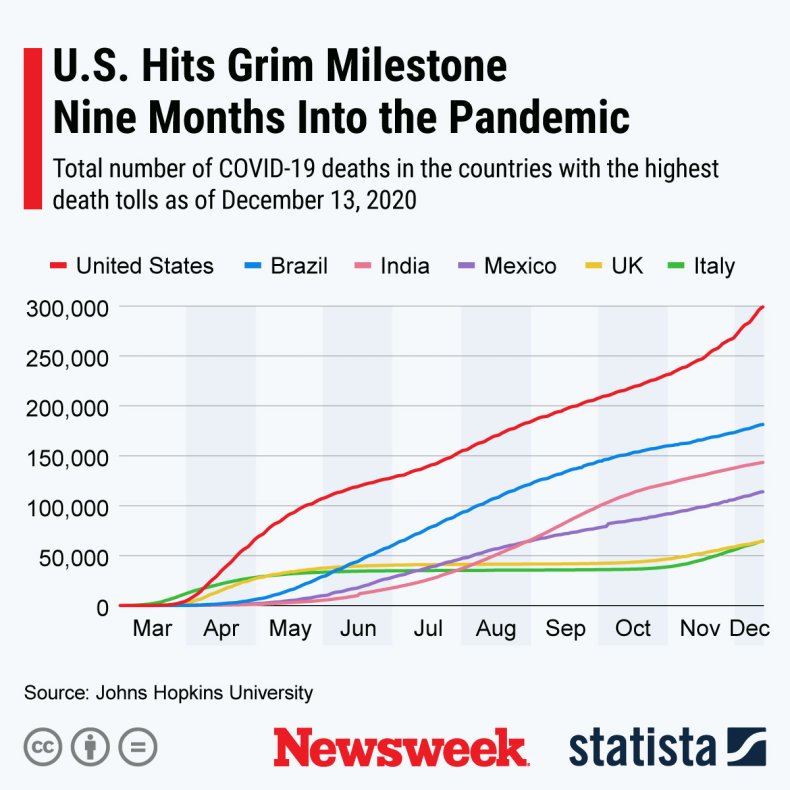 Uncommon Knowledge
Newsweek is committed to challenging conventional wisdom and finding connections in the search for common ground.
Newsweek is committed to challenging conventional wisdom and finding connections in the search for common ground.
About the writer
Soo Kim is a Newsweek SEO Reporter is based in London, UK. She reports on various trends and lifestyle stories, from health, fitness and travel to psychology, relationships and family issues. She is also a South Korea expert who regularly covers Korean culture/entertainment for Newsweek, including the latest K-dramas, films and K-pop news, and is the author of the book How to Live Korean, which is available in eight languages. Soo also covered the COVID-19 pandemic extensively from 2020 through 2021 after joining the general news desk of Newsweek in 2019 from the Daily Telegraph (a U.K. national newspaper) where she was a travel reporter/editor from 2010. She is a graduate of Binghamton University in New York and the journalism school of City University in London, where she earned a Masters in international journalism. Languages spoken: English and Korean.
Follow her on Twitter at @MissSooKim or Instagram at @miss.soo.kim
You can get in touch with Soo by emailing s.kim@newsweek.com