Hy-Vee COVID Vaccine Registration Details and How To Book an Appointment
Hy-Vee, the supermarket chain with stores across the Midwest, is offering COVID-19 vaccinations at select locations. Those eligible can register to receive a COVID-19 vaccine by booking an appointment on the Hy-Vee website.
COVID-19 vaccinations are currently offered to those eligible at select Hy-Vee locations in Iowa, Illinois, Kansas, Minnesota, Nebraska and South Dakota.
In a statement on February 2, the company reported it was expecting to receive "vaccine allocations directly from the CDC [U.S. Centers for Disease Control and Prevention] to help vaccinate qualifying residents in Iowa and South Dakota per each state's vaccination guidelines," starting from the week of February 8.
"There will be an extremely limited vaccine allocation to start, with more allocations expected in the upcoming weeks," the company said at the time.
How to book COVID-19 vaccinations at Hy-Vee
Vaccinations are available by appointment only at select Hy-Vee Pharmacy locations, which can be booked by clicking on the "find appointments" icon at the Hy-Vee website. This opens a "COVID-19 Vaccine Informed Consent" form page.
Users should tick the "Hy-Vee Pharmacy (multiple locations)" option at the aforementioned page and enter the name of the city, state or zip code of their choosing and then click the "search" icon to see a list of locations where appointments are available.
The Hy-Vee website notes: "Due to limited vaccine supply, appointments may not be available at all locations. We are updating available time slots daily. If your preferred location does not have openings at this time, please check back again via our online scheduler.
"We are working to roll out other vaccine appointment scheduling options, but cannot implement them until vaccine allocation increases. Please do not call Hy-Vee, as our pharmacies do not have appointments available that are not reflected online," it adds.
COVID-19 vaccinations are not available on a walk-in basis and "Hy-Vee will also prioritize those who are due for second doses of the vaccine," the company advised.
As vaccines are allocated for residents in each individual state, "you may be asked to show an ID to verify residency. Appointments made in states by non-residents may be canceled," Hy-Vee notes.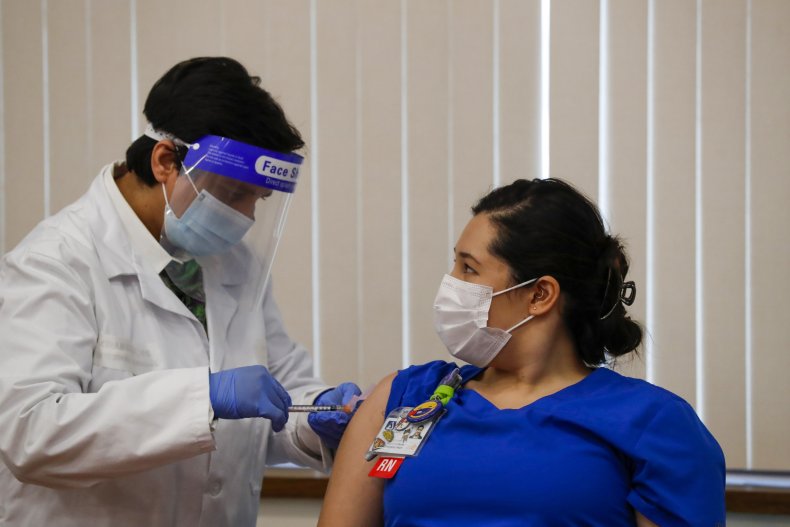 The wider picture
The novel coronavirus has infected more than 108.9 million people, including over 27.6 million in the U.S., since it was first reported in Wuhan, China.
Over 2.4 million people have died worldwide and more than 61.1 million have recovered as of Monday, according to Johns Hopkins University.
The graphic below, produced by Statista, illustrates countries with the highest number of COVID-19 vaccine doses administered per 100 people.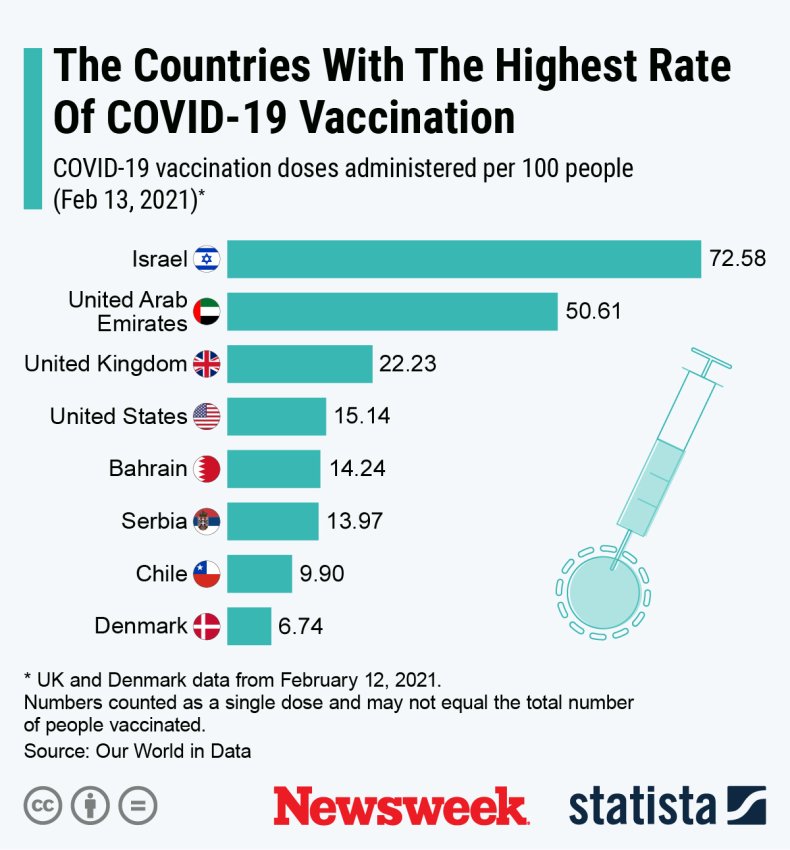 The graphic below, produced by Statista, illustrates the spread of COVID-19 cases in the U.S.