Meijer COVID Vaccine Registration Details and How To Book an Appointment
Meijer, the grocery chain with stores in Michigan, Ohio, Indiana, Illinois, Kentucky and Wisconsin, is offering free COVID-19 vaccinations at select locations.
Those eligible can register to receive the vaccine either at the company's website, via text or by visiting a local Meijer pharmacy to book an appointment.
The COVID-19 vaccine is currently being offered at select locations in Michigan as well as in Illinois, where Meijer stores were among the over 100 new COVID-19 vaccination sites opened in the state last week.
The company said in a statement last Monday: "Meijer has conducted vaccine clinics in numerous counties throughout the state, administering up to 1,200 vaccines in a single day at some stores. Since its first clinic on Jan. 15, the retailer has administered more than 20,000 doses in Michigan and more than 30,000 doses overall, primarily to seniors 65 and older.
"Meijer encourages anyone interested in receiving the vaccine to register, as the retailer intends to eventually offer the vaccine to all Michiganders eligible via the CDC [U.S. Centers for Disease Control and Prevention] guidelines in the coming weeks and months," the statement added.
How to book COVID-19 vaccinations at Meijer
Meijer advised: "The vaccine clinics conducted by Meijer are not open to walk-ups. Participants must be registered through the retailer's online system in order to be scheduled for a vaccine. To register, patients can text COVID to 75049, go online at clinic.meijer.com or simply visit their local Meijer pharmacy and ask to register."
Customers can also phone their local Meijer pharmacy to register, the Meijer website notes.
Meijer advises that its pharmacy locations "will receive the vaccine at different times based on what public health officials decide for the needs of our communities. We recommend you pre-register so we can notify you if we're able to provide you with the vaccine."
The company noted it is "not releasing the location of the clinics as registered customers will be contacted directly with an appointment time and location once an appointment window becomes available for them."
Once the vaccines are available, Meijer will text you an invite link with available clinic dates and times. Customers will need to respond at the link in one of the following ways to reserve their slot, the Meijer website notes:
I accept: Meijer will reserve a vaccine for you.
I defer: I cannot attend this clinic but keep me on the list for future clinic offers.
Remove me: I am no longer interested or received the vaccine elsewhere.
"Vaccinations may be administered at your Meijer Pharmacy or you may be invited to visit a Meijer offsite clinic.
"After you receive the first shot, you'll automatically be invited back to a second clinic to get the second dose," the website advises.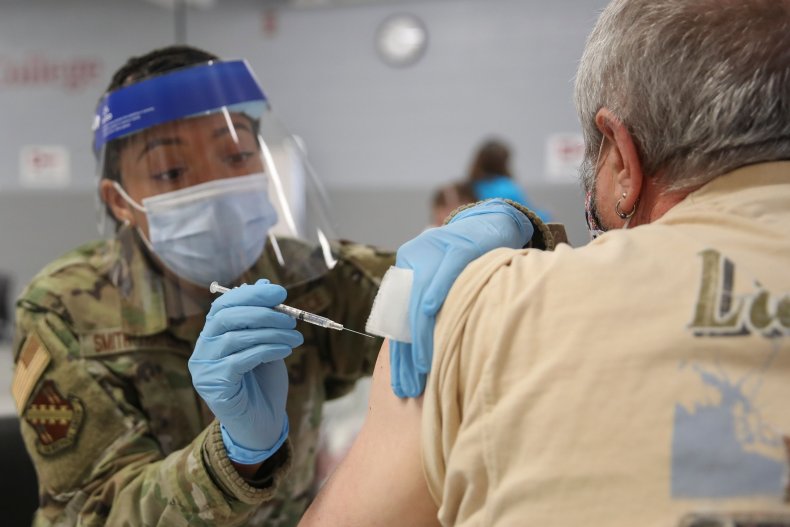 The wider picture
The novel coronavirus has infected more than 108.8 million people, including over 27.6 million in the U.S., since it was first reported in Wuhan, China.
Over 2.4 million people have died worldwide and more than 61.1 million have recovered as of Monday, according to Johns Hopkins University.
The graphic below, produced by Statista, illustrates countries with the highest number of COVID-19 vaccine doses administered per 100 people.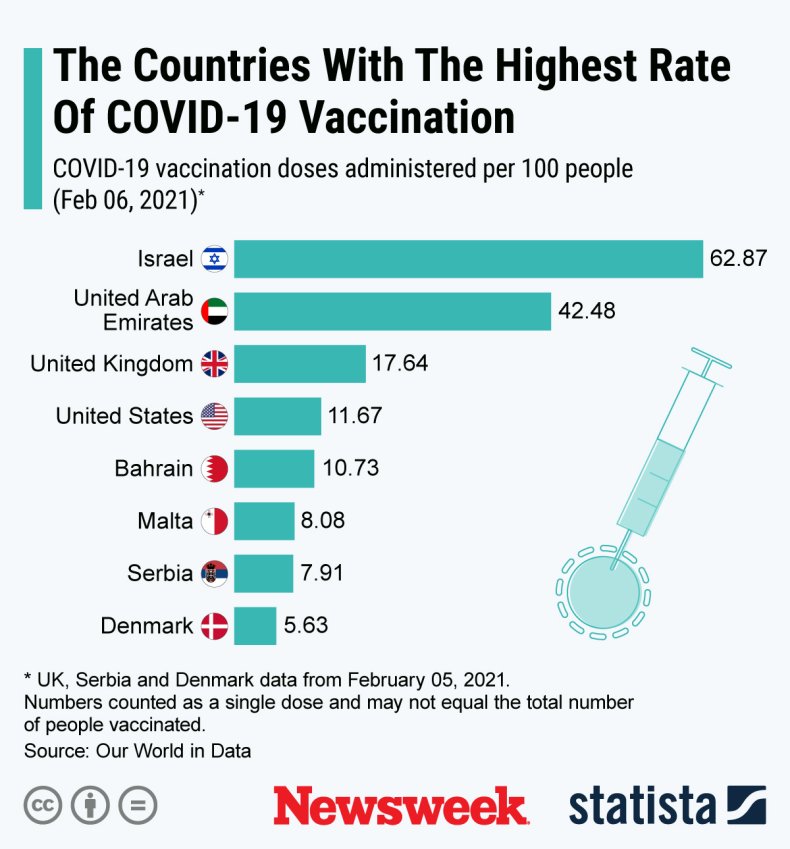 The graphic below, produced by Statista, illustrates a recent drop in COVID-19 hospitalizations in the U.S.