Millions of people who emerged from a two-month period of self-isolation flocked to beaches, lakes, and parks to enjoy the Memorial Day holiday, a weekend during which the number of Americans who died from COVID-19 reached nearly 98,000.
"With the country starting to open up this holiday weekend, I again remind everyone that the coronavirus is not yet contained," Stephen Hahn, commissioner of the Food and Drug Administration, tweeted Sunday. "It is up to every individual to protect themselves and their community. Social distancing, hand washing, and wearing masks protect us all."
For many, it was the first time heading outdoors since isolation measures began. But the social distancing practiced thoughtfully early in the pandemic appeared to have vanished in many cases during this last weekend in May.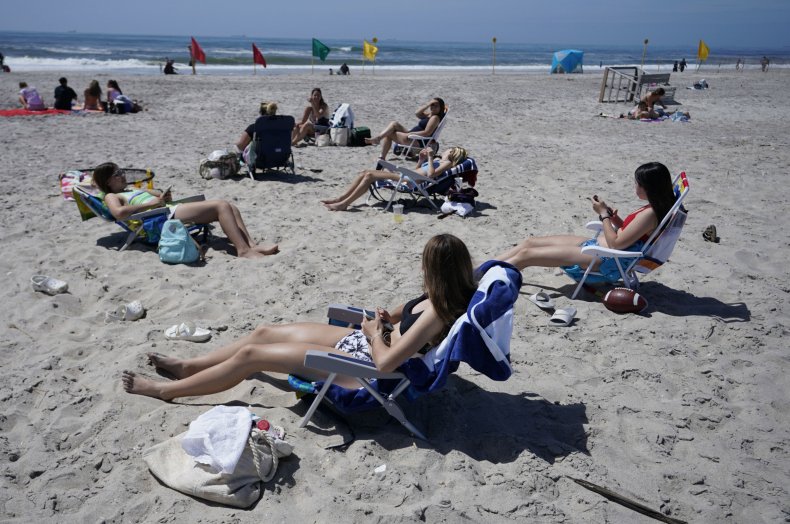 Florida beaches, many of which opened for the first time since they were closed in March for the COVID-19 pandemic, drew thousands on Saturday and Sunday.
Volusia County, home of Daytona Beach, has had 663 confirmed cases of the new coronavirus since March, but the beaches were still crowded, which angered local officials.
"I know people were upset with the numbers of crowds there. I am a little pissed off, too, about a lot of this. We don't take this lightly," Dayton Beach Police Chief Craig Capri said in a CBS News report. "We got the coronavirus still going around and people not practicing social distancing. But I am not the social distancing police. It's not my job."
Dense crowds were also the norm at Southern California's Venice Beach Boardwalk, where face masks and social distancing more the exception, than the rule which drew a public reminder from California Governor Gavin Newsom to continue to observe social distancing guidelines to avoid spreading coronavirus, Newsweek reported.
Beachgoers in Texas were no different, with many flocking to beaches, from South Padre Island near the Texas-Mexico border to Galveston Island located south of Houston.
"I see a lot of people, I don't see any masks. Except for on the press and the first responders… But I have noticed a lot of people are social distancing. The beach gives them a lot of space to spread out in," Peter Davis, chief of the Galveston Island Beach Patrol, said in a CBS DFW report.
This is the first weekend that bars and night clubs were allowed to reopen in Texas with 25 percent capacity under Governor Greg Abbott's phase two reopening plan, but one Houston night club was caught breaking the social distancing rule this weekend.
Clé Houston, a Midtown area nightspot, was reportedly caught on tape hosting a packed pool party, which drew sharp criticism from Houston Mayor Sylvester Turner, and Fire Chief Samuel Pena.
Missouri's Lake of the Ozarks, also drew throngs of Memorial Day revelers to a massive pool party, despite warnings from state officials to observe social distancing.
"When they then carry the virus and transmit it to a more vulnerable person, this is when we tend to see the long-lasting and tragic impact of these decisions that are being made," the agency said in a statement.