COVID Death Rates in Europe Are Overtaking U.S. as Multiple Nations Gripped by Second Wave
Coronavirus death rates in Belgium and Spain have surpassed that of the U.S. The death rates in Italy and Sweden were reported to be not far behind the figure in the U.S., according to data compiled by the World Health Organization (WHO).
The latest reports come as Europe battles a second wave of the COVID-19 outbreak. Several countries in Europe have announced new restrictions following a recent rise in new cases, including in the U.K., Spain, Italy, France, Germany and the Netherlands.
Belgium has a death rate of 886.83 per one million people, the highest among European Union (EU) nations, while Spain has 714.64 fatalities per one million, according to WHO. Both death rates surpass the 650.14 deaths per million people reported in the U.S., as of October 16.
Belgium has the world's third-highest number of deaths per 100,000 people, while Spain has the eighth-highest number of deaths per 100,000, according to the latest report Friday by Johns Hopkins University (JHU).
The U.S. has the 11th-highest number of deaths per 100,000 people in the world, while Italy and Sweden have the world's 14th and 15th-highest number of fatalities per 100,000, respectively, according to JHU.
The death rate in Sweden, where a nationwide lockdown was never imposed, is trailing not far behind that of the U.S., with 584.89 fatalities per million, according to WHO.
COVID-19 deaths per one million in the European Union
Source: World Health Organization, as of October 16
Belgium: 886.83
Spain: 714.64
Italy: 600.2
Sweden: 584.89
France: 502.19
Netherlands: 388.83
Ireland: 371.62
Romania: 291.15
Luxembourg: 212.47
Portugal: 207.62
Bulgaria: 133.7
Denmark: 116.54
Germany: 115.89
Czech Republic: 109.44
Hungary: 108.9
Malta: 99.65
Austria: 98.6 deaths
Poland: 85
Croatia: 81.36
Slovenia: 71.19
Finland: 63.17
Estonia: 51.26
Greece: 45
Lithuania: 40.04
Latvia: 21.74
Cyprus: 20.71
Slovakia: 12.09
The weekly death count across WHO's Europe region has been rising consistently since late August, peaking in the week commencing October 5, when 6,396 fatalities were reported. Before that, weekly new deaths in Europe declined from early April to early June before flattening out. The weekly death toll in the U.S. declined from mid-April to late June before flattening out.
Several European nations have imposed partial lockdowns and other measures following a recent increase in new infections. Weekly new cases in Europe increased by 42 percent in the week commencing October 5 from the previous week, according to WHO. The region reported 217,211 cases from October 5 to 11, with its total case tally reported to be at 7,406,193, as of Friday.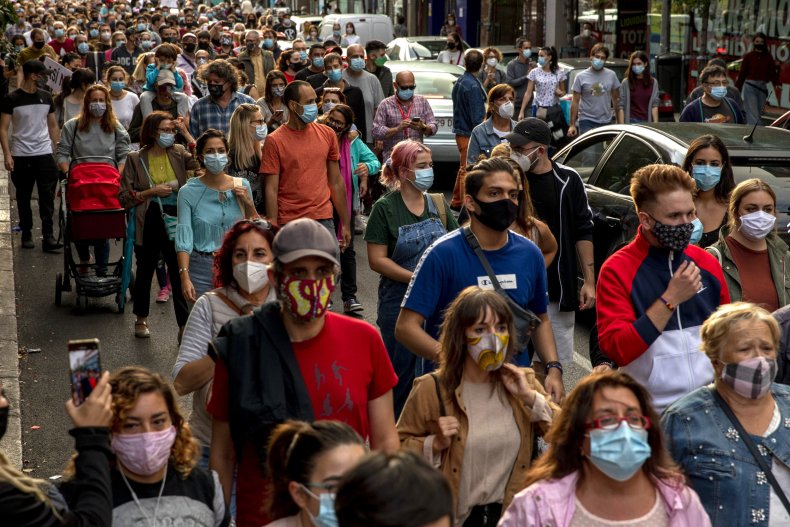 The wider picture
The novel coronavirus has infected more than 39 million people across the globe since it was first reported in Wuhan, China, including over 7.9 million in the U.S. Globally, more than a million have died following infection, while more than 26.9 million have reportedly recovered as of Friday, according to JHU.
The graphic below, provided by Statista, illustrates countries with the most COVID-19 cases.