Wearing a Face Mask at Home Could Reduce Risk of Transmission by up to 80 Percent, Scientists Say
Wearing a face mask in the home could prevent the coronavirus that causes COVID-19 from spreading between family members, according to a study.
The practice worked best when the covering was worn before a person's symptoms started to show, the authors of the paper published in the journal BMJ Global Health found. The study did not detail the types of mask worn by participants.
Mask-wearing has become more common around the world since the start of the COVID-19 pandemic, as health officials hope it will prevent the virus from spreading. In early April, for instance, the U.S. Centers for Disease Control (CDC) updated its COVID-19 guidance to state that people should wear masks in public when it is difficult to maintain social distancing.
According to Johns Hopkins University, more than 5.7 million COVID-19 cases have been confirmed, and 356,124 people have died. Over 2.3 million people have recovered.
In the latest study, led by Yu Wang, from the Beijing Center for Disease Prevention and Control, China, researchers say COVID-19 has mostly spread within families and those in close contact with the sick, accounting for 70 percent of cases in China.
To explore whether wearing a mask at home could prevent its transmission, researchers invited all 181 people in the Chinese capital of Beijing who had tested positive for the coronavirus as of February 21, 2020, to complete a questionnaire. They were asked about their hygiene habits and approach towards COVID-19, such as ventilating the home and cleaning. After various households were excluded or declined to participate, 335 people from 124 families, where at least one person had tested positive, were featured in the analysis.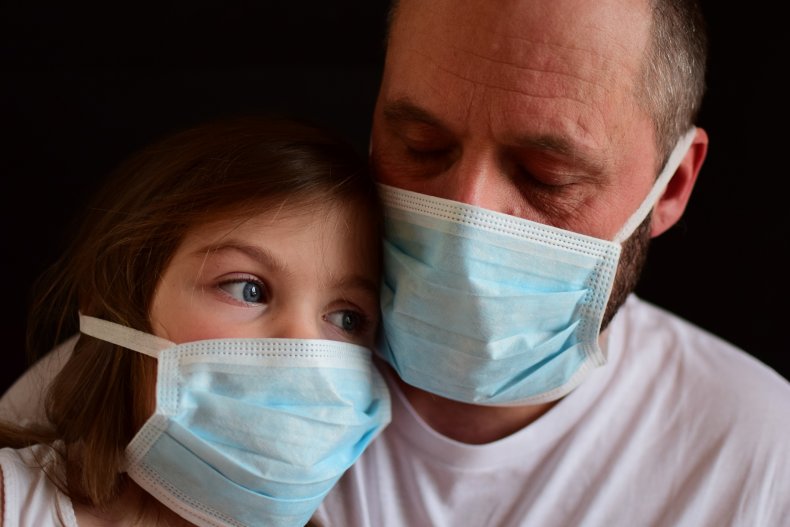 A family was defined as people who had lived with the sick person in a house for four days before and more than 24 hours after their symptoms started showing. On average, families had four members, ranging from two to nine, and usually included children, parents, and grandparents, as is typical in China, the team said.
Standard practice in Beijing meant the sick person was hospitalized after they were diagnosed with COVID-19.
The team found that almost a quarter of family members were infected within two weeks of the sick person falling ill, at 23 percent. But if the sick person and their family members wore a mask at home before the individual developed symptoms, this was 79 percent effective in reducing transmission.
However, there seemed to be no benefit from the sick person wearing the mask after their symptoms had shown. This may be because, as revealed in past studies, the viral load appears to be highest in the two days before and first day that symptoms appear, the team said.
"The results suggest that community face mask use is likely to be the most effective inside the household during severe epidemics," the scientists wrote.
In addition, using household disinfectants containing ethanol and chlorine were 77 percent effective in preventing the virus from spreading, they found. The risk of transmission in a household was 18 times higher if family members were in frequent daily close contact with the sick person.
Even in homes that are "crowded and small," measures such as mask-wearing, social distancing, and cleaning helped to prevent coronavirus spreading, the researchers said.
The authors acknowledged their study had several limitations, including that they interviewed participants over the phone, and relied on them accurately reporting their behaviors. They also did not collect data on the strength of disinfectant used by families.
Off the back of the findings, the team, which included researchers from China, the U.S., and Australia, recommend that families with members who are most at risk of catching the coronavirus wear masks at home. That includes those who have come into contact with COVID-19 patients, medical workers, or those who have travelled to a high risk area.
"It [the study] informs universal face mask use and social distancing, not just in public spaces, but inside the household with members at risk of getting infected. This further supports universal face mask use, and also provides guidance on risk reduction for families living with someone in quarantine or isolation, and families of health workers, who may face ongoing risk," they wrote.
As the graph by Statista below shows, the U.S. is the country with the most known COVID-19 cases. This week, the death toll in that country passed 100,000.