American Woman Recovering From Coronavirus Is 'Feeling Good,' Says Symptoms No Worse than 'Mild Cold or Flu'
A woman who was among more than 130 people diagnosed with coronavirus on board a cruise ship quarantined in Japan has said her symptoms were no worse than those of a cold and that she is recovering well.
Rebecca Frazier from Oregon was aboard the Diamond Princess which is expected to be held at the port of Yokohama, south of Tokyo, until at least February 19 after a passenger from Hong Kong had tested positive for the virus also known as 2019-nCoV on February 1.
Speaking to ABC news from her hospital room in Yokohama, Frazier said that she is "feeling good still," having had a slight cough when she arrived for treatment, as well as a slight temperature, but "both of those have normalized."
"I don't have a temperature any more," she said. "My cough is pretty much gone. And, treatment, there is no treatment, all I am doing is sitting here in isolation. There is no fluids, there's no cold medicines—not that I would really need those because honestly I don't even have enough of anything."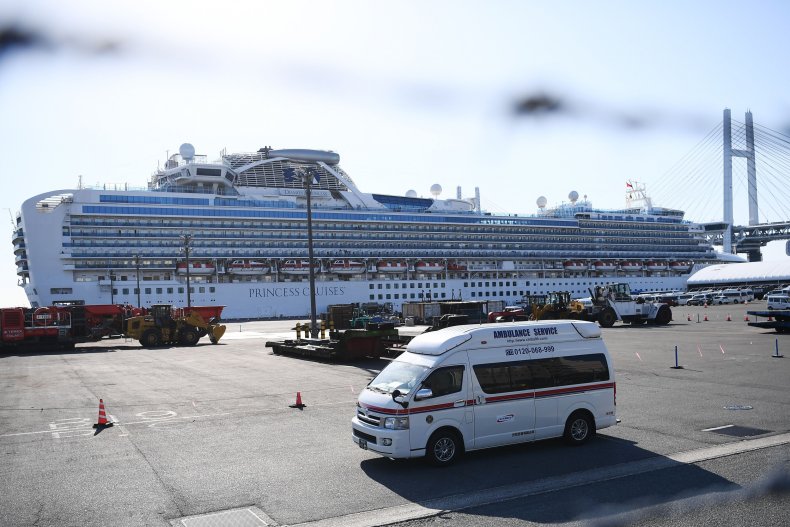 She said that before the cruise, she had a flu vaccination and so had felt "pretty prepared for it."
When asked if she thought that people were "overreacting" to the scale of the illness, she replied, "I think there's a little bit of hysteria, [it] might be a harsh word, but people are probably a little more worried than they need to be.
"If you are…a healthy adult individual, there is no reason to think you should experience any symptoms beyond just what might be a mild cold or flu," she said.
Some passengers still stuck on the ship have been describing their experiences as they wait for officials to give them the all clear to disembark.
In a Facebook video, British passenger David Abel said: "Lots of the passengers now are getting a bit of cabin fever. Depression is starting to set in." Another passenger, Yardley Wong, tweeted: "I need to cry to get off the anxiety. Too much for today."
Meanwhile the Japanese government is planning to let elderly passengers and those with chronic illnesses leave the vessel on Tuesday, according to the Japan Times, which reported that some people are showing signs of extreme stress during their prolonged isolation on the ship.
Around 80 percent of the 2,666 passengers are older than 60, 215 in their 80s and 11 in their 90s, the paper reported. Masahiro Kami, head of the nonprofit Medical Governance Research Institute, said that staying on the vessel would make them "susceptible to virus infection and risk their lives."
In a statement to Newsweek on Tuesday, a Princess Cruises spokesperson said there were no further updates to information it had released on Monday, which emphasized that the decision on the quarantined vessel was up to the Japanese authorities.
"We are following guidance from the Japan Ministry of Health on plans for disembarkation protocols to provide medical care for these new cases. The Japan Ministry of Health has been the lead public health authority defining the testing protocols for all guests and crew on Diamond Princess. The quarantine end date remains at February 19, unless there are any unforeseen developments," the statement added.
The infographic below, provided by Statista, shows the spread of the coronavirus.