Novel coronavirus cases in Texas have climbed past 400,300, including seven members of a family in Houston who tested positive following a Father's Day gathering.
Nearly every member of the Del Toro family met for a Father's Day meal at a restaurant in the Houston area, including octogenarian Oscar Del Toro, Sr., his children, their spouses as well as their grandchildren, Houston's ABC13 reported.
The only family member not present was Oscar Del Toro Jr., the son of Del Toro Sr., who said he did not want to put his family at risk by attending the gathering.
"I love my family. I love my dad, because I love them. I don't want them to put at risk. It's about love, I can wait," he told ABC13.
Days after the gathering, several members of the family who were at the restaurant became ill, the first being the sister of Del Toro Jr., eventually followed by Del Toro Sr., whose condition was reported to have deteriorated quickly.
His son recalled: "They came to the doctor [and] the doctor said, 'You need to take your dad to the hospital. Your dad has coronavirus.'
"From there, you can not talk to him. Basically, you take him away from the family," he added.
Del Toro Sr. died on July 16 and his family was not permitted to be by his side before his death. In total, seven members of the Del Toro family were infected following the Father's Day meal.
Del Toro Jr. hopes his family's story will be a cautionary tale. "We need to understand reality, especially the Mexican-American community. We want to chat, hug, and kiss, [but] we need to stop that for now," he said, given the Hispanic community is among the groups worst-hit by the outbreak.
Houston Mayor Sylvester Turner said: "It's a tough time, but we've all been asked to make our sacrifices so we can be with our loved ones in the long run. Especially for our young people. Then you end up seeing them in the hospital, or burying them."
In Texas, as of Monday, Hispanic people form 40.3 percent of the 32,258 confirmed cases for which completed investigations on race/ethnicity were received by the Texas Department of State Health Services.
The U.S. Centers for Disease Control and Prevention (CDC) noted: "There is increasing evidence that some racial and ethnic minority groups are being disproportionately affected by COVID-19.
The Hispanic/Latino community make up 32.2 percent of COVID-19 cases in the U.S. for which race/ethnicity data was provided, according to the latest report Monday from the CDC. Race/ethnicity data was available for 1,529,127 (58 percent) cases in the country, the CDC advised.
The Hispanic/Latino community forms 17.2 percent of novel coronavirus deaths in the U.S. for which race/ethnicity data was available. Race/ethnicity information was provided for 95,521 (84 percent) deaths in the country, the CDC noted.
New cases in Texas have been mostly increasing from around June 8, less than a week after the state entered its third phase of reopening on June 3. Dramatic spikes were reported days after the Fourth of July weekend, including on July 16 when around 15,000 new cases were recorded, the highest daily case count since the outbreak began, according to data compiled by Johns Hopkins University.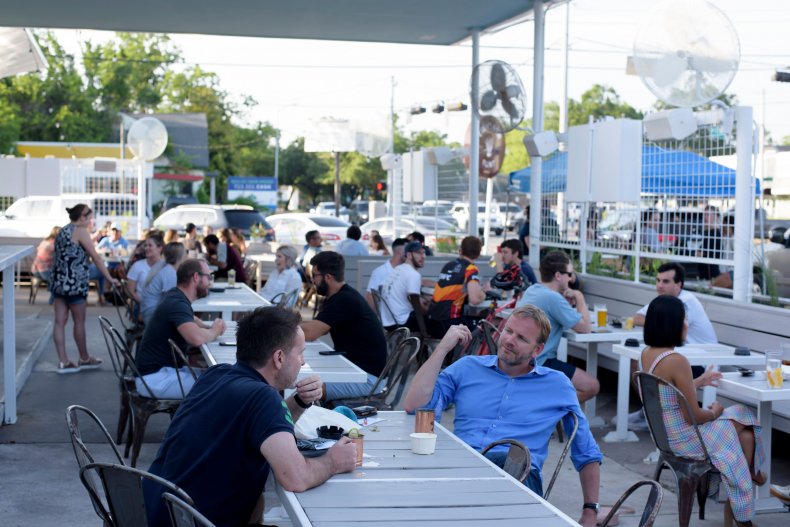 Last month, Texas Gov. Greg Abbott announced the state "will pause any further phases to open Texas as the state responds to the recent increase in positive COVID-19 cases and hospitalizations."
The state's daily case count has seen a few dips since July 17. In the past week, the state reported around 56,500 total new cases from July 21 to 27, which is a 23.6 percent decrease from the nearly 74,000 new cases reported from July 14 to 20, according to data from Johns Hopkins University.
Over 16.4 million people across the globe have been infected since the virus was first reported in Wuhan, China, including over 4.2 million in the U.S. More than 9.5 million globally have reportedly recovered from infection, while over 654,300 have died, as of Tuesday, according to the latest figures from Johns Hopkins University.
The graphics below, provided by Statista, illustrate the spread of COVID-19 cases in the U.S.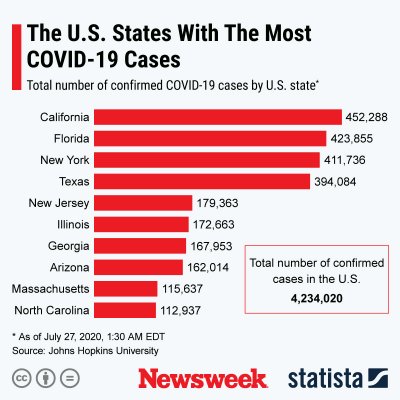 Uncommon Knowledge
Newsweek is committed to challenging conventional wisdom and finding connections in the search for common ground.
Newsweek is committed to challenging conventional wisdom and finding connections in the search for common ground.
About the writer
Soo Kim is a Newsweek SEO Reporter is based in London, UK. She reports on various trends and lifestyle stories, from health, fitness and travel to psychology, relationships and family issues. She is also a South Korea expert who regularly covers Korean culture/entertainment for Newsweek, including the latest K-dramas, films and K-pop news, and is the author of the book How to Live Korean, which is available in eight languages. Soo also covered the COVID-19 pandemic extensively from 2020 through 2021 after joining the general news desk of Newsweek in 2019 from the Daily Telegraph (a U.K. national newspaper) where she was a travel reporter/editor from 2010. She is a graduate of Binghamton University in New York and the journalism school of City University in London, where she earned a Masters in international journalism. Languages spoken: English and Korean.
Follow her on Twitter at @MissSooKim or Instagram at @miss.soo.kim
You can get in touch with Soo by emailing s.kim@newsweek.com