Earth Day: Coronavirus Lockdown Has Changed Life for Animals and Some Are Returning to Their Natural Habitats
Today (April 22) is Earth Day—an awareness day to help build the "largest environmental movement" to drive transformative change for our planet—and with the novel coronavirus spreading across the globe, many will be considering the pandemic's impact on nature.
The first Earth Day took place in 1970, making this year's event a 50th-anniversary celebration. However, because of COVID-19 lockdowns across the world, thE day is going digital, with speakers such as Sylvia Earle, Zac Efron, John Kerry, Al Gore and more looking to persuade policymakers to take action to help the environment.
Over the weeks and months since the disease was first reported to the World Health Organization (WHO), it has become clear that the pandemic has changed how not only humans live, but also the animals inhabiting the Earth.
Animals Respond to Human Absence in Matter of Weeks
With numerous countries in lockdown, people have been quarantined to their homes. However, other forms of life have decided to make an appearance in response to the absence of homo sapiens.
In cities and towns across the world, wildlife has been exploring the deserted streets. Sika deer, which normally live in Japan's Nara Park, have begun wandering in nearby cities, and Kashmiri goats have moved into the Welsh town of Llandudno. In Barcelona, Spain, wild boars sneaked into the city once the city was put under lockdown.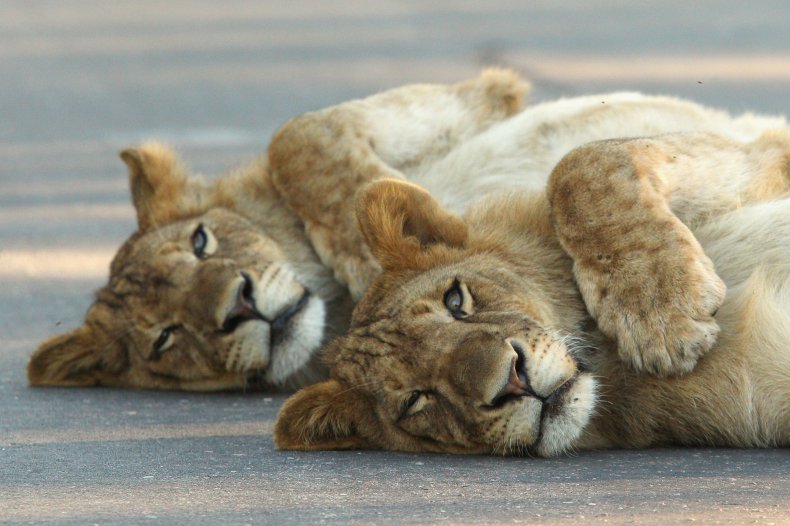 Animals in South Africa have also been making the most of lockdown. In the Kruger National Park, lions were photographed sleeping on roads and wild dogs were playing on golf courses.
Speaking to Newsweek, Brian Silliman, a Rachel Carson Professor of Marine Conservation Biology at the Duke Nicholas School of the Environment, says the animals are changing their behavior remarkably quickly in response to the lockdown and the absence of humans. "These are behavioral responses on the order of weeks," he said. "They are responding quickly to the absence of human disturbance."
Shenzhen Bans Selling and Eating Cat and Dog Meat, Endangered Species Get Lifeline
The coronavirus pandemic has had some positive effects in terms of animal rights successes. In Shenzhen, China, a law was passed banning the sale and consumption of dog and cat meat, which will come into effect on May 1. It will affect restaurants and shops, as well as markets where alive cats and dogs are sold.
Known as the "Shenzhen Special Economic Region Regulation on a Comprehensive Ban on the Consumption of Wild Animals," the legislation was passed in response to the COVID-19 outbreak. It also bans the consumption, breeding and sale of wildlife for human consumption in the city—including snakes, lizards and other wild animals.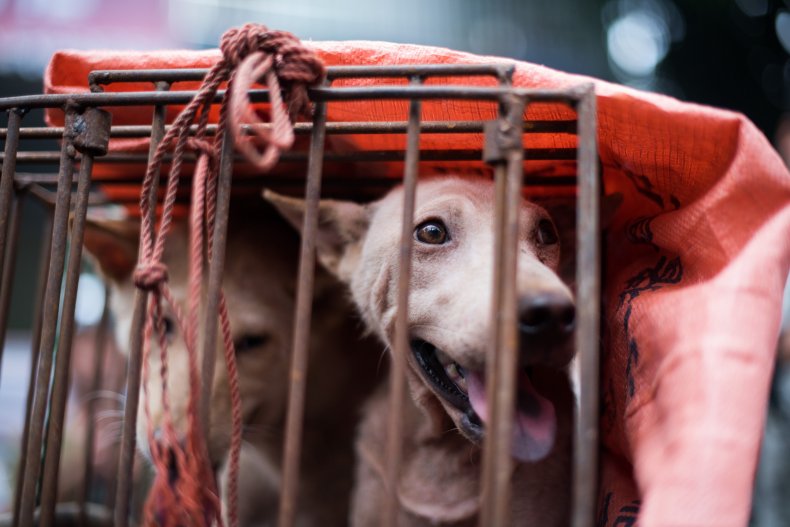 The WHO says there is no clear evidence that pets, such as cats and dogs, can spread the virus to humans. However, it does state that the dog meat trade in China spreads rabies and increases the risk of cholera. According to its website, the organization says that the virus that causes COVID-19 is most likely to have its ecological reservoir in bats. This could have been transferred to humans through an intermediate animal host, which could be a domestic animal, a wild animal or a domesticated wild animal that has not yet been identified.
Another animal that is seeing a silver lining from the pandemic is the pangolin—a mammal that has protective scales on its body made of keratin, which is the same material as human nails.
The animals are one of the most heavily trafficked in the world and as a result are endangered. They are hunted illegally for their meat, which is considered a delicacy in several south-east Asian countries, and their scales, which are used in Chinese traditional medicine.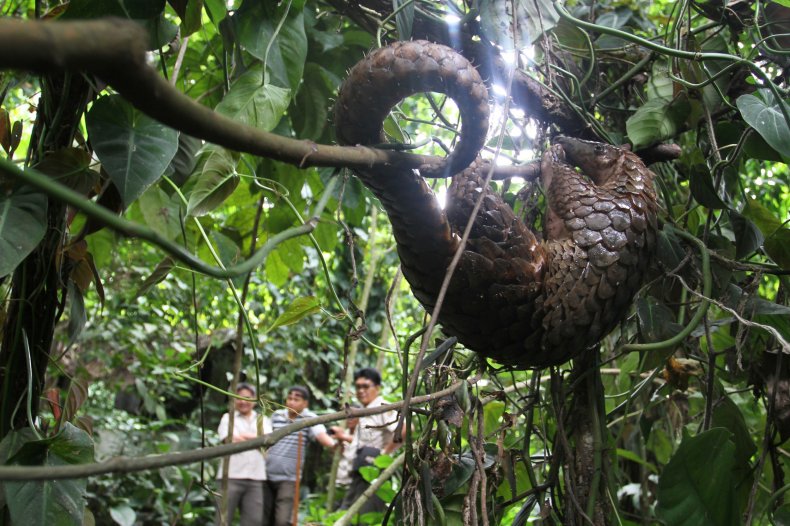 The International Union for Conservation of Nature (IUCN) says that two of the African species of the pangolin are considered vulnerable and two are endangered. It also shows that of the Asian species, one is endangered and the other three are critically endangered.
However, COVID-19 has forced the Chinese government to put a temporary ban on trading and eating many wild animals, including pangolins.
First COVID-19 Cases in Animals Confirmed
Unfortunately, the pandemic has seen some negative impact on the animal kingdom, though it is not clear how severe it is. On April 6, a tiger at the Bronx Zoo in New York tested positive for COVID-19—it is believed to be the first recorded incident of a human infecting an animal with the disease in the U.S.
In a statement made by the Bronx Zoo's wildlife conservation society, a 4-year-old Malayan tiger, called Nadia, was diagnosed after developing a dry cough and a test was conducted by the National Veterinary Services Laboratory at the U.S. Department of Agriculture (USDA). The tiger was positive for SARS-CoV-2, the virus that causes COVID-19.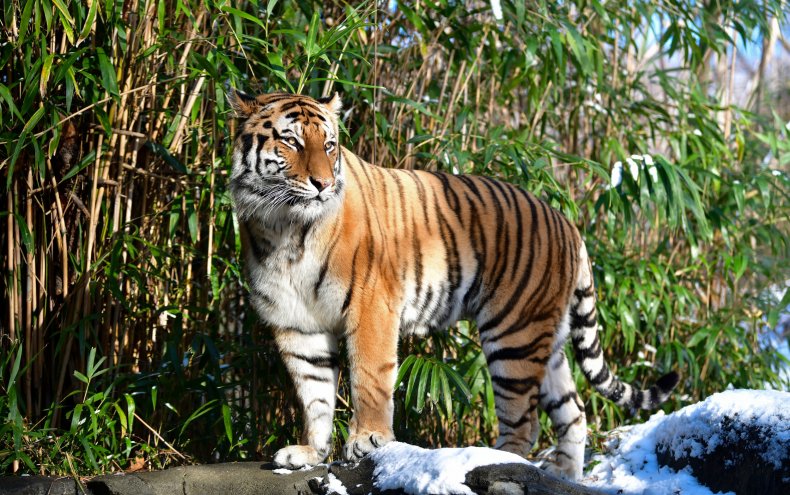 Six other cats—including Nadia's sister Azul, two Amur tigers and three African lions—were confirmed to have also developed a dry cough. However, the zoo decided against testing them so as not to subject them to anesthesia.
The University of California Davis School of Veterinary Medicine also reported that two dogs in Hong Kong, as well as cats in Belgium and Hong Kong, have been infected with SARS-CoV-2.
The headline of this article has been updated.
Centers for Disease Control and Prevention Advice on Using Face Coverings to Slow Spread of COVID-19
CDC recommends wearing a cloth face covering in public where social distancing measures are difficult to maintain.
A simple cloth face covering can help slow the spread of the virus by those infected and by those who do not exhibit symptoms.
Cloth face coverings can be fashioned from household items. Guides are offered by the CDC. (https://www.cdc.gov/coronavirus/2019-ncov/prevent-getting-sick/diy-cloth-face-coverings.html)
Cloth face coverings should be washed regularly. A washing machine will suffice.
Practice safe removal of face coverings by not touching eyes, nose, and mouth, and wash hands immediately after removing the covering.
World Health Organization advice for avoiding spread of coronavirus disease (COVID-19)
Hygiene advice
Clean hands frequently with soap and water, or alcohol-based hand rub.
Wash hands after coughing or sneezing; when caring for the sick; before, during and after food preparation; before eating; after using the toilet; when hands are visibly dirty; and after handling animals or waste.
Maintain at least 1 meter (3 feet) distance from anyone who is coughing or sneezing.
Avoid touching your hands, nose and mouth. Do not spit in public.
Cover your mouth and nose with a tissue or bent elbow when coughing or sneezing. Discard the tissue immediately and clean your hands.
Medical advice
Avoid close contact with others if you have any symptoms.
Stay at home if you feel unwell, even with mild symptoms such as headache and runny nose, to avoid potential spread of the disease to medical facilities and other people.
If you develop serious symptoms (fever, cough, difficulty breathing) seek medical care early and contact local health authorities in advance.
Note any recent contact with others and travel details to provide to authorities who can trace and prevent spread of the disease.
Stay up to date on COVID-19 developments issued by health authorities and follow their guidance.
Mask and glove usage
Healthy individuals only need to wear a mask if taking care of a sick person.
Wear a mask if you are coughing or sneezing.
Masks are effective when used in combination with frequent hand cleaning.
Do not touch the mask while wearing it. Clean hands if you touch the mask.
Learn how to properly put on, remove and dispose of masks. Clean hands after disposing of the mask.
Do not reuse single-use masks.
Regularly washing bare hands is more effective against catching COVID-19 than wearing rubber gloves.
The COVID-19 virus can still be picked up on rubber gloves and transmitted by touching your face.
According to the Centers of Disease Control and Prevention (CDC), Americans can take steps to protect their pets if they're concerned about spreading COVID-19 to them.
Do not let pets interact with people or other animals outside the household
Keep cats indoors when possible to prevent them from interacting with other animals or people
Walk dogs on a leash, maintaining at least 6 feet (2 meters) from other people and animals
Avoid dog parks or public places where a large number of people and dogs gather
When possible, have another member of your household care for your pets while you are sick
Avoid contact with your pet including, petting, snuggling, being kissed or licked, and sharing food or bedding
If you must care for your pet or be around animals while you are sick, wear a cloth face covering and wash your hands before and after you interact with them
If you are sick with COVID-19 and your pet becomes sick, do not take your pet to the veterinary clinic yourself—call your veterinarian and let them know you have been sick with COVID-19. Some veterinarians might offer telemedicine consultations or other alternate plans for seeing sick pets