Map Shows Americas Doing Worst in COVID-19 Pandemic, Making Up 55 Percent of Global Deaths
The Americas continue to hit hardest by the COVID-19 pandemic, as reflected in a new World Health Organization graphic, accounting for more than half of new deaths recorded in the past week.
Between August 31 and September 6, the Americas reported 862,478 new coronavirus cases and 22,325 deaths. That's 46 percent and 59 percent of the total global total during that period, respectively.
Overall, more than 14 million cases have been reported in the region, or 52 percent of the worldwide total, and 484,079 deaths, or 55 percent of the global toll.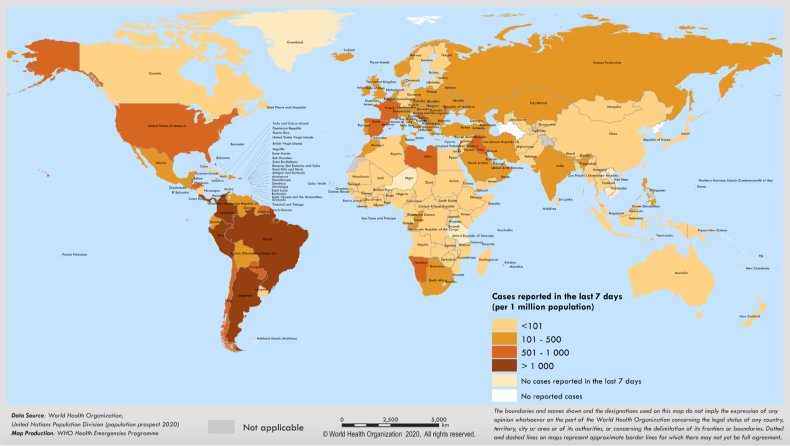 "The United States of America and Brazil account for nearly three quarters of all COVID-19 cases in the Americas. Argentina, Colombia, and Peru account for the next largest proportion in new cases in the region," the WHO said in its weekly COVID-19 update.
Europe, which has a population of 900 million versus the 1 billion of the Americas, makes up a quarter of total deaths. It also accounts for 13 percent of new cases reported in the past week, and 8 percent of fatalities. Almost 3.5 times as many new cases have been recorded in the Americas than Europe since August 31.
In recent weeks, outbreaks in the U.S. and Brazil have slowed. Still, some 6,144,138 people in the U.S. have been diagnosed with the coronavirus, with 288,617 in the past week. A total of 186,663 people have died, including 5,974 in the last seven days.
Coronavirus infections in the U.S. more than quadrupled between Memorial Day and Labor Day.
However, on Monday, the U.S. recorded the lowest number of new infections in a day since mid-June, at 24,257, down from a high of 77,225 on July 16.
Meanwhile in Brazil, 288,029 new cases from a total of 4,092,832 were reported. The country has also witnessed 125,521 deaths, with 6,017 in the past week.
Over the course of the pandemic, U.S. President Donald Trump and Brazilian President Jair Bolsonaro have sought to downplay the crisis at various points, with the former, repeatedly claiming the virus will "disappear" and the latter calling the bug a "little flu."
Over half a year into the pandemic this situation is still serious in other parts of the world, with India overtaking Brazil for coronavirus diagnoses on Monday. It reported 75,809 cases, down from an all-time high of 90,802 on Sunday, according to Johns Hopkins University.
According to the WHO, nearly 27 million COVID-19 cases and 900,000 deaths have been reported to the organization to date.
In the week ending September 6, over 1.8 million new cases and 37,000 deaths were reported, marking a 5 percent increase in cases and a 2 percent decrease in deaths on the previous week.
Peter Drobac, a physician and specialist in infectious diseases and public health at the Saïd Business School at the University of Oxford, U.K., told Newsweek there is no single explanation for why the U.S., Brazil as well as several other Latin American countries, such as Mexico and Argentina have been hit hard.
"But the coronavirus is like many pathogens in that it thrives along social fault lines. Extreme levels of inequality, weak government responses, unequal health systems and lack of trust in institutions are all factors. It was difficult to maintain lockdowns where poor families in the informal economy have no safety net."
Drobac said: "But the biggest factor—and this is true worldwide – is leadership. President Trump and his acolytes, Bolsonaro in Brazil and Obrador in Mexico, have catastrophically mismanaged this crisis."
This article has been updated with comment from Peter Drobac.