Harold "Heshy" Tischler, an Orthodox Jewish activist and radio talk show host based in the New York City borough of Brooklyn, was arrested Sunday evening in connection with the assault of Jacob Kornbluh. Kornbluh, also Orthodox Jewish, is a journalist who was allegedly assaulted last week after covering protests against COVID-19 restrictions in New York.
The NYPD announced Sunday: "The New York City Police Department Warrant Squad has taken Harold 'Heshy' Tischler into custody. He will be charged with inciting to riot and unlawful imprisonment in connection with an assault of a journalist that took place on October 7, 2020, in Brooklyn."
Tischler, who is a candidate for Brooklyn's City Council, has become a leading figure in the fight against COVID-19 restrictions in New York.
His profile rose after using bolt cutters to cut chains around playgrounds in Hasidic neighborhoods during the summer.
He is also the host of the Just Enough Heshy radio show.
Tischler's arrest resulted in protesters crowding outside the home of Kornbluh early Monday morning.
Speaking to Newsweek, NYPD Deputy Commissioner Public Information Richard J. Esposito confirmed: "No arrests [were] effected or summonses [were] issued," following the latest protest.
The protesters chanted "No Heshy, no peace."
Kornbluh, who received several messages of support on social media, tweeted "Ty folks. I love you all," in a post Monday.
Last week, a large group of Orthodox Jews protested COVID-19 restrictions in New York City as some waved campaign flags promoting President Donald Trump.
Kornbluh said he had been "brutally assaulted, hit in the head, and kicked at by an angry crowd of hundreds of community members" during the Wednesday protest at Borough Park in Brooklyn.
Kornbluh added that the crowd yelled "Nazi" and "Hitler" at him after Tischler saw him and allegedly ordered the protesters to chase him down the street.
Another protest was held last Tuesday, which included a staged burning of a pile of face masks.
The demonstrations were held to protest new restrictions announced by New York Gov. Andrew Cuomo to address "COVID-19 hot spots that have cropped up" in Brooklyn, Queens, Broome, Orange and Rockland counties, the governor's office said in a statement Tuesday.
Many of the affected areas have large populations of Orthodox Jews.
"Orthodox Jewish gatherings often are very, very large and we've seen what one person can do in a group," Cuomo said during a news briefing last Monday, referring to an Orthodox Jewish man believed to be a "super spreader" responsible for hundreds of infections.
Average daily new cases in New York, the former epicenter of the outbreak in the U.S., were on an upward trend in a recent two-week period, after flattening out for months from mid-June to late September, according to data compiled by Johns Hopkins University (JHU).
The three-day moving average of daily new infections in New York declined sharply from early April, when it peaked at 9,909 on April 7. The average count increased sharply from early March, according to data compiled by JHU.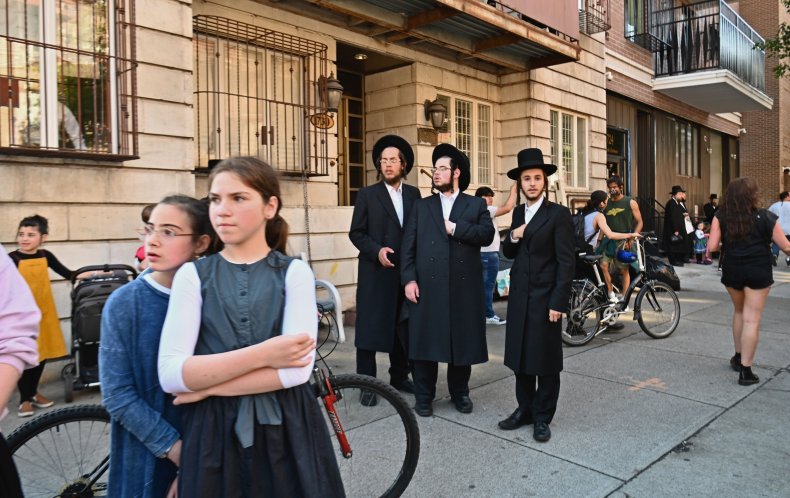 Uncommon Knowledge
Newsweek is committed to challenging conventional wisdom and finding connections in the search for common ground.
Newsweek is committed to challenging conventional wisdom and finding connections in the search for common ground.
About the writer
Soo Kim is a Newsweek SEO Reporter is based in London, UK. She reports on various trends and lifestyle stories, from health, fitness and travel to psychology, relationships and family issues. She is also a South Korea expert who regularly covers Korean culture/entertainment for Newsweek, including the latest K-dramas, films and K-pop news, and is the author of the book How to Live Korean, which is available in eight languages. Soo also covered the COVID-19 pandemic extensively from 2020 through 2021 after joining the general news desk of Newsweek in 2019 from the Daily Telegraph (a U.K. national newspaper) where she was a travel reporter/editor from 2010. She is a graduate of Binghamton University in New York and the journalism school of City University in London, where she earned a Masters in international journalism. Languages spoken: English and Korean.
Follow her on Twitter at @MissSooKim or Instagram at @miss.soo.kim
You can get in touch with Soo by emailing s.kim@newsweek.com