Doctors Condemn Young People Having Parties Amid Coronavirus Outbreak: 'This Is Not the Time to Be Stupid'
Health experts are urging young people not to ignore social distancing guidelines amid the COVID-19 outbreak. At least one person in Kentucky tested positive after attending a "coronavirus party" and a 21-year-old woman in the U.K died after contracting the virus.
Kentucky Governor Andy Beshear expressed his outrage and frustration at how a group of people in their 20s threw a party in defiance of the guidelines prohibiting mass gatherings to help stop the spread of the virus. At least one person who was at the party later tested positive for COVID-19.
"This makes me mad, and it should make you mad," Beshear told a press conference in reference to the party. "There is the power of forgiveness and we will move on and forgive, but there should not be any more of these parties—for any reason."
Beshear said those who attended the party despite being told to social distance themselves from others must have thought they were "indestructible" and that contagion was only a danger to the elderly.
"We are battling for the health, and even the lives, of our parents and our grandparents," Beshear said. "Don't be so calloused to intentionally go to something that can potentially kill other people. We ought to be much better than that."
Beshear said he does not believe anyone at the gathering was aware at least one of them had been infected with the virus.
The event in Kentucky is just one of a number of examples in which parties and mass gathering are still taking place across the country despite people being urged to quarantine.
In New Jersey, Attorney General Gurbir S. Grewal described how police charged people with holding prohibited gatherings after breaking up a house party in Penns Grove on Saturday. Those in attendance at the party were allegedly posting videos of the event onto YouTube.
Police also had to break up a mass gathering of around 25 teenagers and adult males in Lakewood on Tuesday evening.
Dr. Mike Tildesley, associate professor in the Department of Life Sciences at the University of Warwick, England, said young and healthy people must be aware of the dangers about COVID-19 for themselves following reports that a 21-year-old British woman with no underlying conditions died after contracting the virus.
"Whilst it is true that the elderly and those with underlying health conditions are more likely to exhibit severe symptoms as a result of infection, individuals of all ages can become infected and transmit the disease and regardless of age, there remains the possibility that any individual could develop severe, life threatening symptoms," Tildesley told Newsweek.
"The key objective of large scale social distancing measures is to reduce the number of contacts that everyone has and thus collapsing the contact network and the ability of the virus to transmit between individuals at a large scale. If people defy social distancing measures then this can severely hamper the effectiveness of this intervention, which may mean that stringent policies remain in place for much longer.
"It is vital that everyone follows standard good hygiene practices and social distancing advice to ensure that they not only protect themselves but also the most vulnerable members of society who are at greatest risk of requiring hospitalization," Tildesley said.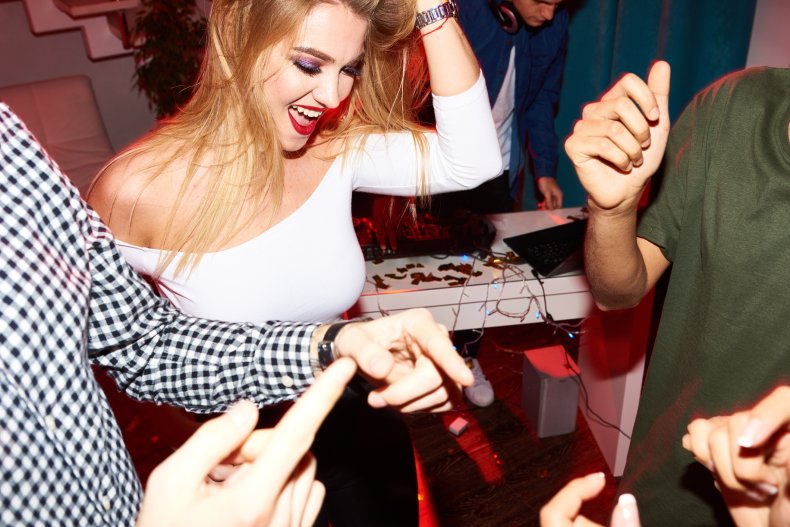 Dr. Michael Head, Senior Research Fellow in Global Health, at the University of Southampton in South England, also condemned those who are still flaunting the social distancing guidelines because of the dangers they are putting others in.
"Organizing gatherings is incredibly irresponsible at this time, and we have already seen cases of COVID-19 that have likely been spread at these 'coronavirus parties,'" Head told Newsweek.
"Those who participate are risking their own health, and actively increase transmission around their communities, which will include vulnerable populations such as their own elderly relatives. Alongside this, there are poor public health messages coming from the political leaders in the USA, that encourage reckless behavior.
"This is not a time to be stupid. This is a time to take personal responsibility, for yourself, your family and your country," Head said.
Last week, a report from the Centers for Disease Control and Prevention revealed that around 20 percent of people hospitalized with the virus in the U.S are aged between 20 and 44.
There are more than 69,000 confirmed cases of the coronavirus in the U.S., the third highest in the world according to Johns Hopkins University. Over 1,050 people have died from COVID-19, with 619 patients recovering from the virus.
The graphic below, provided by Statista, shows the global spread of the new coronavirus as of March 25.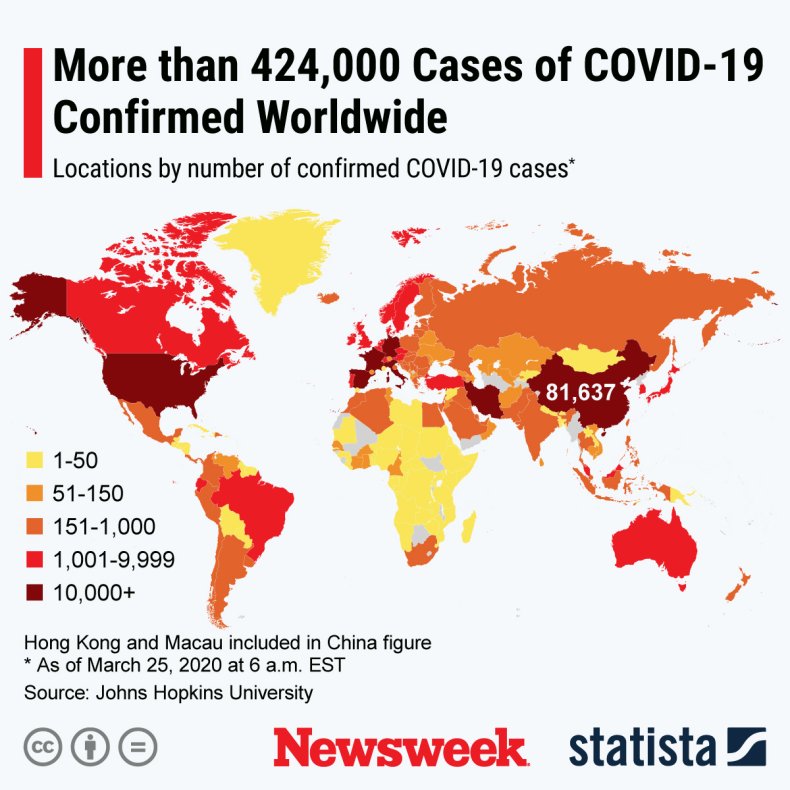 World Health Organization advice for avoiding spread of coronavirus disease (COVID-19)
Hygiene advice
Clean hands frequently with soap and water, or alcohol-based hand rub.
Wash hands after coughing or sneezing; when caring for the sick; before, during and after food preparation; before eating; after using the toilet; when hands are visibly dirty; and after handling animals or waste.
Maintain at least 1 meter (3 feet) distance from anyone who is coughing or sneezing.
Avoid touching your hands, nose and mouth. Do not spit in public.
Cover your mouth and nose with a tissue or bent elbow when coughing or sneezing. Discard the tissue immediately and clean your hands.
Medical advice
Avoid close contact with others if you have any symptoms.
Stay at home if you feel unwell, even with mild symptoms such as headache and runny nose, to avoid potential spread of the disease to medical facilities and other people.
If you develop serious symptoms (fever, cough, difficulty breathing) seek medical care early and contact local health authorities in advance.
Note any recent contact with others and travel details to provide to authorities who can trace and prevent spread of the disease.
Stay up to date on COVID-19 developments issued by health authorities and follow their guidance.
Mask and glove usage
Healthy individuals only need to wear a mask if taking care of a sick person.
Wear a mask if you are coughing or sneezing.
Masks are effective when used in combination with frequent hand cleaning.
Do not touch the mask while wearing it. Clean hands if you touch the mask.
Learn how to properly put on, remove and dispose of masks. Clean hands after disposing of the mask.
Do not reuse single-use masks.
Regularly washing bare hands is more effective against catching COVID-19 than wearing rubber gloves.
The COVID-19 virus can still be picked up on rubber gloves and transmitted by touching your face.