Coronavirus in South Korea Prompts Testing of Hundreds of Thousands of Fringe Church Members at Center of Outbreak
As the deadly new coronavirus continues to spread in South Korea, health officials plan to test over 200,000 members of a controversial church at the epicenter of the outbreak.
With cases in South Korea up by 60 on Tuesday, the lowest spike there in four days, a total of 893 people have been diagnosed with COVID-19 and eight have died in the country. That makes it the second-hardest-hit country outside of China, where the outbreak is believed to have started late last year.
Of the total cases in South Korea so far, Reuters reported around 60 percent are associated with the Shincheonji Church of Jesus, which is regarded by some as a cult.
The office of South Korea's prime minister said in a statement seen by Reuters that tests would be carried out on all members of the church "as soon as possible."
"It is essential to test all of the church members in order to contain the spread of the virus and relieve public anxiety," the statement said. The church is thought to be made up of around 215,000 people, Reuters reported, citing local media.
Kim Kang-lip, vice health minister, told a briefing that 1,300 of the 9,200 church members in the city of Daegu who have symptoms of COVID-19 will be tested first. This should happen by Wednesday. He said officials are aiming to stabilize the situation in Daegu within four weeks, and will track down the city's residents who have symptoms so they can be checked and isolated.
In a statement on its website, the church said it had "actively cooperated with the government" and would test students who are not yet members.
"In particular, the church members of the Daegu Church suffered a lot of damage and hurt," the statement read.
The church asked for its followers' details to be kept private, stating: "Everything will be done on the premise that the government will devise ways to maintain and secure the privacy of the Saints."
The first case in South Korea is thought to have been in a 61-year-old member of the church, who came down with a fever on February 10. She is believed to have attended at least four services before she was diagnosed with COVID-19.
On Sunday, the country's president, Moon Jae-in, said the country faced a "grave turning point" in tackling COVID-19. The country's alert level has been set to "red," the first time in over a decade since the H1N1 outbreak.
COVID-19 was first linked to a wholesale seafood market in the city of Wuhan, the capital of China's Hubei province, where over 2,500 of the total 2,701 deaths have occurred. While new cases in China appear to have leveled off, the quick spread of COVID-19 in countries, including South Korea, Iran and Italy in recent days, has prompted fears the outbreak could soon become a pandemic. The virus has also spread to countries including the U.S., Japan, and Egypt, as shown in the map by Statista below.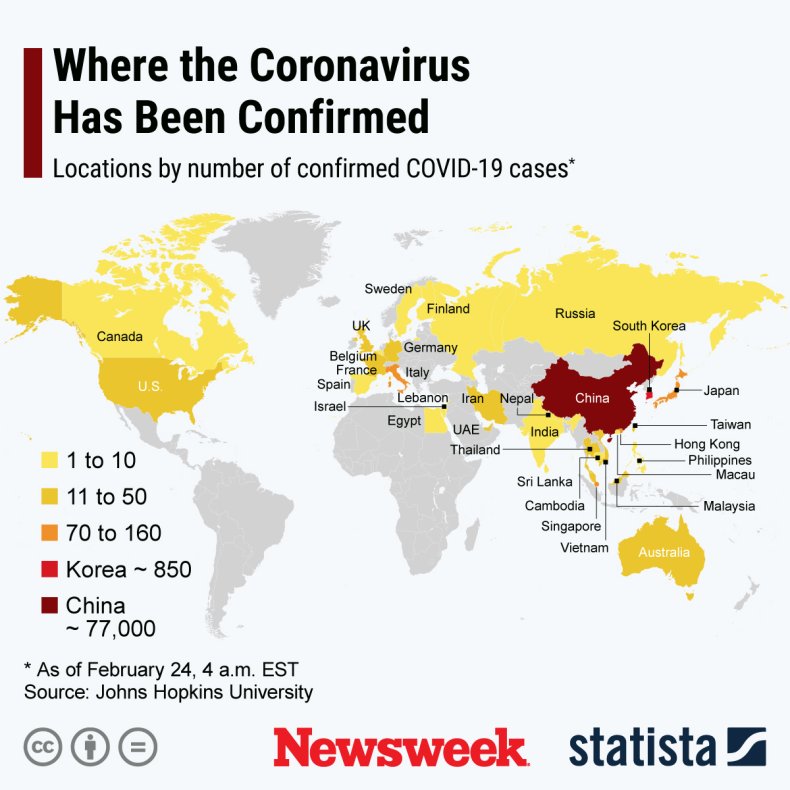 In a statement on Monday, Mark Woolhouse, professor of Infectious Disease Epidemiology at the U.K.'s University of Edinburgh, said: "If those outbreaks cannot be brought under control, then COVID-19 would fit the criteria of a pandemic.
"The immediate implication is that many different countries around the world may be sources of COVID-19 infections. This makes it much harder for any one country to detect and contain imported cases and trying to do so will place ever greater demands on national health systems.
However, David Heymann, professor of Infectious Disease Epidemiology, London School of Hygiene & Tropical Medicine, argued using the term "pandemic" wasn't necessarily useful.
"It is still a series of outbreaks and countries where they are occurring should make every effort to stop transmission and all countries should prepare for more widespread occurrence if it happens," he said in a statement.
Heymann said it remains unclear how the virus is passed on in the general population, and "terms such as pandemic are distracting."
"What is necessary is to understand the current situation in each country," he said, adding: "It is for WHO [World Health Organization] to determine when the outbreaks should be called a pandemic and they will do this based on information from many different sources."
Last month, the UN health agency declared COVID-19 a public health emergency of international concern. On Monday, the director-general of the WHO said: "Does this virus have pandemic potential? Absolutely. Are we there yet? From our assessment not yet."