Average daily coronavirus cases in France and Spain this week have reached their highest levels since April, according to data compiled by Worldometer.
The seven-day rolling average of daily new cases in France climbed to 2,621 on August 19, the highest it's been since April 17, when the country reported an average of 2,654 daily new infections, Worldometer reported.
Over in Spain, the seven-day rolling average of daily new cases hit a new peak on August 17, when it reached 4,618, the highest it's been since April 7, when it was at 4,717.
The average daily case count in France has been mostly decreasing on a sharp decline from around April 1 to mid-May, before it mostly flattened through mid-July. It increased again on a sharp incline from around July 15 throughout August.
Spain's average daily case totals have been mostly declining from around March 21 through May 11, before mostly flattening out through early July. It rose on a sharp upward trend from around July 5 through August 17, before slightly dipping through Wednesday.
Weekly totals of new infections in both European Union countries have been climbing since late June through August, according to data compiled by the World Health Organization (WHO).
Weekly new cases reported in France increased for five consecutive weeks from the week commencing July 13 to the week commencing August 10, when the country saw a nearly 78 percent increase in weekly new infections from the total new cases reported the previous week.
Weekly new cases reported in Spain rose for eight consecutive weeks from the week starting June 22 to the week starting August 10.
Confirmed cases in Spain and France have reached nearly 370,900 and nearly 256,600, respectively, according to the latest report Thursday by Johns Hopkins University.
Both nations have introduced tighter new restrictions, including mask mandates and nightclub closures, following their recent rises in new infections in a bid to curb the spread of the virus.
Earlier this week, over a hundred riot police officers were deployed in the Marseille region of southern France to enforce mask mandates, which are now being issued for outdoor areas in several parts of the country.
Wearing a face covering in closed public spaces has been compulsory in France since July 21. From August 10, those aged 11 and above in Paris have also been required to wear a mask in busy outdoor areas over the next month.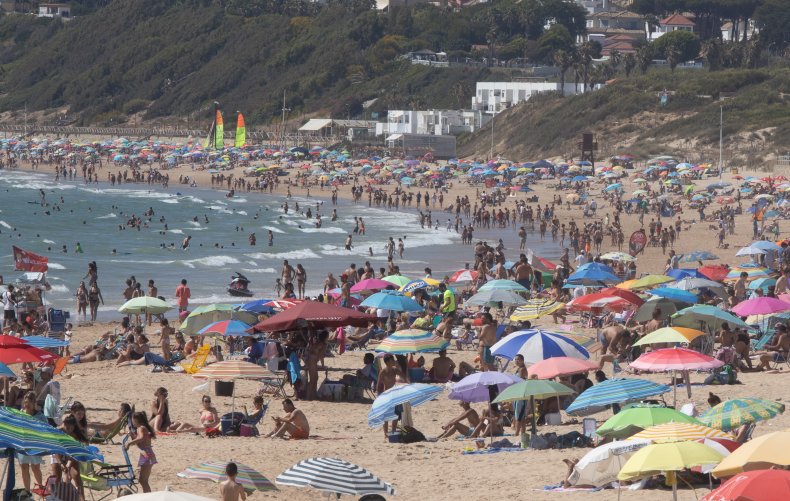 Those who violate the mask order will be fined $159 (€135) and those who record more than three breaches in a month face six months in prison, Reuters reported.
Restrictions were issued in several Spanish regions including Catalonia, where nightclubs were closed. Mandatory face coverings were also imposed in several parts of the country.
A ban on smoking in public spaces when it is not possible to keep at least two meters (around 6.5 feet) from other people was also introduced in Spain.
Last Sunday, hundreds of Spaniards gathered in the Spanish capital of Madrid in protest against the mandatory wearing of masks and other measures.
Over 22 million people have been infected with the novel coronavirus since it was first reported in Wuhan, China, including more than 3.8 million in Europe, according to WHO. Over 788,800 have died globally, while more than 14.4 million have reportedly recovered from infection, according to Johns Hopkins University.
The graphic below, provided by Statista, illustrates a comparison of average new cases in the U.S. and the European Union.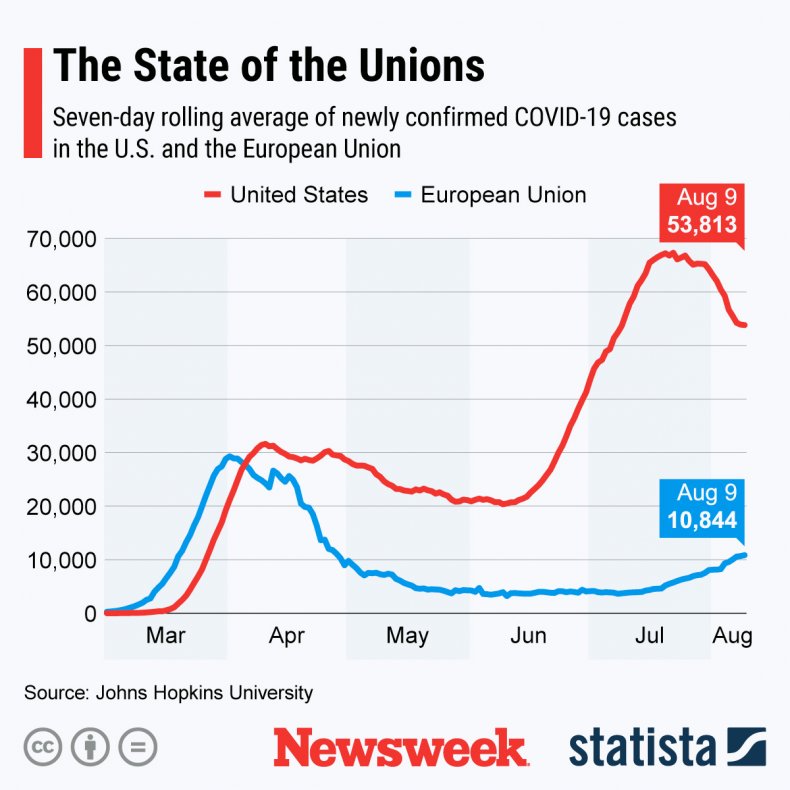 The graphic below, provided by Statista, illustrates countries with the most COVID-19 cases.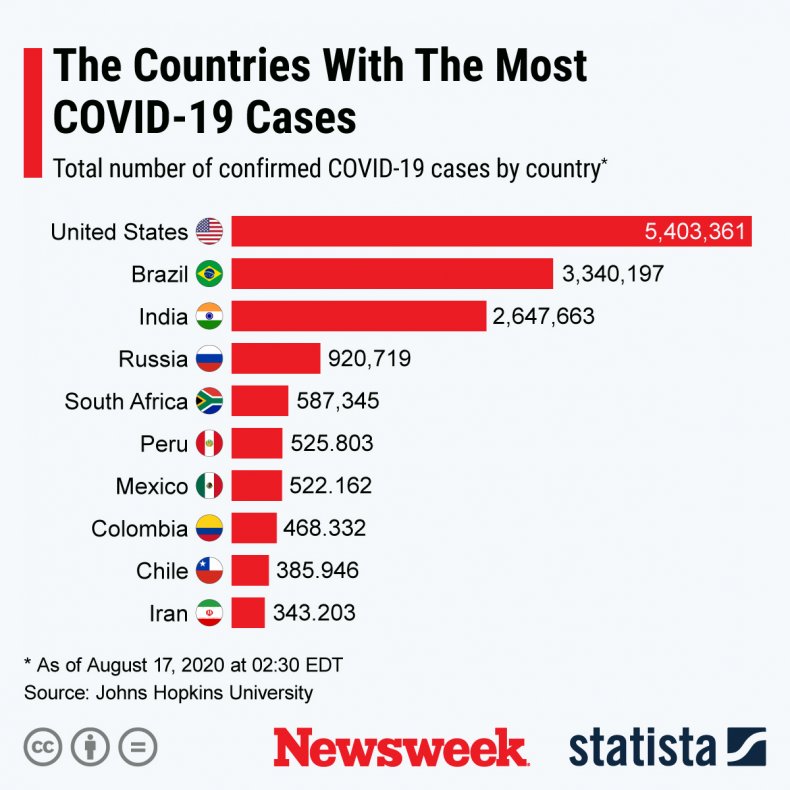 About the writer
Soo Kim is a Newsweek SEO Reporter is based in London, UK. She reports on various trends and lifestyle stories, from health, fitness and travel to psychology, relationships and family issues. She is also a South Korea expert who regularly covers Korean culture/entertainment for Newsweek, including the latest K-dramas, films and K-pop news, and is the author of the book How to Live Korean, which is available in eight languages. Soo also covered the COVID-19 pandemic extensively from 2020 through 2021 after joining the general news desk of Newsweek in 2019 from the Daily Telegraph (a U.K. national newspaper) where she was a travel reporter/editor from 2010. She is a graduate of Binghamton University in New York and the journalism school of City University in London, where she earned a Masters in international journalism. Languages spoken: English and Korean.
Follow her on Twitter at @MissSooKim or Instagram at @miss.soo.kim
You can get in touch with Soo by emailing s.kim@newsweek.com