Coronavirus Study to Look at Using Gout Drug to Prevent Lung Complications and Deaths from COVID-19
Scientists in Canada have launched a study to test a drug they hope could prevent people from dying of lung complications caused by the respiratory disease COVID-19.
Researchers at the Montreal Heart Institute aim to recruit 6,000 COVID-19 patients for their COLCORONA study, according to a statement. The drug, called colchicine, is an anti-inflammatory pill used to treat gout, Behcet's syndrome —which causes blood vessel inflammation— and the genetic disorder Familial Mediterranean Fever, where people have a recurrent abnormal body temperature.
Professor Jean-Claude Tardif, director of the Research Centre at the Montreal Heart Institute, told Radio Canada his team believes the medication could stop what is known as a cytokine storm, where the immune system overreacts.
The drug "may reduce COVID-19-related complications in adults at risk or with evidence of an inflammatory storm," according to the institute's statement.
To take part in the study, participants must have been diagnosed with COVID-19; be aged at least 40 years old; not hospitalized, and be willing to take the drug or placebo for 30 days. Women who do not take contraceptives, or are pregnant or breastfeeding, are not eligible.
COVID-19 patients interested in taking part are invited to contact their health care professional or call 1-877-536-6837.
Tardif explained to CBC Montreal: "Colchicine is an old drug.
"It's inexpensive; it's widely available, and the reason why we think it might very well work is that it's a powerful anti-inflammatory agent."
He said on Monday: "We are launching the study today because every minute, every hour counts.
But he stressed: "This is not about anecdotes or random observations," adding: "This is about delivering a robust answer for the world."
Finding a treatment for serious compilations of COVID-19, Tardif said, "would completely transform, instantaneously, what's happening."
Currently, there is no treatment COVID-19, which is caused by the new coronavirus named SARS-CoV-2 (not to be confused with the SARS bug). More than 396,200 cases have been confirmed worldwide since the outbreak started in central China late last year, according to Johns Hopkins University. More than 17,250 people have died, and over 100,300 are known to have recovered, as shown in the Statista graph below.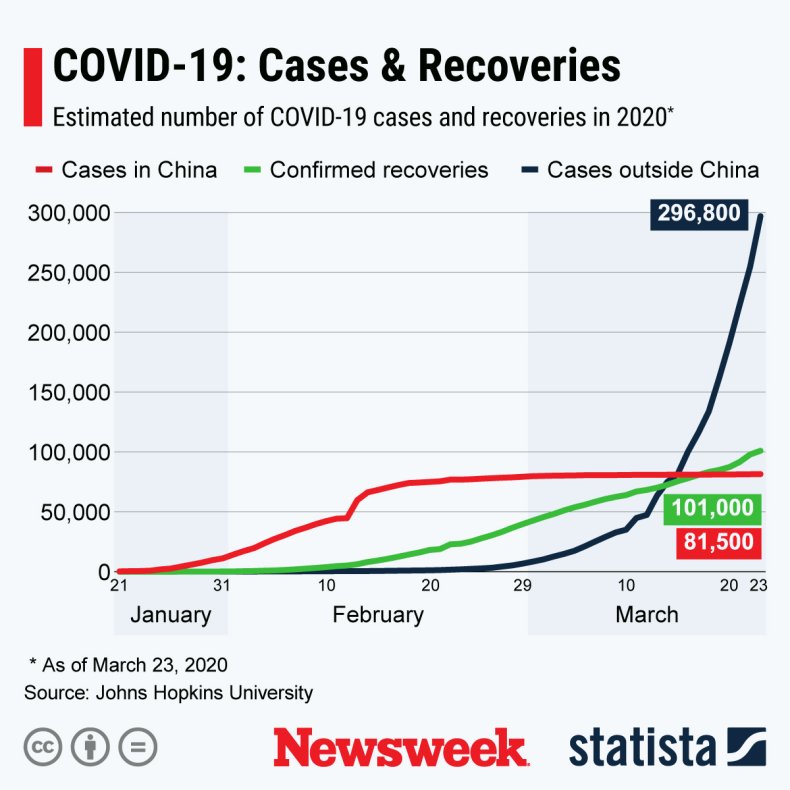 COVID-19 patients may not need to be quarantined if the drug can be proven to treat respiratory complications before patients need to be hooked up to ventilators to breathe or die, Tardif.
Tardif told Radio Canada he was inspired to test the drug when he learned children were less likely to develop COVID-19, and remembered kids have a lower inflammatory response to conditions like the cold and flu in comparison to adults.
The team are among the scientists around the world racing to find a treatment or vaccine for COVID-19. Some, for instance, are investigating the potential of an antimalarial medication, while others in the U.S. have become the first to trial a shot against COVID-19 in a person.
World Health Organization advice for avoiding spread of coronavirus disease (COVID-19)
Hygiene advice
Clean hands frequently with soap and water, or alcohol-based hand rub.
Wash hands after coughing or sneezing; when caring for the sick; before, during and after food preparation; before eating; after using the toilet; when hands are visibly dirty; and after handling animals or waste.
Maintain at least 1 meter (3 feet) distance from anyone who is coughing or sneezing.
Avoid touching your hands, nose and mouth. Do not spit in public.
Cover your mouth and nose with a tissue or bent elbow when coughing or sneezing. Discard the tissue immediately and clean your hands.
Medical advice
If you feel unwell (fever, cough, difficulty breathing) seek medical care early and call local health authorities in advance.
Stay up to date on COVID-19 developments issued by health authorities and follow their guidance.
Mask usage
Healthy individuals only need to wear a mask if taking care of a sick person.
Wear a mask if you are coughing or sneezing.
Masks are effective when used in combination with frequent hand cleaning.
Do not touch the mask while wearing it. Clean hands if you touch the mask.
Learn how to properly put on, remove and dispose of masks. Clean hands after disposing of mask.
Do not reuse single-use masks.