TSA Issues Federal Mask Mandate for All Airport Security Checkpoints
As part of President Joe Biden's executive order on Promoting COVID-19 Safety in Domestic and International Travel, the Transportation Security Administration (TSA) is requiring all passengers to wear a face covering at all "TSA airport screening checkpoints" from February 2, the TSA announced Sunday. The mask order will remain in place until May 11.
The TSA noted in a statement Sunday: "The federal face mask requirement extends to the nation's domestic network of airports; passengers and crew members flying aboard airplanes operated by domestic and foreign air carriers with inbound flights to U.S. ports of entry; and surface transportation modes, such as passenger rail, bus systems, and over-the-road bus companies.
"Passengers without a mask may be denied entry, boarding, or continued transport. Failure to comply with the mask requirement can result in civil penalties," the statement added.
All travelers "who appear to be over the age of 2 must properly wear a face mask throughout the security screening process," including at the Travel Document Checker (TDC) and bag screening points.
"The officer at the TDC will request that travelers temporarily lower the mask to verify their identity. Those who approach the TDC without a mask will be asked to wear or obtain one to proceed.
"Passengers who refuse to wear a mask will not be permitted to enter the secure area of the airport, which includes the terminal and gate area. Depending on the circumstance, those who refuse to wear a mask may be subject to a civil penalty for attempting to circumvent screening requirements, interfering with screening personnel, or a combination of those offenses," the statement added.
The latest mandate follows a mask order issued Friday by the U.S. Centers for Disease Control and Prevention (CDC), making it a federal offense not to wear masks on public and commercial transport.
"People must wear masks that cover both the mouth and nose when awaiting, boarding, traveling on, or disembarking public conveyances. People must also wear masks when entering or on the premises of a transportation hub in the United States," the order noted.
The CDC order applies to trains, buses, planes, boats, ferries, subways and ride-hail vehicles. It will also take effect in transport hubs such as train stations, bus depots and airport terminals.
Under the Donald Trump administration, the CDC did not issue a mask mandate for travel but strongly recommended face coverings for passengers and commuters. Former president Trump resisted efforts from Congress to introduce a mask requirement of this kind.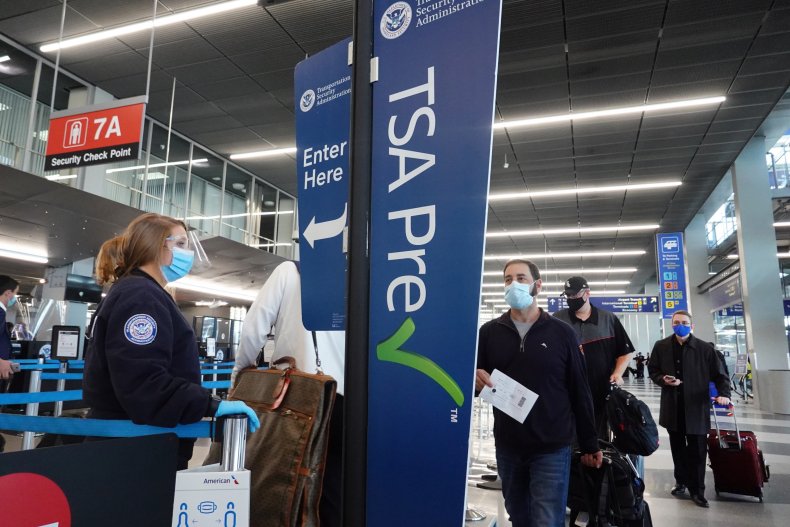 The wider picture
The novel coronavirus has infected more than 103 million people, including just over 26.1 million in the U.S., since it was first reported in Wuhan, China.
More than 2.2 million people have died worldwide and more than 57.1 million have recovered as of Monday, according to Johns Hopkins University.
The graphic below, produced by Statista, illustrates countries with the most COVID-19 cases.