Tops Friendly Markets, the supermarket chain with stores in New York, Pennsylvania and Vermont, is offering COVID-19 vaccinations at select locations. Only some venues in New York are administering the vaccine at this time. Those eligible for vaccination must register to receive it at the Tops website.
Tops is offering the Moderna COVID-19 vaccine and appointments are currently only available to those aged 65 and older, the company notes on its website.
"Tops pharmacies throughout New York State are currently receiving only a small allocation of the vaccine for those in Phase 1b who are 65 years of age or older ONLY. We have not received communication on a timeline for vaccine shipments," the website states.
For residents in Pennsylvania, the company notes: "Tops will be partnering once again with TOPCO to provide COVID-19 vaccinations to the public in the near future. Once vaccines are available, you may check this website for more information on scheduling your appointment online."
Residents are advised to monitor the Tops website for the latest update on appointment availability.
How to book COVID-19 vaccinations at Tops
All appointments for COVID-19 vaccinations must be booked online and cannot be scheduled by calling your local Tops venue. Walk-in services are not available and residents cannot be put on a waiting list to receive the COVID-19 vaccine, the company notes.
To schedule a booking, users should tap a hyperlink that reads "click here to make an appointment" at the Tops website. This will lead you to a listing of cities/addresses where the vaccine is offered and you can tap a hyperlink that reads "click to schedule at this location" next to each venue.
Those scheduled for vaccination should bring the following to their appointment:
A form of photo identification that includes your date of birth.
Insurance card. "If you have Medicare, please be sure to bring your Medicare Part B card with you to the appointment," the Tops website states.
A list of any allergies.
Your primary doctor's name and phone number.
Consent form (which should be downloaded from the Tops website and filled out before your appointment).
Residents should allow around 30 to 45 minutes for their appointment and are advised to wear a short-sleeve shirt if possible.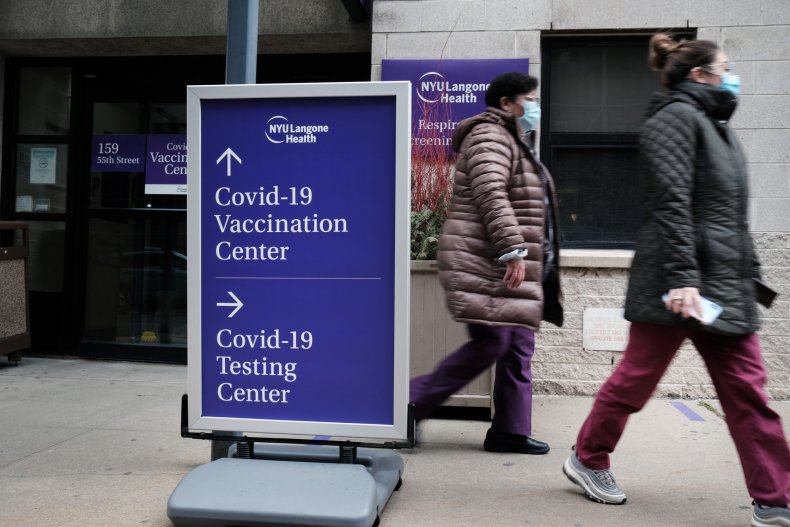 The wider picture
The novel coronavirus has infected more than 104.8 million people, including just over 26.6 million in the U.S., since it was first reported in Wuhan, China.
More than 2.2 million people have died worldwide and more than 58.3 million have recovered as of Friday, according to Johns Hopkins University.
The graphic below, produced by Statista, illustrates the amount of COVID-19 vaccine doses administered since late December.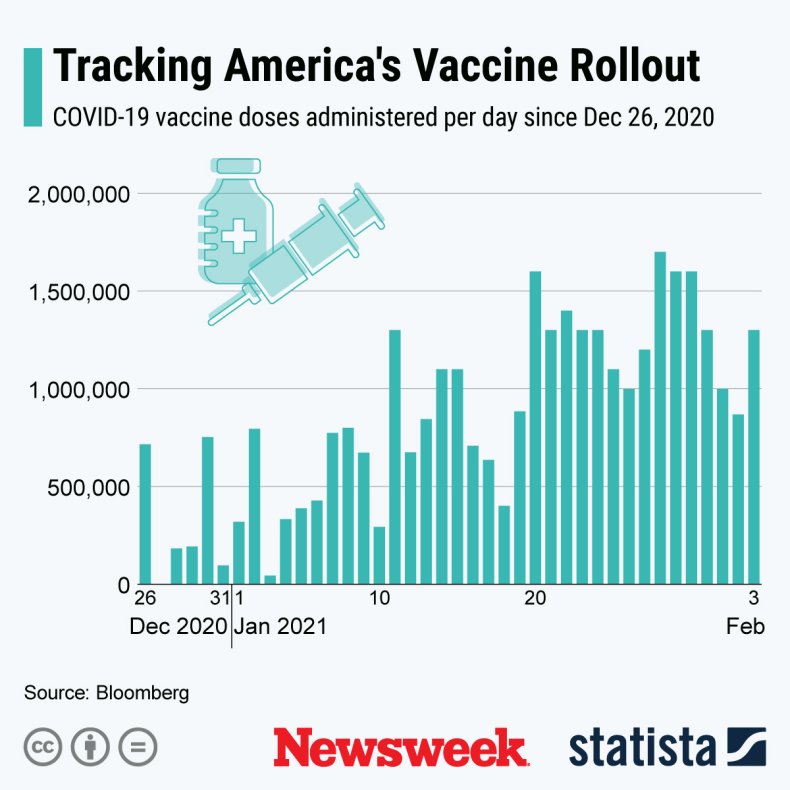 Newsweek, in partnership with NewsGuard, is dedicated to providing accurate and verifiable vaccine and health information. With NewsGuard's HealthGuard browser extension, users can verify if a website is a trustworthy source of health information. Visit the Newsweek VaxFacts website to learn more and to download the HealthGuard browser extension.
About the writer
Soo Kim is a Newsweek SEO Reporter is based in London, UK. She reports on various trends and lifestyle stories, from health, fitness and travel to psychology, relationships and family issues. She is also a South Korea expert who regularly covers Korean culture/entertainment for Newsweek, including the latest K-dramas, films and K-pop news, and is the author of the book How to Live Korean, which is available in eight languages. Soo also covered the COVID-19 pandemic extensively from 2020 through 2021 after joining the general news desk of Newsweek in 2019 from the Daily Telegraph (a U.K. national newspaper) where she was a travel reporter/editor from 2010. She is a graduate of Binghamton University in New York and the journalism school of City University in London, where she earned a Masters in international journalism. Languages spoken: English and Korean.
Follow her on Twitter at @MissSooKim or Instagram at @miss.soo.kim
You can get in touch with Soo by emailing s.kim@newsweek.com