Shoppers Share 'Extortionate' Grocery Hauls To Protest Insane Living Costs
Upset shoppers have taken to the internet to share how much their groceries cost, reflecting on the rising cost of living and the everyday impact it is starting to have on families.
In all corners of the world, people are finding that their daily expenses are rising. From the cost of a loaf of bread to filling your car with gas, your outgoings have likely increased.
Online people have started sharing the groceries they have purchased alongside the cost, shocking others and demonstrating how little they are now able to buy.
Across Twitter and Reddit, posts have gained attention as people share the contents of their shopping carts.
With inflation in the U.S. at its highest rate since 1981, the latest federal data from the Consumer Price Index reports that Americans are paying around 11 percent more for food at the grocery store than they were a year ago—making it the largest 12-month increase since 1979. The costs of meats, poultry, and fish rose by 14.2 percent, while fruits and vegetables were recorded at an 8.2 percent price increase in the last year.
Joseph W. Glauber, senior research fellow at the International Food Policy Research Institute, told Newsweek: "Price increases are in part because farm prices are up due to the war in Ukraine, but the farm value accounts for only 25 percent of the total food costs. The remaining costs occur post-farmgate (processing, packaging, transporting and stocking grocery stores) and are driven by energy and labor costs. These are up as well, which helps explain the highest year-over-year increase in retail food prices that we have seen since 1970."
One internet user shared their shopping on Reddit earlier this month, shocking others with a basket of just 15 items for $51.52. From Kansas, the shopper told Newsweek: "When I saw the bill I definitely felt that America is getting way too expensive to even cover basic needs.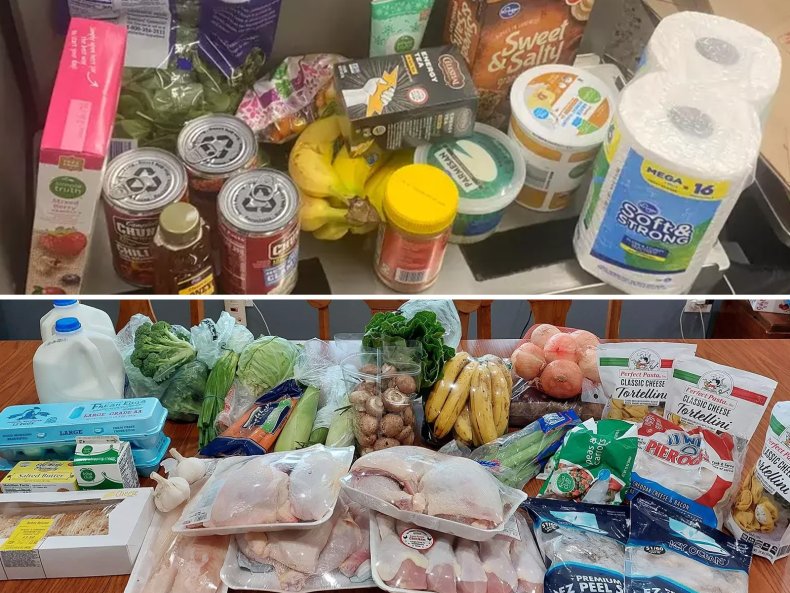 "I'm 20 years old and currently living with my parents to avoid paying rent. Even without this huge bill I couldn't help but feel that the cost of food, insurance, gas, and other things like hygiene products or electricity are getting too expensive to afford for young adults just starting to get into the workforce or still in school."
Glauber explained: "On average, food expenditures are a small share of overall household expenditures (about 10 percent on average) but for those households in the bottom 20 percent of household earnings, food accounts for about 27 percent of total household expenditures."
A resident of Will County recently shared their shopping efforts online too, sharing how they had purchased $100 of food to make six meals for five people. Alongside the post, they wrote: "I posted it on my family group chat and my dad thought it was $50-60 worth. Yeah, maybe two years ago!"
The Redditor told Newsweek: "I was pleased I could buy so much for the amount I did. That amount of food was a good deal before the pandemic, probably $60-75, but now I can see spending $200+ so I was pleased to keep it at half that level."
It isn't just people in the U.S. noticing their food bills changing either, from the U.K. to New Zealand, people have shared their shopping alongside the bill with one shopper on Twitter joking that they "need to buy a farm."
The U.S. Department of Agriculture (USDA) reports that they expect food prices to rise between 6.5 and 7.5 percent this year. This is up again from the 5 percent rise predicted earlier this year.
The impact of these price rises are already hitting Americans as they take to the internet to share their upset.
Another shopper shared a fully vegan food shop featuring $100 of groceries on Reddit and shocked thousands of users.
"Inflation is really doing its thing huh," said one reply, before the poster added: "I will say I splurged on the cherries, I only get them once or twice a year. The bag was $9."
"I feel you," shared another commenter: "Groceries have gotten unbelievably expensive in the U.S."
This comes in the same week that former economic adviser for Ronald Reagan, Art Laffer said that the U.S. economy could be considered in a recession based on the upcoming second-quarter GDP numbers.
When it comes to where food prices are headed, Glauber said: "Over time, food prices will moderate, but underlying commodity prices are likely to remain high for several months which will prevent food prices from declining to the 2-3 percent inflation rates that we enjoyed for much of the past 30 years."
UPDATE 06/27/22, 08:00 a.m.: This article was updated with new comment from Joseph W. Glauber from the International Food Policy Research Institute.