Could Stacey Abrams Beat Joe Biden in 2024? What Polls Show About Potential Rivals
President Joe Biden plans to run for president again in 2024, but he'd be 82 years old and amid dropping approval ratings, some are speculating Democrats may opt to nominate someone else, including potentially Stacey Abrams.
Abrams, a voting rights activist, nearly won the 2018 Georgia gubernatorial race and was instrumental in Democrats winning two Senate seats in the runoff, giving them control of Congress. While currently focused on passing voting rights legislation, Abrams has expressed the desire to serve as president of the United States and hasn't entirely ruled out a 2024 bid.
Only one elected president, Franklin Pierce, has lost his party's nomination and it's customary for incumbent presidents to secure their party's nomination without a fight. So, if Biden pursues a second term, it's possible other candidates will wait until 2028 to launch a bid for the White House.
Despite concerns about drops in his approval rating, Biden remains Democrats' top choice for the 2024 presidential nomination. A July Hill-HarrisX poll found 73 percent of registered Democratic voters would consider Biden for the nomination, double the support of any other candidate in the poll.
In the same poll, 15 percent of the 957 people polled said they would consider voting for Abrams as the 2024 Democratic nominee. She garnered the sixth most support, behind Senators Elizabeth Warren and Bernie Sanders, Transportation Secretary Pete Buttigieg, Vice President Kamala Harris and former first lady Michelle Obama.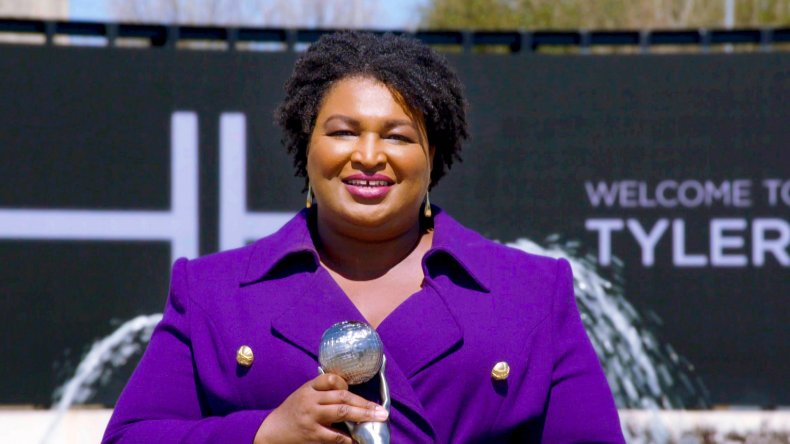 However, it's possible that feelings about Biden have shifted over the past few months. A Hills-HarrisX poll released on Tuesday found 37 percent of Democrats think Biden should bow out of the 2024 race and make way for someone else to run. Less than half hope Biden makes another bid for the White House.
A Marist poll from the beginning of November found similar results with 44 percent of Democrats and Democrat-leaning independents wanting a different candidate to run in 2024.
When asked if she would consider running for the White House if Biden doesn't run, Abrams told CNN's Erin Burnett on Monday that her focus is "being poured into" passing the Freedom to Vote Act and the John Lewis Voting Rights Advancement Act.
Many suspect Abrams will make a bid for Georgia's governor's mansion before the White House and if she does, a victory in Georgia in 2022 could bolster her potential for 2024.
If Abrams wants to run for America's top job in 2024, she'll likely have to bolster her appeal with Democrats to secure the nomination. A McLaughlin & Associates poll from September found she had 5 percent support among Democratic primary voters, well behind Obama and Harris and just shy of the support Representative Alexandria Ocasio-Cortez had.
Abrams also trailed Biden, Obama and Harris in a Zogby Analytics poll from October. Biden was the top choice for Democratic primary voters, at 40 percent, followed by Obama at 20 percent, Harris at about 10 percent and Abrams at 6.3 percent.
The presidential election is still years away and both parties are likely focusing the majority of their attention on the 2022 midterm elections, as it could give Republicans control of Congress and energize their 2024 campaigns. However, Abrams is confident that she can win over voters nationwide and told FiveThirtyEight in January 2020 that she "absolutely" believes America will put a Black woman in the Oval Office by 2040.
"Yes, I do," Abrams responded, when asked if she thought Americans would elect her. "That's my plan. And I'm very pragmatic."