International critics of U.S. policy are seizing on widespread protests and unrest sparked by the police killing of an unarmed black man as an opportunity to discredit the United States on the world stage.
Although George Floyd's killer, a white cop named Derek Chauvin, has been fired and charged with third-degree murder and manslaughter, the incident last week prompted nationwide demonstrations and unrest fueled by longstanding accusations of systematic racism and injustice against U.S. authorities. Asked about this domestic U.S. turmoil, Chinese Foreign Ministry spokesperson Zhao Lijian told reporters in Beijing that this was an internal affair for Washington but added that "the people of the world have seen through the media what is happening in the United States."
He questioned why U.S. officials refer to those in Hong Kong protesting in favor of greater independence from the central government as "heroes" and "warriors," while those demonstrating against racial discrimination at home were deemed "thugs."
"Why did the U.S. side criticize the Hong Kong police for its restraint and civilized law enforcement, but threatened to shoot at domestic protesters and even used the National Guard? The U.S. approach is the most typical 'world-famous double standard,'" Zhao said. "The problems behind this are worthy of deep reflection and vigilance."
Zhao, who also denied accusations that Beijing was actively supporting the protests via social media operations, was the latest from China to weigh in favor of the demonstrations. Foreign Ministry spokesperson Hua Chunying has dismissed U.S. criticism of China's Hong Kong policy by quoting Floyd's final words "I can't breathe" and several ruling Communist Party outlets featured editorials lecturing President Donald Trump's administration on its handling of the situation in the U.S.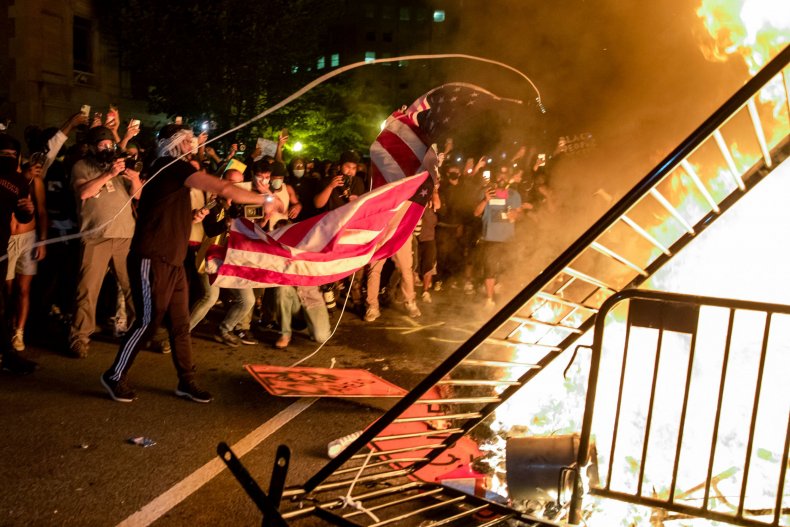 White House national security adviser Robert O'Brien sought to dismiss global criticisms over Floyd's death on Saturday, mentioning China as well as Russia, Iran and Zimbabwe, whom he said were guilty of their own abuses. Moscow also came up during a CNN interview Sunday with former national security adviser Susan Rice, who said reports of radical groups attempting to infiltrate otherwise peaceful protests were "right out of the Russian playbook."
Kremlin spokesperson Dmitry Peskov took exception with the comment Monday.
"We are certainly very carefully watching what is going on in the United States. But everything that is happening there is this country's domestic affair," Peskov told reporters, according to the state-run Tass Russian News Agency. "We have never meddled in U.S. affairs and we are not going to interfere now."
The Russian Foreign Ministry also has issued a statement criticizing Floyd's slaying as part of "a series of lawless conduct and unjustified violence from US law enforcement." Naming other victims of high-profile police encounters, the statement said that the U.S. has "certainly accumulated systemic human rights problems."
"We are urging the US authorities to take effective measures to improve the current state of affairs, resume good-faith efforts to honour international commitments and tailor national legislation to the UN basic principles on the use of force and firearms by law enforcement," the ministry said.
On Monday, the semi-official Tasnim News Agency reported that Iranian Foreign Ministry spokesperson Abbas Mousavi called on Washington to let the people of the U.S. breathe, also in reference to the phrase "I can't breathe," now a rallying cry both over Floyd's death, as well as that of Eric Garner, another unarmed black man who died after being shot by police in 2014.
Iranian Foreign Minister Mohammad Javid Zarif has also been vocal on the issue, repurposing a U.S. statement criticizing Tehran's crackdown on demonstrations and foreign interventions. On Monday, he compared the "knee-on-neck" technique used by Chauvin on Floyd to the Trump administration's maximum pressure campaign of sanctions against Iran.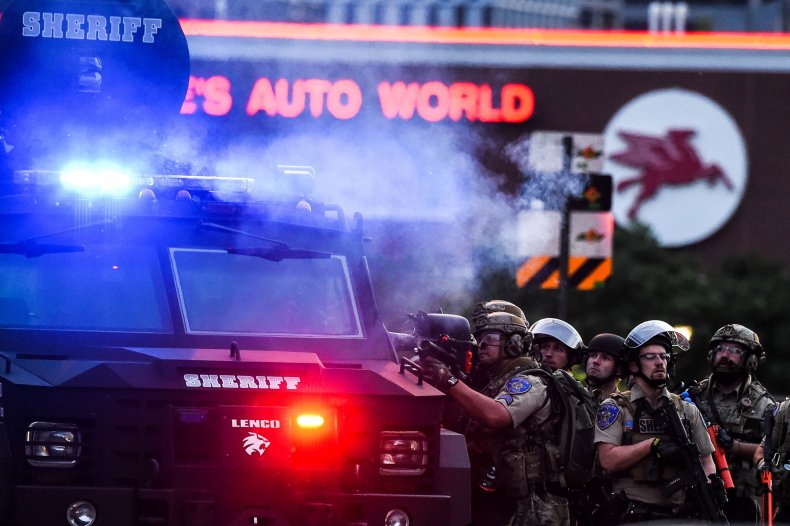 The words "I can't breathe" were also featured Monday in Minju Choson, the official Cabinet newspaper of North Korea. Another state-run outlet, the ruling Korean Workers' Party's Rodong Sinmun featured photos of the U.S. protests and a recent article shared the details of the "black man's murder by white police in the United States."
Others commenting on the rallies and clashes from abroad included state-linked media outlets from Syria and Venezuela, two additional U.S.-blacklisted countries facing both accusations of government malpractice as well as competing forces backed by Washington at home.
It wasn't just U.S. adversaries, however, the U.N. High Commissioner for Human Rights, the African Union and Amnesty International were among those calling on the Trump administration to take swift measures to seek justice for Floyd and address the underlying issues that have led to his death and the killings of other black people across the country.