Shock as Couple Find 'Secret' Safe Hidden in Floor After Lifting Carpet
A woman was shocked to find a locked safe buried under a floor beneath the carpet as she helped her boyfriend's grandma move house.
A TikToker name Rosie shared a cliffhanger clip to her account, @wearsrosie, as she and her boyfriend were determined to open the safe.
Rosie, from the U.K., posted the video Monday, and it's already amassed 4.5 million views.
"Finding a LOCKED SAFE concreted in to the floor of my boyfriends Grandma's house!" the clip was captioned.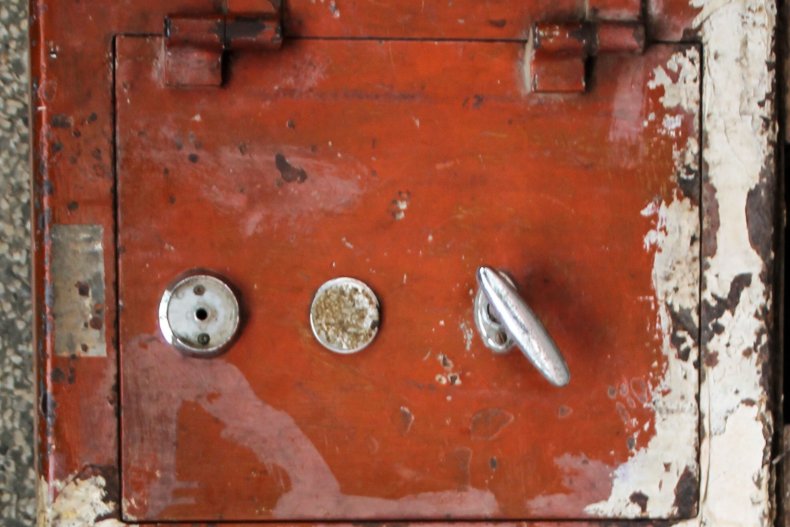 Website Certified Safes Ireland shared some common problems with in-floor safes, noting: "The usual selling point of an uncertified under-floor safe is the idea that it is buried in concrete."
They noted the change in temperature from above to below ground can cause it to deteriorate quickly.
"This temperature differential is a well-known problem in the safe industry and will cause condensation on the safe door, the door being the highest point of the safe," they said.
"Over time this will cause rust and it is the reason an under-floor safe will come with either a mechanical key lock or a mechanical combination lock.
"For an under-floor safe it is advised locks will need regular maintenance and it should be noted that mechanical lock types, both key and combination, have been shown to be easily defeated with manipulation attacks."
Rosie narrated the video, explaining: "She's moving out and we're helping her move all of her stuff out, and there is a sunken safe in the floor.
"And we need to get it open. It's locked. They've lived here, 20 odd years, and they've never owned it."
While the grandson clarifies: "They didn't fit it, so it was here before they moved in.
"Now apparently my grandma knew this was here the whole time, and just never bothered to open it.
"Blows my mind. But either way it's not been opened the entire time she's lived here, someone else put it in here, there's no key.
"It was literally, underneath the carpet, and under a bit of wooden flooring there as well, completely secret."
Rosie speculates: "There's got to be something good in there, it's concreted into the floor. Who would do that."
"Who can crack a safe?" her boyfriend jokes.
While he thought there was nothing in it, Rosie was convinced there was treasure, saying: "If you had something in it, and you moved out, you would leave it open."
"Look at how old that is as well. That's insane," she said, adding: "What a find."
They film the plaque close up, which read "Johnson Burton & Theobald, London & Castle Streets Norwich."
The company is listed as an ironmongers, with Norwich Council stating the company was in operation from 1843 to 1982.
The storefront features in the city's "London Street 50 posters," which is: "A series of 16 posters showing the history of London Street from the turn of the 20th Century into 'a street for feet' in the late 1960s." The storefront was photographed around 1900.
Commenting on the clip, Margie O'Brien advised: "Run your fingers along the timber surrounds, there may be a key."
Peter Levarre joked: "The only thing inside is ........... the key to the safe."
Joseph Gerald warned: "Johnson and Burton safes are really expensive make sure you don't damage it."
Rosie shared a followup clip Tuesday, which amassed more than a million views and can be seen here, as they managed to get a locksmith to crack the safe.
They explained they initially planned to put a camera in to see what was inside before making the decision to open it, but they revealed in the end they just got the professional to open it.
The pair waited with eager anticipation, saying they were "so excited" to see what was inside, but after drilling the lock and giving it a few whacks to loosen up the sides, it turned out the safe was empty.
A locked drawer inside was also empty, as Rosie said: "That's the end of the safe saga, sorry to be a let down. We had to open it."
Despite the anticlimactic ending, people shared suggestions for the safe, as @loveheartss.x wrote: "It would be so cool if you put like a letter in it for the next people yo [to] find."
While Daniel advised: "Now leave a fake skull in there for the next generation that lives there."
Newsweek reached out to Rosie for comment.