Shocking Moment Couple on Trip of Lifetime Narrowly Miss Shark—'Close Call'
It's a scenario that would be many people's worst nightmare. A video of a couple having a "close call" with a shark while on the trip of a lifetime has gone viral on TikTok with over 4.2 million views.
The lucky couple, Kirsty and Callum, can be seen walking into the sea on drone footage at Turquoise Bay in Western Australia.
As they walk hand in hand into the water, they are filmed from above. A shark can be seen heading towards them in the right-hand side of the shot, only about 10 feet away from the unsuspecting couple.
Speaking to Newsweek Kirsty and Callum said: "We filmed the clip and then watched it back on the drone and that's when we spotted the shark! We went to see if it was still around and it was in the shallows still so we got the drone back up in the air!"
The couple have roughly two-and-a-half months left of their trip and have traveled to seven countries so far. "I grew up traveling so I've always loved it," said Kirsty. "Callum always wanted to travel but didn't/couldn't due to financial and health reasons. We knew when we got together that we wanted to travel and see the world and make memories together. Exploring off the beaten track and experiencing and understanding different cultures is our favorite thing to do!"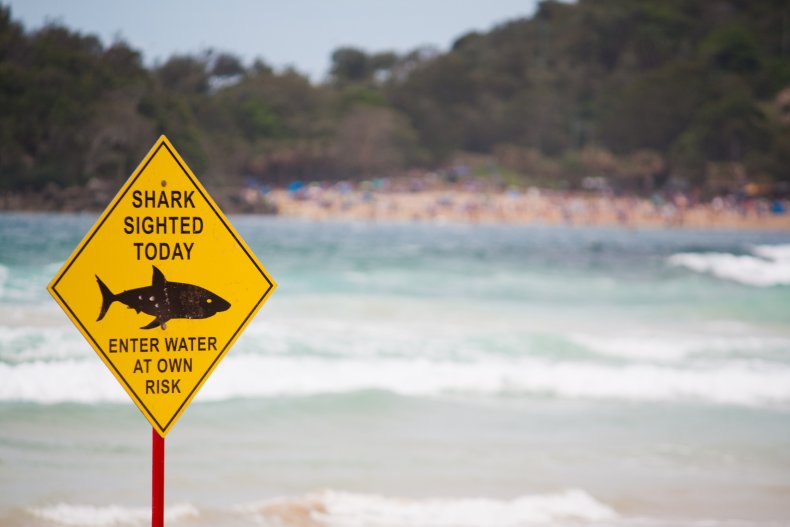 Many users claimed they weren't able to see the shark, prompting the couple to post a better angle. This revealed that there were in fact two sharks, a small one and a larger one. Turquoise Bay was ranked the third beach in the world in Tripadvisor's 2022 Travelers Choice Awards. It is within meters of the Ningaloo Reef, making it likely that the sharks in the video were whitetip reef sharks, which pose very little threat to humans.
The couple chose to use the music from the 1975 film Jaws. According to research done in the years that followed its release,the movie appears to have spurred negative public opinion towards sharks. The research has also suggested that Jaws contributed to the decline of various shark species' populations in U.S. waters, namely through a rise in shark-fishing tournaments in the 1980s.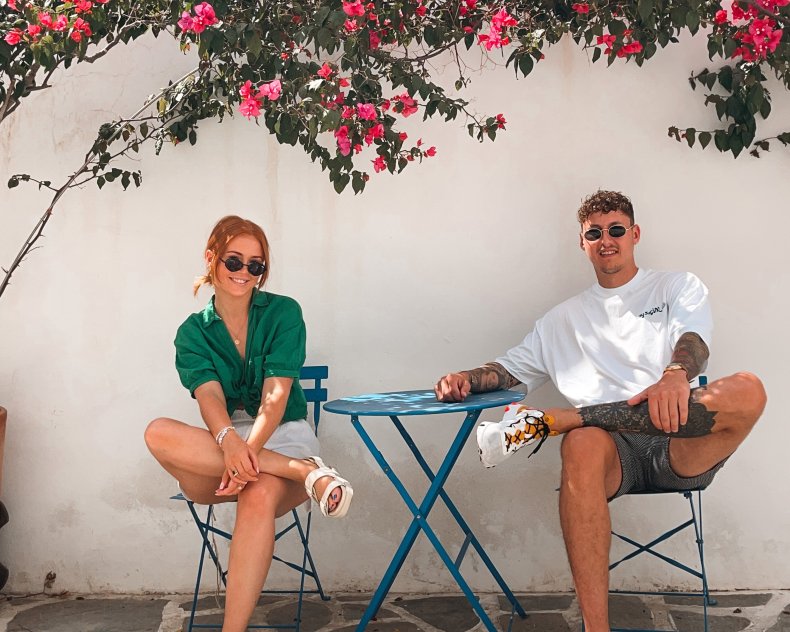 Very few users expressed fear in the comments of the video. Instead, many said they couldn't even spot the sharks, while the rest commented on the docile nature of most sharks. One user commented, "omg they're so cute," while another said, "Them tiny a** sharks weren't gonna hurt you. You know dolphins are more responsible for attacks on humans than sharks are."
Rather than being scared by the potential encounter, the couple were "really excited." They said, "We've recently fallen in love with sharks after doing a nighttime scuba dive in the Great Barrier Reef and seeing many sharks! We were also lucky enough to swim with a 3-meter-long pregnant nurse shark in coral bay, so seeing another shark (or two as it turned out) was really exciting."
Despite the relatively low incidence of shark attacks in Australia, as long as humans continue to enter the water, then attacks are possible. Most recently, 16-year-old schoolgirl Stella Berry was killed by a shark on February 4 while Jet Skiing with her friends in Swan River near Perth, Australia. Experts believed that the predator was probably a bull shark, thought to be one of the most aggressive species. The incident was the first fatal attack in 100 years along that river. In February 2022, British man Simon Nellist, 35, was killed by a shark, believed to be a 14-foot-long great white shark near Sydney, the first such attack in the area in 60 years.
Update 02/22/23, 5:27 a.m. ET: This article was updated to include comment from the traveling couple as well as video.