Couple Renovating Century House Find Bones Beneath the Floorboards: 'Fear'
A couple claim to have found bones in their 150-year-old house, as they renovated the property ready to flip it.
The young married couple have been sharing their DIY journey to their TikTok page, @flipthishouz, as they explained they're first-time buyers and flippers.
The pair, thought to be based in Canada, snapped up the bungalow for $25,000 with plans to turn it into a three-bedroom, two story home.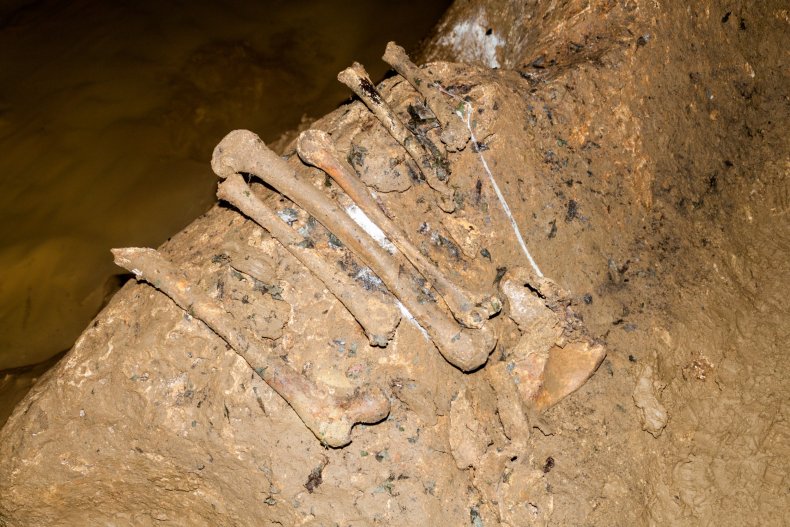 Their bio explains: "First time flippers of a century home on a fb marketplace budget!"
As they set about renovating the home, they shared quirky finds in the property, which they've estimated is 150-years-old. A newspaper from 1962, photos from 1998, a sardine tin from 1890, coupons which expired in 1964, a TV guide from 1963, layers of wallpaper and old clothes are among the treasures they've uncovered, in two clips entitled "things we found in our 150-year-old home."
But a shock was in store, as they believe they have found bones underneath the house.
A clip shared to TikTok on Sunday was captioned: "Renovating is all fun and games… Until you find bones."
They filmed someone in what appears to be a crawl space under the floorboards, zooming in on dust and debris and what appear to be bones scattered about.
"Wish we were faking for the views," they captioned the clip, along with the hashtags #skeleton and #bones.
The video has been seen more than 140,000 times, as people speculated on the origins of the chilling find—and whether the bones were human or not.
Ah.doh.lie advised: "Call the police."
NoName wrote: "Time to check records on pass [past] owners & missing people."
Jennifergloryhound said: "This is why I didn't even look at older homes. A legit fear of mine."
Bella joked: "The listing *said* IT HAS GOOD BONES, what more do you want."
Simply Pinky advised: "That's when you close that opening back up."
And Heatherfromcanada said: "Well… I guess you do have skeletons in your closet!"
Killson commented: "My dad is a master electrician; he's found bones before and they always end up being cow bones for some reason (yes cops are called/bones identified.)"
Explaining more, Jennie added: "I found bones in my basement too! Apparently back in the day it was normal for them to bury old cow stewing bones."
The Canadian Government sets out what people should do if they believe they've discovered human remains in national parks, although they pointed out local laws come into play.
Parks Canada said: "The accidental discovery of human remains triggers a complex series of legal requirements under both federal and provincial laws…
"Any discovery of human remains should be reported immediately to the police."
If human remains are accidentally discovered, police will determine whether it's "an unrecorded but non-criminal burial site or an archaeological site."
The site stated that if the bones are "historical" then: "The anthropologist will take possession of the bones and artifacts. He will also comply with provincial acts which require the recording of the site and proper handling of the remains."
Newsweek has reached out to @flipthishouz for comment.