A woman was baffled after moving into a new house, only to find sunken stone skulls littering her backyard.
Emily Hoffman was still unpacking her things in her new home, in Seattle, when something caught her attention as she looked out the window onto the lawn.
Hoffman shared a clip to her TikTok account, @mothmanbelievesinu, as she filmed the chilling structures partially buried in the grass.
The video, shared on Tuesday, has been seen nearly 1.5 million times, and she explained: "So we just signed a lease for this house, which is y'know great, because it will be great to have a house and a back yard.
"I was working on bringing some packages in today, that's just going to make our move easier this weekend.
"And I'm just looking out my window and I swear to God, those rocks look like skulls. And it scared the goddamn s*** out of me. Do those not look like skulls? I feel like they look like skulls.
"Anyway I'm sure I'll get used to that, and they won't scare me in the middle of the night but what the f***. What. What is that."
According to Forbes, desirable features buyers are willing to pay more for include open living space, an updated kitchen and good location.
While a large yard is also a plus, realtor Brad Le was quoted as saying—although he didn't mention skulls.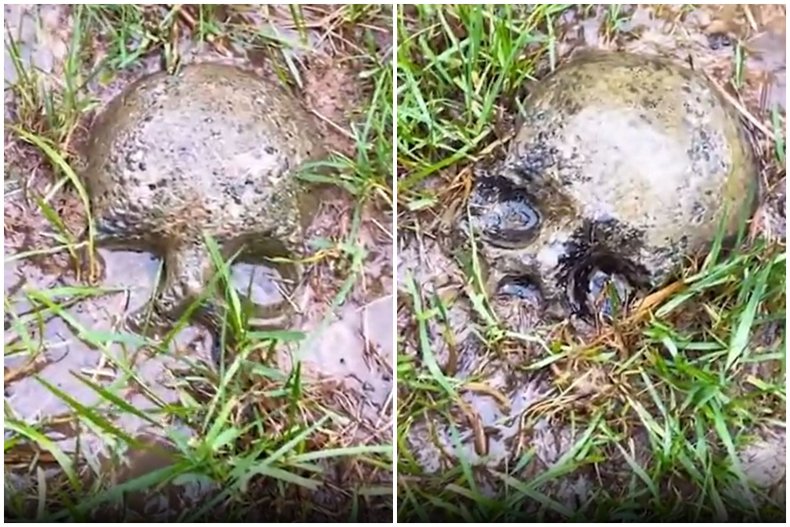 He said: "Most buyers love a home with a large yard. They can envision their kids (or pets) playing in it, entertaining guests, gardening or even adding onto the house if there's enough room.
"The possibilities are endless and it's a huge selling point in any home. Buyers also realize that the true value in a property is the land. At the end of the day, all those upgrades inside the home will depreciate."
Hoffman told Newsweek: "the first time I saw them I genuinely think I jumped about a foot because for a split second I thought they were real. And then I went through about 20 different thoughts about what they could be, because skulls seemed pretty unlikely. I almost wrote them off entirely as something I'd imagined until I went to go take a closer look at them for that second video."
After the clip blew up, Hoffman shared a follow-up the day after, seen nearly two million times, as she filmed a close-up of the bizarre skull shapes.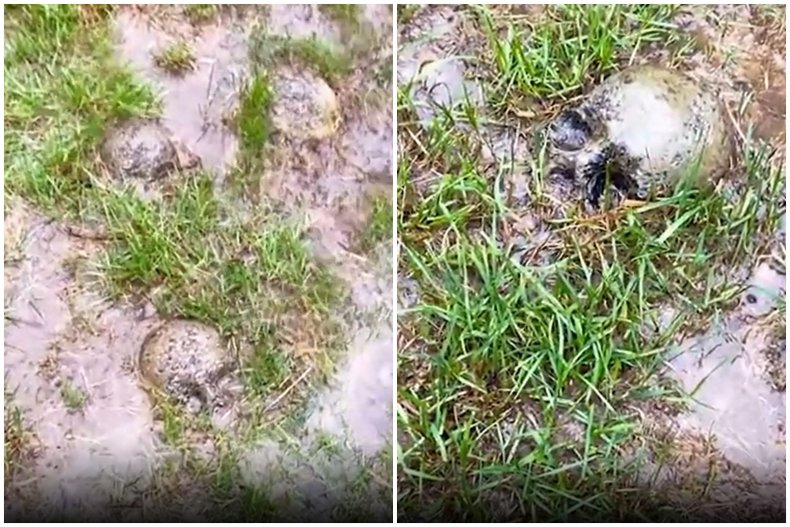 She said: "I hadn't noticed this before, but there's stairs, into our backyard, these are the stones and they are definitely supposed to look like skulls, like they were meant to look like this.
"They are in a row all the way up to our back door. And they're stone, they're for sure stone but I don't know why, I have no explanation as to why they were put out.
"That one's particularly creepy because he's disintegrating, but they're definitely concrete, there's rocks in there.
"Does give me some questions about the prior tenants though, I suppose I don't know who did this decorating, maybe they just have really interesting exterior decorating desires, I don't know, I have no answers for you."
Commenting on the video, Heather Drake joked: "It's to help hide the real ones."
Remiusables wrote: "These are amazing. I need these."
While Jaime said: "Amazing it's sending poltergeist vibes."
Cierra Mcbride thought: "The prior people were awesome is what the answer is."
While Kevin Farris added: "Those are so cool! I would totally do that in my yard."
But incredibly, the internet did have answers, as it seems the former tenant saw Hoffman's video, and stitched it on the site, providing an explanation.
Haven, posting to @safesthaven44, said: "My fiancé made those skulls out of cement and we put them as stepping stones in the backyard because it gets really bogged down when it rains so much.
"And you can stay a top all of the water when you stand on top of the skulls. So both I'm very sorry and you're welcome."
Her reply, shared on Wednesday, amassed two million views. And it seems Hoffman saw the explanation, as she said in the comments: "I saw the prior owner's stitch!! Bless TikTok for solving all of life's mysteries. We love the skulls, thank you."
In more follow-up videos Hoffman confirmed she was keeping the skulls, joking she was glad she didn't have to "call the FBI," and was going to come up with names for them all.
Hoffman told Newsweek she saw Haven's response after about a day, adding: "The skulls aren't great stepping stones at the moment, mostly because a lot of them are starting to break down some. But we bought another mold, so I think we're going to try and do some skull repair ourselves to see what we can do.
"And I am naming them! We're definitely naming at least one of them Yorick, and one Scully, but we're still working out the rest."
While it's not clear how big Hoffman's new home is, figures website Apartmentlist.com, quoted by Statista, revealed the average overall monthly rent in the U.S. for 2021 was $1,124 a month.
That increased slightly from the same month in 2020, when it stood at $1,129, and was higher than January 2019, when it was $1,105.
Newsweek has reached out to Haven for comment.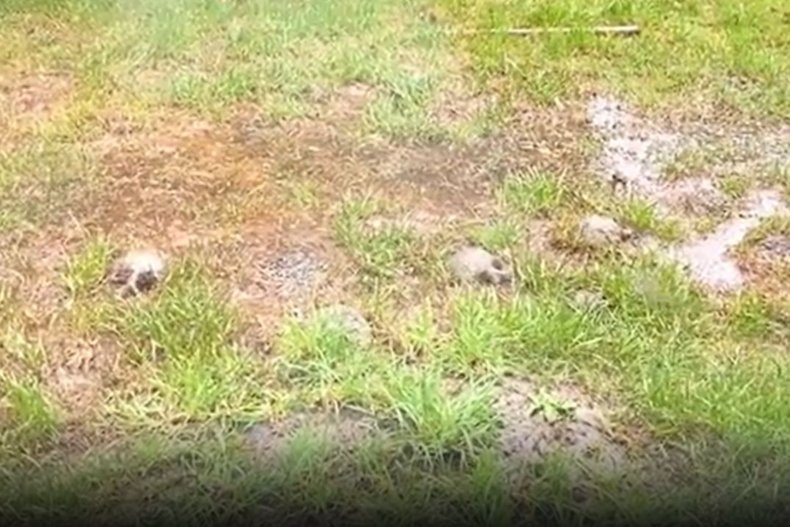 Update 3/8/22, 7:48 a.m. ET: This article was updated with comment, photos and video from Hoffman.