Boyfriend's Reaction to Seeing Girlfriend After 4 Months Sparks Suspicion
A boyfriend's reaction to seeing his girlfriend after four months has sparked suspicion online.
In a viral TikTok video posted by @meaganglesmann, the young woman—who has been traveling around Hawaii while her boyfriend has been in Canada—returns home.
Over seven million people have seen the moment the boyfriend walks into a party to see his girlfriend standing directly in front of him.
More than 5,400 users have commented, and many are saying the boyfriend looks "guilty" although Meagan insists he was in "shock" as he thought she was on a hike elsewhere.
A survey conducted by publisher Sage Journals found one third of couples terminate their relationship within three months of reunion. The research found time management difficulties and heightened conflict and jealousy among the reunited couple were prominent factors.
The Wedding Wire has shared some tips to make the transition easier, both as a couple and as individuals:
Give each other time to adjust
Factor in alone time
Make sure you organize date nights
Communication is key
Newsweek spoke to a relationship expert based in Charlotte, NC, about the viral Tik Tok video.
Faith Dulin told Newsweek: "I didn't get guilt from the video. To me, it seemed like he was overwhelmed with the number of people present, combined with her unexpected return.
"He may have previously envisioned their reunion to be more of a private, romantic moment so he experienced a mix of feelings seeing her at that time, in that way.
"I would say it is normal to feel and look overwhelmed, stunned, or surprised, especially with the environmental stimulation of all their friends in the background. Surprise doesn't automatically imply guilt, deceit, or any other negative energy.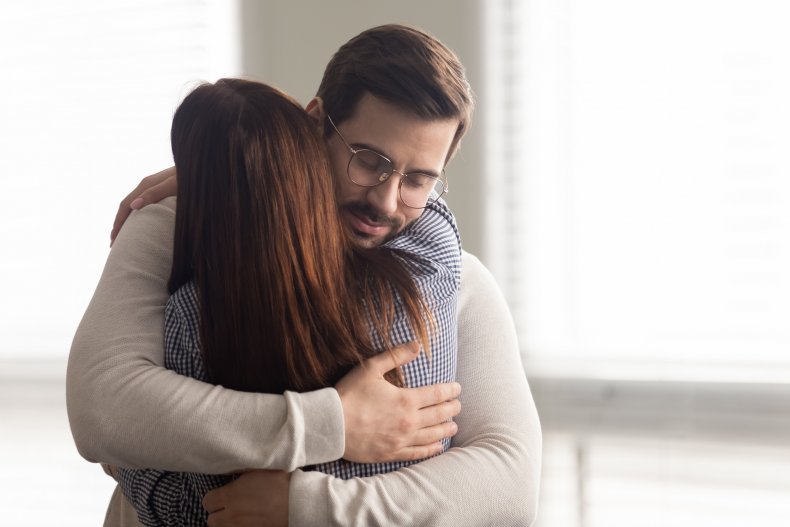 "Long-distance relationships lack the convenience of proximity so there is understandably less physical interaction and time spent together compared to a traditional, local relationship. That doesn't mean the relationship is necessarily doomed to fail, though.
"Both partners will need to get creative with infusing romance and connection in other ways, such as frequent texts, video chats, and watching a shared show 'together,' at the same time. Gratefully, our digital age offers many alternatives to face-to-face interaction that can be used until you see one another again."
However, TikTokers have flocked to the comments section with a less understanding approach.
One user said: "They all look guilty and waiting for the drama." Another wrote: "Was he hiding another girl in the back he looks nervous."
"Pause right at the beginning… he looks so worried and guilty," said another user.
After being inundated with comments, Meagen decided to respond to a TikToker who requested an update. She pointed out the video wasn't staged and that was her boyfriend's "real" reaction.
She goes on to explain she looked different as she is tanned and had changed her hairstyle. But other users are still not convinced.
Newsweek reached out to @meaganglesmann for comment. We could not verify the details of the case.