Couple Spontaneously Married on Southwest Flight After Travel Snag
An Oklahoma City couple tied the knot last weekend on a Southwest Airlines flight after their original plans got quashed.
Jeremy and Pam were set to exchange their vows on Sunday night in a Las Vegas wedding, Southwest Airlines said Thursday in a public Facebook post. Plans quickly changed, however, when they arrived at the Dallas-Fort Worth International Airport to find that their connecting flight—booked through one of Southwest's competitors—had been canceled.
"But that's when their bad luck ended," said the airline in its post. "Chris, another passenger traveling to LAS...overheard Pam and Jeremy discussing how they might still get to Vegas in time for their appointment. Chris also happened to be an ordained minister and offered to marry the couple himself."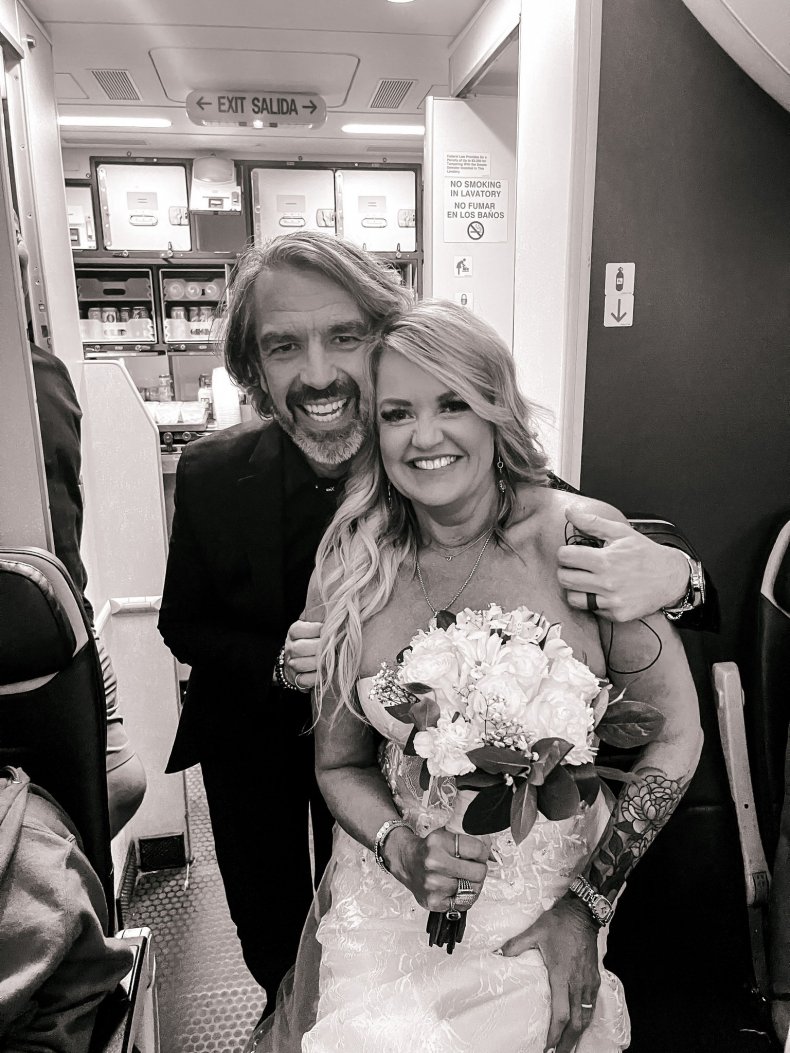 "The three went online, snatched up the last three seats to Vegas on a Southwest flight, and hurried together across town to Dallas Love Field," Southwest continued.
The couple boarded their new flight dressed in full wedding attire, prompting questions from their pilot.
"Pam explained their story and joked with Captain Gil they should just get married on the flight," said Southwest, to which Gil responded: "Let's do it!"
The flight crew decorated the cabin with toilet paper "streamers," and a professional photographer, who also happened to be on board, took pictures of the unforgettable ceremony.
In a statement to Newsweek, Southwest Airlines said: "We were thrilled to play host to Pam and Jeremy's special day. Our employees are famous for their heart and hospitality, and we know our crew, our customers, and the couple will remember this flight for a long time to come. We offer our congratulations to the newlyweds and well wishes on their new life together."
Upon reading the happy news, thousands of Southwest's Facebook commenters also sent well wishes to the happy couple.
"This is what living life to the fullest is all about! Improvising and making the best out of situations that don't always go as planned! Congrats Pam & Jeremy!! And cheers to SW Airlines for coming in clutch and making this ENTIRE FLIGHT one that nobody will forget!!" exclaimed Jenn Rodgers.
"That's so cute. Love the story and how everyone participated. That's one spontaneous couple! Congrats to them and many wishes for a wonderful marriage!" said Selena La Rue.
Ann Pendleton added: "This brought tears to my eyes...pretty amazing, all the way around, and the fact they raced to LOVE Field, even better! Wishing Pam and Jeremy a very happy marriage!"
Of course, Pam and Jeremy aren't the only travelers whose plans have been upended because of last-minute flight cancellations. So far this year, thousands of U.S. flights have either been canceled or delayed due to inclement weather, system outages and staffing shortages.
In March, a JetBlue passenger said that she and the other members of her flight were left stranded at the airport for two days following an alleged staffing delay. "We have kids, we have jobs, and this is ridiculous," the JetBlue passenger said. "We don't care about the money, we're just trying to get home."
In an effort to help travelers navigate cancellations, an airline employee named Natalie Houston shared several travel tips with her TikTok followers in a video that has since amassed more than 690,000 views. Tips include Googling airlines' bills of rights and keeping up-to-date with online flight tracker FlightAware, among other things.
Update 5/2/22, 4:55 p.m. ET: This article has been updated to include a photo and a statement from Southwest Airlines.