Courtney Williams' Raw Speech Questioning WNBA's Political Stance on Jacob Blake Shooting Goes Viral
WNBA star Courtney Williams has revealed she did not want to play in the league's bio-secure bubble last season and acknowledged she could not afford to forego her salary to follow the league's political stance as social justice protests erupted across the U.S.
The WNBA, which celebrates its 25th season when the upcoming campaign tips off on Friday, experienced a season like no others last year. The COVID-19 pandemic meant the league and its 144 players, coaches and support staff were confined in a bio-secure bubble in Brandeton, Florida, where they underwent daily coronavirus testing.
As was the case for NBA players in their bubble in Orlando, Florida, the mental challenges were only exacerbated by news filtering from the outside world as nationwide protests spread like wildfire following the killing of George Floyd and Breonna Taylor and the shooting of Jacob Blake.
The difficulties the players are laid bare in ESPN Films' new documentary 144, which takes its name from the number of players in the bubble and premiered on Thursday night.
In one of the most significant moments of the film, all 144 players are holding a meeting to decide how to respond to Blake's shooting.
A Black man, Blake was left paralyzed after being shot in the back at point-blank range seven times by a police officer on August 23 in Kenosha, Wisconsin, as he opened the door of his car.
The shooting occurred while Blake's three children were in the back seat.
The WNBA, just as the NBA did, agreed to postpone three games.
Commendable as the stance was, Williams questioned why the same decision hadn't been taken following the killings of Floyd and Taylor.
"Breonna Taylor died and George Floyd died and we still decided to dribble a basketball, that's the decision we made as a whole," she said.
"These people died and we still decided to come and dribble a basketball."
Floyd, a 46-year-old Black man, died in Minneapolis on May 25 last year after former police officer Derek Chauvin, who is white, knelt on his neck for over nine minutes while arresting him.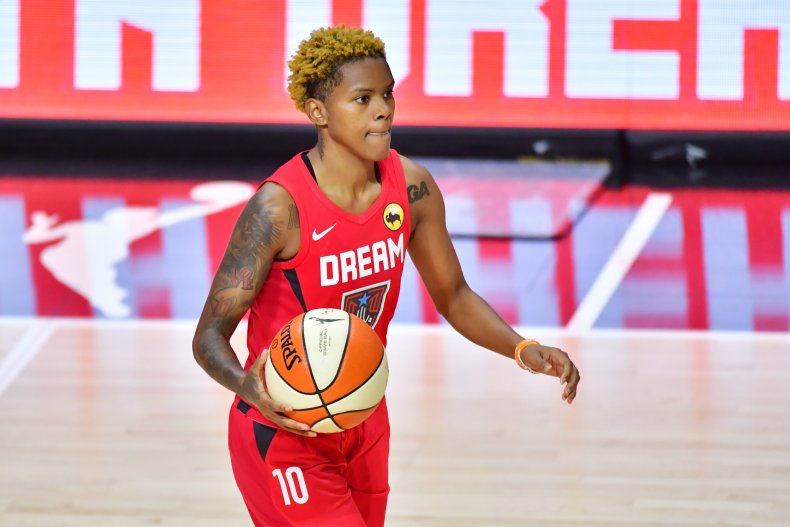 The arrest was filmed by a bystander and went viral on social media, sparking enormous protests across the U.S.
A Black woman, Taylor was shot dead by Louisville Metro Police Department officers who were serving a "no-knock warrant" back in March.
"Now we have just had a crazy big epiphany to not dribble the ball anymore? I didn't want to come here. [...] To me this s**t hit so hard and [so close to ] home that I didn't want to come here, but I've come here because I have mouths to feed," Williams continued.
The Atlanta Dreams star then further elaborated on her stance, explaining her decision to play in the bubble had nothing to do with making a political statement.
"People eat off my paycheck. So I decided to come here," she added.
"To me, I didn't come here like 'Oh power to the people, let me come here to make a stance.' I could have did that at the crib. I came here to get a check.
"We can [sing] Kumbaya all day and night but we've got to come up with a plan. I'm not willing to give up my check, because that's the only reason I came here."
Speaking after the players decided to postpone three games following Blake's shooting, WNBA commissioner Cathy Engelbert said the players had the league's full support.
"We are running a very player-first agenda. We said that from the beginning.
"And that's why I was here [in the bubble] to listen, to talk with them, maybe impart some of my knowledge from my experience and really help them think through strategically what this night meant to them and then where do they go from here."
Speaking on behalf of the WNBA players' union at the time, Elizabeth Williams, one of Williams' Dream teammates, said the decision to postpone games had been taken in "solidarity with our brothers in the NBA" and to take collective action.
"What we have seen over the last few months, and most recently with the brutal police shooting of Jacob Blake, is overwhelming," she said.
"And while we hurt for Jacob and his community, we also have an opportunity to keep the focus on the issues and demand change."