Couy Griffin, 'Cowboys for Trump' Leader Who Vowed To Put Flag on Pelosi's Desk, Arrested
Couy Griffin, a New Mexico county commissioner and the leader of the "Cowboys for Trump" group, has been arrested. He had vowed to return to Washington, D.C. with firearms following the January 6 riot at the U.S. Capitol.
Griffin was arrested on Sunday and charged with one count of knowingly entering or remaining in any restricted building or grounds without lawful entry, the U.S. Attorney's Office for the District of Columbia announced Sunday.
An affidavit said the FBI had received a tip on January 9 that Griffin—an Otero County commissioner—was at the Capitol on January 6 and had vowed to return on January 20 to place a flag on House Speaker Nancy Pelosi's desk.
According to the affidavit, investigators learned that Griffin posted a video on the "Cowboys for Trump" Facebook page in the wake of the assault on Capitol, where he said he "climbed up on the top of the Capitol building and... had a front row seat."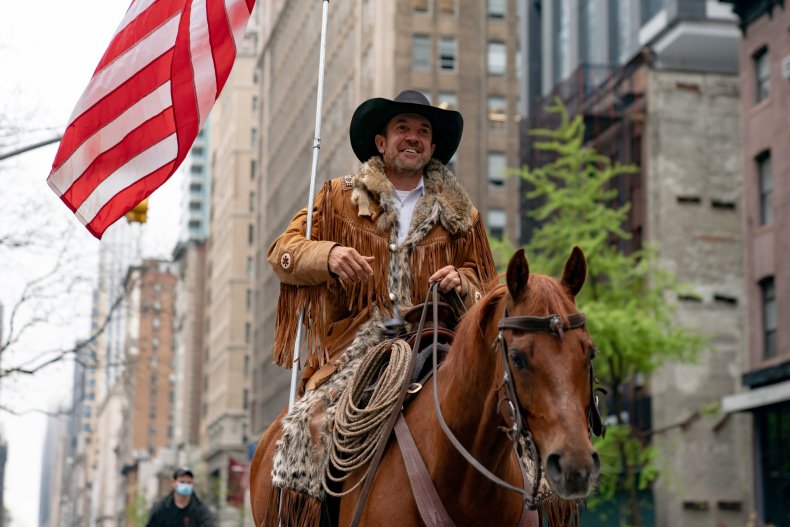 "You want to say that that was a mob? You want to say that was violence?" Griffin added in the video, which has since been removed.
"No sir. No Ma'am. No we could have a 2nd Amendment rally on those same steps that we had that rally yesterday. You know, and if we do, then it's gonna be a sad day, because there's gonna be blood running out of that building. But at the end of the day, you mark my word, we will plant our flag on the desk of Nancy Pelosi and Chuck Schumer and Donald J. Trump if it boils down to it."
The January 6 assault on the Capitol, which took place shortly after President Donald Trump urged his supporters at a rally to "fight like hell" to overturn the election result, left five people dead, including a Capitol police officer. A week later, Trump became the first president in history to be impeached twice, charged with "incitement of insurrection" just days before he is to leave office.
Griffin told FBI investigators on January 11 that he went to Washington, D.C. to take part in a protest that he expected to be peaceful, according to the affidavit.
He said he was "caught up" in the crowd that pushed its way through the barricades and entered the restricted area of the Capitol, but insisted he did not enter the building and had remained on the Capitol steps.
A video posted to Griffin's personal Facebook page as well as footage published by several media outlets shows Griffin in the restricted areas of the Capitol, the affidavit said.
The document noted that footage aired by Inside Edition showed Griffin live-streamed from the steps of the Capitol.
In an interview with the outlet, he said: "We are not going to allow it. There will never be a Biden presidency."
When an Inside Edition reporter questioned him about his remark about "blood running out" of the Capitol and that future rallies could lead to more fatalities, he responded: "I am more afraid of losing my freedom than I am anything."
Griffin also told investigators that he planned to return to Washington, D.C. for a rally on January 20. He told them he hoped a change in leadership can be accomplished "without a single shot being fired," but added that there was "no option that's off the table for the sake of freedom."
According to the affidavit, Griffin also spoke about his actions at the Capitol for 17 minutes during a meeting of the Otero County Board of Commissioners on Thursday.
During that meeting, he reportedly mentioned that he planned to travel to Washington, D.C. for Biden's inauguration armed with guns.
"I am going to leave either tonight or tomorrow. I've got a .357 Henry big boy rifle . . . that I got in the trunk of my car, and I've got a .357 single action revolver... that I will have underneath the front seat on my right side. And I will embrace my Second Amendment, I will keep my right to bear arms," he said, according to the affidavit.
Griffin did not immediately respond to requests for comment.